American Express Company (NYSE:AXP), the most profitable closed-loop credit card network in the U.S., provides credit and travel services to affluent customers. Since our last publication of "Buy American Express With A Margin Of Safety Through Options", published on December 6, 2012, AXP had increased 4.27% and closed at $58.81 on January 31, 2013. New developments will be updated, and the existing options strategy will be reviewed for AXP in the following article.
Positive Developments
Q4 earnings results: On January 17, 2013, AXP reported Q4 2012 net income of $637M, down 47% from $1.2B a year ago. Diluted EPS was $0.56 per share, down from $1.01 a year ago. The consolidated total revenues net of interest expense were $8.1b, up 5 percent from a year ago. However, consolidated expenses totaled $6.6B, up 18% from $5.6B a year ago. The increase primarily reflected the previously announced restructuring charge and Membership Rewards estimation process enhancements. The restructuring program is designed to play an important role in holding annual operating expense increases to less than 3 percent for the next two years. The company is taking the $600 million in charges, which halved AXP's Q4 income, to account for its business restructuring as a way to reduce costs.
Peerless customer service: AXP is trimming its corporate-travel operation, and will cut 5,400 jobs as the company invests in technology to handle customer-service functions in response to the rise of do-it-yourself policies.
5-6% revenue growth over next two years: Guggenheim analyst David Darst indicated that a stabilization of billed business trends is encouraging, and should continue to support 5-6% revenue growth over the next two years, with American Express gaining operating leverage from slower expense growth and EPS benefits from share repurchases.
Lower charge-off rates. American Express posted lower charge-off rates of about 2%, and saw its loan losses for the recently reported quarter at all-time lows. However, the company has kept $638 million in reserve to cover any loan losses. Capital One Financial Corp. (NYSE:COF) also had a low charge-off rate of 2.26%, and put aside $1.2 billion as provision for loan losses, which was up $137 million as compared to a year ago.
Risks/Concerns
JPMorgan downgraded AXP from "Neutral" to "Underweight" on January 15, 2013. Goldman Sachs downgraded AXP from "Buy" to "Neutral" and maintained a price target of $65 on January 14, 2013. Goldman Sachs believes AXP should be helped by fee revenue growth and international expansion, but those factors are already calculated in current estimates.
Insiders are selling, as executives sold 357,758 shares of AXP for a total of $21,206,802, an average of $59.28 each, through a series of direct sales and options exercises for the period from January 22 to 25, 2013. Sean MacNeal of Insider Score indicated that the amount of executives selling and exercising and selling is unusual, and a deviation.
Earnings And Analysts' Calls For Competitors
Mastercard Inc. (NYSE:MA), Visa Inc. (NYSE:V), and Discover Financial Services (NYSE:DFS) are AXP's major competitors. On January 31, 2013, Mastercard Inc. reported a surge in profits, but missed analysts' estimates. Revenue increased by 10% for Q4 to $1.9B as compared to $1.73B from last year, beating analysts' expectation of $1.89B. Excluding special items, earnings came in at $4.03 per share, below analysts' expectation of $4.81 per share for the quarter. Worldwide spending on MasterCard- and Maestro-branded cards climbed 13 percent to $727 billion, based on local currencies. Visa Inc. was downgraded by Baird from "Outperform" to "Neutral" with a price target of $165.00 on January 18, 2013. However, on January 9, 2013, Goldman Sachs added Visa Inc. to its Conviction Buy List with a price target of $188.00 (from $160.00) and stated, "We believe that growth contribution from its international and online/mobile commerce (E/M commerce) remains underappreciated, and in our view these are the key drivers that should add to the longterm transaction volume growth of the model." The firm's base case suggests annual buybacks of $2B and dividend growth of 20%. Visa is expected to report an EPS of $1.79 with revenue of $2.82B for the current quarter ending in December 2012. The earnings release will be on February 6, 2013. Lastly, Discover Financial Services also had its buy rating reiterated by Jefferies Group with a $45 target price on January 31, 2013.
Key Stats And Valuation
AXP has an enterprise value of $105.56B with a market cap of $64.99B. AXP has a total cash of $22.00B with a total debt of $62.00B. It also has a lower revenue growth (3 year average) of 1.8, as compared to the industry average of 5.5. AXP has lower operating margin of 23.3%, ttm, and net margin of 16.2%, ttm, comparing to the averages of 43.0% and 21.2%, ttm, respectively. AXP generates a higher ROE of 26.8 as compared to the average of 16.7. Its P/E of 13.6 is lower than the industry average of 17.7, and lower than AXP's 5 year average of 14.3. AXP has a forward P/E of 11.3, which is lower than S&P 500's average of 13.3.
Technical Analysis
AXP closed at $58.81 with 0.88% loss on January 31, 2013. AXP had been trading in the range of $50.27-$61.97 in the past 52 weeks. AXP has a beta of 1.82. The MACD (12, 26, 9) indicator is showing a bearish trend with diverging MACD difference. The momentum indicator, RSI (14), is indicating a bearish lean at 47.75. AXP is currently trading above its 50-day MA of $57.82 and 200-day MA of $57.06. The next resistance is $59.77, the R2 pivot point, as seen from the chart below.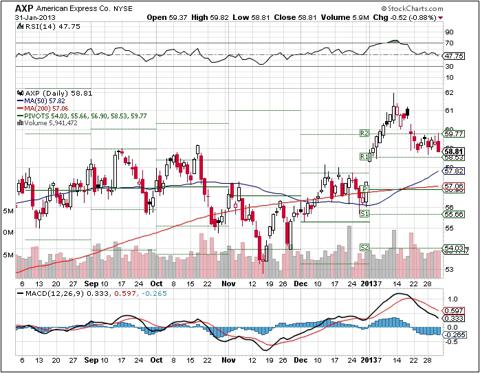 Source: StockCharts.com
Reviewing Options
The most active call for January 31, 2013 was Feb. 15, 2013 call at the strike price of $60.00 with a volume of 736 and an open interest of 17,919. The implied volatility is 15.4, and the chance of breakeven is 21.25. The historical volatility is 12.53 for 1 month, 16.36 for 3 months, and 19.43 for 1 year.
The last reviewed credit put spread of April 20, 2013 $45/$50 put is currently yielding 9.89% return on margin, achieving 88% maximum return of 11.24%. If AXP closes above $50 on April 20, 2013, the maximum gain will be attained when the options expire. Investors can also consider taking the profit and re-establish the position when AXP falls back to the $56/$57 price range.
Note: All prices are quoted from the closing of January 31, 2013 and all calculations are before fees and expenses. Investors and traders are recommended to do their own due diligence and research before making any trading/investing decisions.
Disclosure: I am long AXP. I wrote this article myself, and it expresses my own opinions. I am not receiving compensation for it (other than from Seeking Alpha). I have no business relationship with any company whose stock is mentioned in this article.