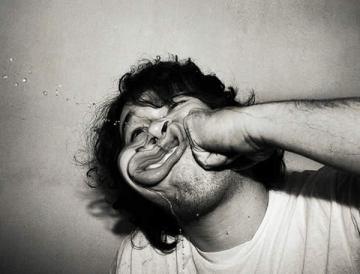 On Wednesday evening, Bloomberg Rewind host Matt Miller tweeted that he was interviewing Wilbur Ross in a live segment in a few moments, and was soliciting questions for one of the century's greatest investors and serial turnaround artists.
Never really needing a reason to Tweet, I was nonetheless pleased that my question was chosen, but I especially liked the ultimate answer. I simply wanted to know if the cool and calm demeanor that Wilbur Ross always displays when on television was ever belied by emotion that got in the way of a business or management decision.
The answer was, to me, at least, incredibly profound and absolutely reflective of the persona that we get to see when he makes appearances. Ross said that in takeovers, things often do not go as planned, but you have to "roll with the punches." He further went on to point out that emotions conspire to work against you in making decisions and taking actions. He was calm and collected in his response, and barely showed any facial grimacing or twitching when the question was being asked.
I, on the other hand was twitching, contorting and breathing rapidly at the mere use of my question. I do the same with every tick up and down of every stock I own.
My initial thought was that was probably among the best pieces of advice that could ever be given, but it was just too bad that human nature so reflexively intervenes.
One of the things that I like about buying stocks and then selling calls is that it takes so much of the emotion out of the equation. It also frees you from being held hostage to each and every dive that shares can take for no rational reason. This week alone, we watched Petrobras (NYSE:PBR) drop nearly 10% as it announced fuel increases that Deutsche Bank (NYSE:DB) described as a "positive" action, and Chesapeake Energy (NYSE:CHK) surge 10% on news that its founder and CEO, Aubrey McClendon, would be leaving in 3 months. In the case of Chesapeake Energy, that surge was dissipated in just a day, although that may have been as irrational as the initial move.
Recently, large adverse moves impacted shares of Tiffany (NYSE:TIF) and YUM Brands (NYSE:YUM) as downgrades, stories, rumors, a smattering of data and myriad other factors took their turns at poking holes in whatever support existed for share price. Of course, they weren't alone in the cross hairs of the barrage of often transiently irrelevant "facts."
But by and large, if you sell covered options, you can roll with the punches. Instead of feeling the anguish when your stock takes a hit, it's similar to seeing road-kill. It's terrible, it's a tragedy, but for the most part, you realize that in the big picture, it's all just a blip. Those options that someone else was kind enough to buy from you protect you from having to suffer through the anguish, and gives you a chance to get over the initial emotional reaction so that when it is time to make a decision, such as at the end of the option period, you can do so with a far less clouded mind.
Wouldn't it be nice to have a little Wilbur Ross inside of all of us? Maybe even better would be to be his sole heir, though.
As everyone seemed to be giddy about the fact that the DJIA briefly crossed 14000 for the first time since 2007, I reminded myself of how short a period of time it remained there, and then saw that the slopes of the periods preceding the 2007 and 2013 tops are remarkably similar. If anything, maybe a bit more steep this time around?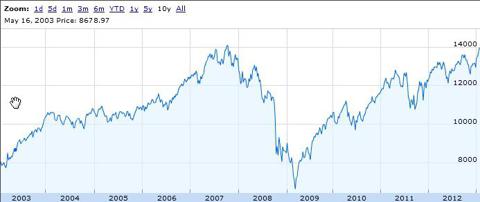 Fortunately for me, that was the time I learned to start going with the punches, and had already started protecting my stocks with calls and then used the premiums generated to purchase more shares during the ensuing drops.
Not that history is ever in a position to repeat itself, but we've seen this before.
As always, this week's potential stock positions are all intended as part of a covered option strategy, whether through the sale of covered calls or puts. The selections fall into the usual categories of Traditional, Momentum, Double Dip Dividends or "PEE" stocks (see details).
As the market found itself celebrating jobs on Friday, one sector that was left behind was retail. Among my favorites this year has been The Gap (NYSE:GPS). It's mundane, not terribly innovative, but it is ubiquitous and always a safe fashion choice. Although its next support level appears to be 10% lower, it does offer an appealing enough option premium to accept that risk of wearing brown shoes with a tuxedo.
Murphy Oil (NYSE:MUR) just took a large hit after announcing earnings. More and more, I question the extreme earnings related reactions. What seems to separate some stocks from one another is the rapidity at which they recover from those reactions. The faster the recovery, the easier it is to call it an over-reaction. Otherwise, if I own such shares and they don't rebound quickly, it's just a case of them being under-appreciated. In Murphy Oil's case, I think it was a welcome over-reaction.
Southwestern Energy (NYSE:SWN) has been lagging behind some of its sector mates thus far in 2013, but that situation is reversed if looking at the one year comparisons. It reports earnings early in the March 2013 option cycle, and I believe may be poised to challenge its 52 week high.
I'm somewhat reluctant to consider adding Intel shares (NASDAQ:INTC) this week. The only lure is the dividend that comes along with it, as it goes ex-dividend on February 5, 2013. My reluctance stems from the fact that if I add shares, my Intel position will be too large, and it has been a disappointingly under-performing asset in the months I've held shares, having waited a long time for something of a rebound. While I don't expect $24 or $25 any day soon, I'm comfortable with $21, a dividend and some option premiums. At least, that would ease some of the paper cuts on my wrists.
Starbucks (NASDAQ:SBUX), another favorite, is a reluctant choice this week as well, but only because of its strong gain in Friday's trading and the fact that its option contracts are spread a bit too far apart. With more and more options being offered at strike prices in $1 and even $0.50 gradations, the $2.50 and $5 differences seen with some stocks makes them less appealing, especially if selling options to optimize income production over share gains. What's really needed is for more people to read these articles and drive up the option trading volume as they realize what an opportunity exists.
Chesapeake Energy has been in the news quite a bit this year, but for all of the wrong reasons. As usual, its high profile story this week concerned its founder and CEO, Aubrey McClendon. The market quickly added 10% to the share value upon learning that McClendon will be leaving the company in April 2013. It quickly gave that gain up during the course of the rest of this week. This is a position, that if I decide to enter, would likely be done on the basis of selling put options. That has been a common theme as I've re-entered Chesapeake Energy positions over the years.
What again distinguishes this week's target stocks is that there is greater emphasis on risk, specifically earnings related risk, as Friday's jobs data numbers fueled a strong week ending rally that further added to already high stock prices, making bargains harder to find.
Acme Packet (NASDAQ:APKT) was one of the first earnings related situations that I described in an article entitled "Turning Hatred into Profits" that sought to create income from either disappointment or reaffirmation. Its share price is higher now than it was the last time around, but I think that a 1% or more ROI for the chance that its share price may go down 10% or less after earnings is a reasonable risk-reward venture. If it works again, I may even try to understand what it is that Acme Packet does the next time earnings season rolls around.
Baidu (NASDAQ:BIDU) has been on my lists for the past 2 months or so, and has been purchased several times. Under the best and calmest of circumstances, it is a volatile stock, and is sometimes a frustrating one to match strike price premiums with anticipated objectives because the price moves so quickly. As it gets ready to report earnings, it too can easily move 10% in either direction, yet still meet my threshold of 1% ROI for the level of risk taken.
When it comes to stocks that are capable of making big moves in either direction on any given day and especially on earnings, there aren't many that are better at doing so than Green Mountain Coffee Roasters (NASDAQ:GMCR). This is certainly a stock that has required "going with the punches" over the past few years, but it has been a mainstay of my speculative slice of my portfolio for quite a while. I typically think in terms of 25% moves when it comes to earnings. In this case, I'm looking at about a 25 to 1 proposition. A 25% drop for securing a 1% profit for one week. If not, then it's just back to the usual Green Mountain "grind" and selling calls until shares are assigned.
While Herbalife (NYSE:HLF) has been having all of the fun and getting all of the attention, poor NuSkin (NYSE:NUS) has been ignored. But it too reports earnings this week. I have no opinion on whether NuSkin or any other company is engaged in questionably ethical business practices, I just see it as a vehicle to throw off option premium with relatively little risk, despite its overall risky persona. It's not a stock that I would want to hold for very long, so the availability of only monthly options is of some concern.
Riverbed Technology (NASDAQ:RVBD) was one of the most early and most frequent members of my covered call strategy. It always feels strange when I don't have shares. As it gets ready to report earnings this coming week, I'm reminded why it so often makes numerous and sizable movements, especially in response to earnings. It has a bad habit of giving pessimistic guidance, but after a long courtship, you learn to accept that failing because even if punished after conference calls, it always seems to get right back up.
Finally, Panera Bread (NASDAQ:PNRA) reports earnings next week. It too is highly capable of having large earnings related movements. Its CEO has lots of Howard Schultz-like characteristics in that he truly knows the business and every intricate detail regarding his company. Interestingly, it went up almost 4% just 2 trading days before earnings are released. That kind of investor "commitment" before a scheduled event always concerns me, but I'm not yet certain just how much it scares me.
Traditional Stocks: Murphy Oil, The Gap, Southwestern Energy
Momentum Stocks: Chesapeake Energy
Double Dip Dividend: Intel (ex-div 2/5), Starbucks (ex-div 2/5)
Premiums Enhanced by Earnings: Acme Packet (2/4 PM), Baidu (2/4 PM), Panera Bread (2/5 PM), Green Mountain Coffee Roasters (2/6 PM), NuSkin (2/6 AM), Riverbed Technology (2/7 PM)
Remember, these are just guidelines for the coming week. Some of the above selections may be sent to Option to Profit subscribers as actionable Trading Alerts, most often coupling a share purchase with call option sales. Alerts are sent in adjustment to and consideration of market movements, in an attempt to create a healthy income stream for the week with reduction of trading risk.
Some of the stocks mentioned in this article may be viewed for their past performance utilizing the Option to Profit strategy.
Disclosure: I am long CHK, INTC, PBR, TIF, and I may initiate positions (or sell puts) in APKT, BIDU, GMCR, GPS, MUR, NUS, PNRA, RVBD, SBUX and SWN. I wrote this article myself, and it expresses my own opinions. I am not receiving compensation for it (other than from Seeking Alpha). I have no business relationship with any company whose stock is mentioned in this article.