Introduction
Last week Apple (NASDAQ:AAPL) fell below $450 after announcing Q1 earnings. As other writers on Seeking Alpha have pointed out, the actual EPS-figures weren't bad enough to justify such a huge drop. Many writers have therefore concluded that the majority of the decline is related to irrational trading decisions. Initially I thought so too, but after having analyzed the numbers once more, I am not so certain anymore.

I see 3 trends, which should concern the long-term Apple investor.
Average revenue per unit is declining
Production costs are increasing
Sales growth is slowing down
In this article I will argue why the combination of these 3 trends are of very high importance when we as investors estimate the fair value of Apple.
Apple's "Average revenue per unit" is declining
The iPhones and the iPads ARPU have declined over the last couple of quarters. This is primarily due to Apple being more aggressive with offering discounts on their old models. As many of the Android tablets offers a very nice value for money, Apple's management has found it necessary to reduce prices of its older models to keep consumers interested.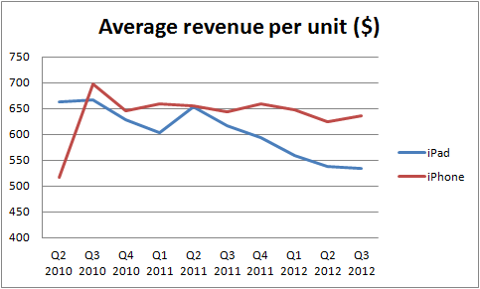 Source: Apple's financial reports.
One could think that due to the increased competition, Apple may find it necessary to reduce the price of its newest models (e.g. selling a new version of its 10-inch 16GB iPad at $475 instead of $500).
However, I believe that to be unlikely; The only scenario where it make sense, would be as a response to its competitors (Asus, Samsung, Microsoft etc.) slashing their prices in an attempt to gain market share.
But I am pretty sure that the competitors won't reduce their prices any further. The gross margin of the iPad is already relatively low (around 22%), and since Apple is likely more efficient at producing tablets than its competitors, they have no room to reduce prices if they still want to earn a profit.
Therefore I am relatively certain that the ARPU of the 10-inch iPad will be relatively stagnant in the future.
The iPhone's ARPU, however, can still decline by quite a bit. Previously Apple sold a better smartphone than its competitors, and therefore carriers found it necessary to subsidize the iPhone to generate sales.
But in the future, I believe carriers will be less willing to do that, as Apple's competitors today can deliver products of similar quality. It's true that consumers still emphasize the brand value of the iPhone, and radical changes don't happen overnight. Therefore I think that Apple within a couple of years will have to decrease the price of the iPhone, until carriers no longer lose money on selling the phone.
Production costs are increasing
As you can see in the below diagram, each new iPad has been more expensive to produce than the previous one.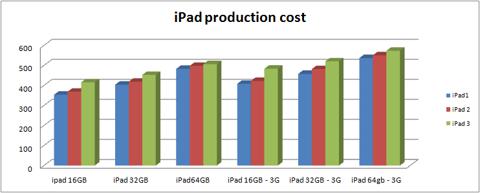 Source: Isuppli.com and my own estimates. Note the production costs of the iPad 1 and 2 are probably lower today, however the above numbers are estimates of the production costs of the tablets when they were released.
Combined with the lower ARPU figures, the gross margin of the iPad has declined by almost 50% over the last 2½ year. Given the increased level of competition, I expect Apple to continue to improve the quality of the iPads, which could lead to higher BOM costs.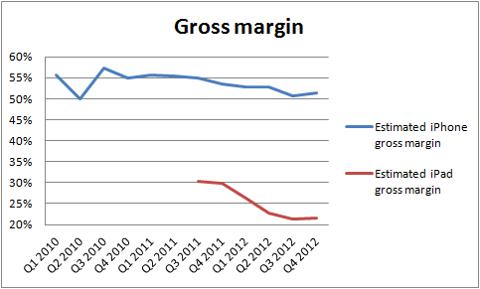 The BOM of the iPhone has faced a similar destiny as the iPad, with each new version being more expensive to produce than the previous one. I expect this trend to continue and I believe that the gross margin of the iPhone will decline to 40% within 2-4 years.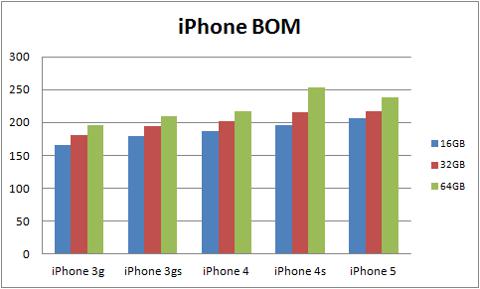 Source: iSuppli and my own estimates.
Some readers may think that the above arguments are old news and should already be priced into the stock, and I thought so too for a long time. However, given Apple's management guidance for next quarter, I think the margin pressure may be even worse than what many (including me) previously thought.
As you can see in the below graph, Apple has historically had a tendency to be too conservative with their gross margin guidance. However, on the most recent earnings call, management announced that it from now on would be more realistic (rather than conservative) with its guidance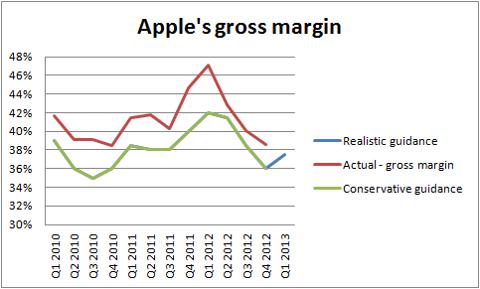 Management's gross margin guidance for the January-March quarter is 36.5%-38.5%, which is much less than what I had expected. Previously I was of the conviction that the relatively low gross margin of 38.6% for the October-December quarter was a one-time thing caused by bad product mix, as I expected Apple to sell a lot of low-margin iPads. However, what happened was that they didn't sell nearly as many iPads as I had expected. Instead, they exceeded my estimations on the amount of iPhones sold.
So instead of suffering from mediocre product mix, Apple actually benefited from the product mix, and still didn't do particular well in terms of gross margin.
Given the fact that the gross margin guidance for the January-March quarter is even worse than the prior quarter, it makes me think that it is not just the gross margins of the iPads and the iPhone which are under pressure, but Mac's and iPods are bringing in less money as well.
Sales growth is slowing down
Previously Apple had been able to increase sales just enough for any decline in gross margin to not have a significant impact on the earnings growth rate.
However, given that Apple also announced a somewhat disappointing revenue guidance of $41-43M, the declining gross margin will now have a more visible impact on earnings than previously. As you can see in the below graph, Apple's management expects that the EPS for the January-March quarter will decline compared to earnings for the same quarter last year.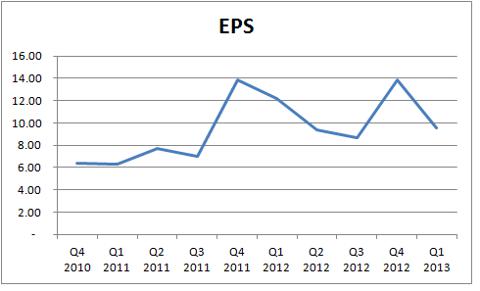 Note: Q1 2013 is the January-March quarter.
Is Apple's management once again too conservative in their guidance?
As I have developed an extensive Apple-model with almost 100 input numbers, I can tweak some of the input numbers so that I end up with the same revenue, gross margin and EPS estimates as Apple does in its guidance. If my model works, then I should be capable of replicating the input numbers that Apple's management has used for their guidance. Below you can see the assumptions I had to make;
iPhone gross margin to decrease from 51% to 50%.
iPhone sales of 32M (compared to 26M in the same quarter last year).
iPad sales of 15M
Slightly higher Mac sales than last quarter
Gross margin of iPad, iPod and Mac are roughly unchanged from last quarter.
Personally, I think iPad sales will do a bit better than 15M. According to a report, Apple no longer has supply issues, and is therefore expected to ship roughly 12M iPad Minis. Assuming that at least 8M 10-inch tablets are sold, Apple should be capable of obtaining tablet sales of 20M+ for the quarter.
Final words
Even though Apple's management may still be a bit conservative in its guidance, I still believe that it will have increased difficulties increasing earnings in the future.
Over the next 1-2 years I estimate that the annual growth rate will be between 0-10%, and over a longer period (5-10 years) I think earnings will decline unless Apple manages to out-innovate its competitors and come up with new innovations (such as a TV).
If you believe that Apple can do that, then the current price of $460 (which is equal to a P/E of roughly 10.4) is a very attractive offer. Personally, I think it's a bit of a gamble, and therefore I will stay out of the stock for now.
Disclosure: I have no positions in any stocks mentioned, and no plans to initiate any positions within the next 72 hours. I wrote this article myself, and it expresses my own opinions. I am not receiving compensation for it (other than from Seeking Alpha). I have no business relationship with any company whose stock is mentioned in this article.