After rallying over 14% in less than a month, I sold my shares of of Allergan (NYSE:AGN). I have no question that in the long run, AGN's purchase of Levadex for $958m will allow the company to leverage its existing BOTOX migraine infrastructure. Combining Levadex and Botox sales operation will provide a broader base to spread SG&A costs, increasing margins. Management estimates potential peak sales of $500m. Assuming a 25% net margin, this translates into $0.205 additional EPS over current outstanding shares. The purchase of the remaining 50% of MAP Pharmaceuticals (NASDAQ:MAPP) was not a bargain, but it is below current and future AGN P/E valuation. In other words, this purchase will be accretive to shareholders (once they reach peak sales).
It is easy to see the long-term benefits of having Levadex in the portfolio. However, even with this new addition to AGN, the company is clearly overvalued.
Calculation
$958m / ((500m x 25%) x 50%) = 15.3x VS. AGN's 2014E P/E 19.9x
AGN is expecting this acquisition to be $0.07 dilutive to earnings per share in 2013 (Source). Consensus EPS for FY13 before the acquisition stood at $4.82. Now, at $4.75, that represents a 22.6x forward FY13 P/E ratio.
click to enlarge)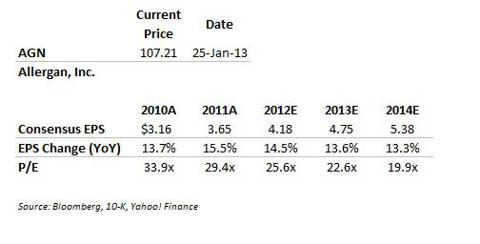 About Levadex
Currently, dihydroergotamine (DHE) injection is used to treat a migraine or cluster headache attack. Dihydroergotamine is in a group of drugs called ergot alkaloids. It works by narrowing the blood vessels around the brain and affects blood flow patterns that are associated with certain types of headaches.
What differentiates Levadex to other products in the large acute migraine market is its innovative delivery method called Tempo (inhaler). In other words, it will take a product that was mainly administered in a hospital environment to a self-administered homecare product. Management believes they can reach a much wider market. There could be as many as 30 million patients of which according to their data probably about 13 million are undiagnosed (Source)
Why Did We Sell?
This new acquisition should drive growth going forward. With an expected earnings growth of 13.3% we believe the company and stock price will continue to rise over the long term. However, at FY14E P/E 19.9x, the stock is richly valued. Furthermore, there will be pressure on the stock until the purchase of Levadex turns accretive, which management estimates to be 2H2014.
Sources: Yahoo Finance, AGN's 10-K, Bloomberg, and YCharts
Disclosure: I have no positions in any stocks mentioned, and no plans to initiate any positions within the next 72 hours. I wrote this article myself, and it expresses my own opinions. I am not receiving compensation for it (other than from Seeking Alpha). I have no business relationship with any company whose stock is mentioned in this article.
Additional disclosure: Investors are always reminded that before making any investment, you should do your own proper due diligence on any name directly or indirectly mentioned in this article. Investors should also consider seeking advice from a broker or financial adviser before making any investment decisions. Any material in this article should be considered general information, and not relied on as a formal investment recommendation.