I primarily focus on the precious metals/mining stock sector. But since the mid-2000's, when the nature of the housing bubble was as obvious as was the internet/tech stock bubble that preceded it, the housing market has been a source of irritation that has inspired me to make it a secondary research/intellectual focus. When you analyze the critical variables underlying the housing market, it leaves no doubt that the market is still fundamentally damaged and overvalued, with a very high probability that market has another serious decline ahead of it. Furthermore, housing stocks have completely dislocated from market fundamentals and investors who hold them risk a significant loss of capital once the equity market discounts the underlying fundamentals outlined below.
The housing market recovery that is perceived by investors and the public at large is a product of deceptively reported housing statistics and hyperbolic media reporting. The entities that report housing market data (Government agencies and housing market associations) take a lot of liberties with adjusting the data, often utilizing data massaging techniques such as "seasonal adjustments." The following example illustrates this point with the Government's housing start report from January 17, 2013.
The headline reported 954,000 housing starts for December on a "seasonally adjusted annualized" basis, a 36.9% increase over December 2011. That 36.9% increase is embedded with a plethora of statistical errors. If you look at the non-seasonally adjusted number of starts for the month of December, it came in at 61,500. It turns out that was the lowest monthly non-adjusted number since March 2012. Here's the link for these numbers: Census Bureau Housing Starts.
Here are a couple of charts prepared by Zerohedge which graphically portray my point that the actual data, when stripped away from the statistical adjustments, show an entirely different picture: Unadjusted Housing Starts.
Overvalued housing stocks
To illustrate the degree to which the market has run ahead of the true fundamentals, take a look at this chart I prepared: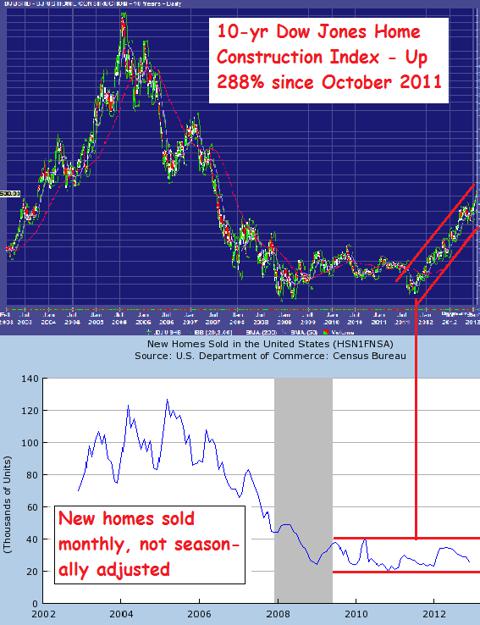 The top graph is a 10-yr daily price chart of the Dow Jones Home Construction Index (DJSUB); the bottom graph is a 10-yr, new homes sold chart on a monthly, not seasonally adjusted basis from the Federal Reserve database. Since October 2011, the Dow Jones Home Construction Index has gone up 288% and yet, the level of monthly, non-seasonally adjusted new homes sold has been flat. Clearly valuations in the stock market have completely dislocated from the fundamentals.
The illusion of low inventory
One big factor contributing to the illusion of a strong housing market has been the widely reported and falsely perceived "low inventory" of homes for sale.
The National Association of Realtors (NAR) most recently reported that the supply of existing homes is 2.04 million. Add to this about 151,000 newly built home inventory. On the surface, this "visible" inventory of homes for sale is small relative the amount of inventory which accumulated and helped trigger the start of the 2007 housing market collapse. Unfortunately, this visible inventory number is misleading, as it completely discounts the "shadow inventory" factor.
For purposes of this analysis, the shadow inventory is defined as homes that are in default/delinquency, delayed foreclosures, unlisted bank REO (real estate owned, which is foreclosed homes sitting on bank balance sheets), homeowners who want to sell but are waiting for the market to improve and - probably the most significant - the many millions of homeowners who are significantly underwater on their mortgage and are thereby prevented from selling. Many of the latter transition into the category of delayed foreclosure/REO.
Housing market consultant Mark Hanson is someone whose work I have followed for several years. He does extensive "data mining" to support his research. He recently published an analysis of the true housing market inventory in which he quantified the shadow inventory.
In comparison to the recently reported NAR + new inventory, Mr. Hanson defines and quantifies the shadow inventory of homes at 20-30 million homes: Shadow inventory. Before you react with disbelief, I would urge you to read through that report to see how that number is derived. Even if his number of off by 50% (and I would bet that it isn't), it means that the number of homes which could potentially hit the market over time is 10-15 million additional homes. It will be impossible for the housing market to ever recover both in terms of price and sales volume/inventory until that shadow inventory of homes clears the market.
In addition to the above described "shadow" inventory, the banks are holding foreclosed inventory on their balance sheet, fostered by a Federal Reserve which has flooded the primary mortgage system with a couple trillion dollars in liquidity. This liquidity makes it possible for banks to hold onto the non-income generating homes, thereby preventing the banks from swamping the market with additional inventory. In fact, some estimates show that banks may be withholding as much as 90% of their REO from the market:
Online foreclosure marketplace RealtyTrac recently found that just 15 percent of REOs in the Washington, D.C., area were for sale, a statistic that is representative of nationwide numbers, the company said Bank REO.
As you can thus see, there are a lot of homes that are being "hidden" within the banking system and withheld from the "for sale" inventory. This has created the illusion of low inventory and has helped generate a small price bounce in the marketplace. Barring some miracle, this market illusion is not going end well.
The truth is, if the Government/Fed stimulated housing market bounce continues long enough, the artificial rise in prices will unleash an avalanche of shadow inventory homes from sellers who would be able to unload homes with currently underwater mortgages and from banks who would be able to unload their big inventory of REO.
The illusion of improving sales
Another factor which has helped clear the "for sale" visible inventory from the market and has given the illusion of sales is the large amount of capital from private equity and hedge funds that have bought "blocks" of lower end homes with the goal of converting them into rentals or make a bet on values recovering: The Investment Buyer.
Essentially the investment buyer has shifted inventory from the "for sale" market to the rental market. As the home rental inventory builds, it is likely that this private investment buyer demand will soon "saturate," leading to a rapid decline in demand, as this class of buyer will disappear as quickly as it appeared, especially if the capital investment strategy fails:
success is by no means assured for private-equity firms, especially given their high targets for investment returns in general and their lack of experience with this type of real estate (WSJ link above).
In fact, one of the first hedge funds to jump into the investment home game, Och-Ziff Capital, is looking to unload about 300 homes in northern California. Apparently Och-Ziff overestimated the potential return on capital from renting homes and is looking to get out of this investment arena before more recent players figure the same thing out:
Och-Ziff's move could indicate that institutional investors may have to dial back their expectations, especially with regards to rental income Och-Ziff exits landlord business.
The fact is, these "bulk" buyers have likely played a much larger factor in the housing market "bounce" than has been recognized. In some markets, these absentee owners have comprised over 50% of housing sales in any given month. At some point, sooner rather than later, the housing market will go from a huge supply of homes for sale to a huge supply of homes for rent:
In just the months of September and October, Las Vegas sold 4,278 single family units to absentee owners. Assuming a majority of them will show up as rentals soon, if they haven't already, how much more can the market absorb? If this trend continues, how many months will it take to swamp the desert with single family rentals? Bulk buyer effect.
Once the market for rentals becomes oversupplied, the bulk investment buyers will look to unload their properties because the capital will not be earning a rate of return and these investment funds will be exposed to significant investment losses. This dynamic will take several quarters to play out, but once it unfolds it will further depress home values.
Real household formation - the organic buyer
This brings us to the "organic" demand component of the housing market. The primary components of organic demand are younger first-time buyers and "move-up" buyers. The common denominator is that these are homeowners who also occupy the home as a primary residence. The organic buyer is the essential ingredient to household formation and steady sales velocity. In order for the organic buyer segment to function properly, the economy has to be creating real full-time jobs that generate real growth in personal income.
In order for people who do have jobs to buy a house, they have to have the income that will support required mortgage financing. The Government has a monthly personal income report that has been remarkably showing consistent growth in personal income. Like all other Government statistical reports, a true analysis of the data shows a completely different story. Economic data analyst Doug Short's most recent analysis of real personal income has some excellent charts which show the comparison between Government-reported nominal monthly income and real monthly income. The "real" numbers are adjusted for inflation. I recommend reading his recent post, Median Household Incomes.
With stagnant/declining real personal income, there can not be real growth in mortgage financing, the primary driver of organic home sales. Because of this, the Government has stepped in and taken over nearly the entire mortgage market as a policy decision to try and stimulate the housing market. As of the end of Q2 2012, the Government's share of mortgage lending was nearly 97%: Government mortgage funding. The growth in FHA mortgages alone has gone from 4% of the market in 2007 to 15.5% in 2012: FHA mortgage growth.
When you look at the numbers, it is clear that the FHA has been the Government's mechanism for generating sales in the housing market. Unfortunately, it also now looks like the Government has used FHA mortgages to plug the gaping hole left by private sub-prime mortgage issuance after the housing bubble popped. The FHA sponsored mortgages require as little as a 3.5% down payment. From the rapid growth in FHA mortgage default rates, it is clear that Government has created another subprime mortgage default disaster in the making, with some vintage FHA mortgages experiencing delinquency rates close to 30%:
In fact, the Wall Street Journal reported in November that the FHA may require a taxpayer bailout to stay in operation: FHA bailout likely.
As you can see, the Government has largely been responsible for stimulating what appears to be a bounce/recovery in organic housing market demand by injecting $100's of millions into the mortgage finance system to subsidize the high growth of FHA Government sponsored mortgage underwritings. It is likely that the Government, through its myopic and politically motivated desire to reflate the housing bubble, has sewn the seeds the for next housing market collapse - or re-collapse - as the rapidly growing cesspool of low quality FHA mortgages underwritten since 2007 fall into delinquency, default and ultimate foreclosure, taking the entire housing market with it - similar to what happened when the housing bubble originally popped.
As I have laid out above, what is generally perceived to be a housing market recovery by mainstream media and stock market investors is, in reality, little more than a dead-cat bounce. This faux recovery is built on unstable supply/demand fundamentals and has been fueled by an enormous amount of taxpayer-backed stimulus programs. Because of the high short interest in most homebuilder stocks, which makes short term trading strategies difficult to play, I would recommend taking advantage of the significantly overvalued homebuilder equities by look at long-date, at-the-money put options on these stocks. I analyzed why I think DR Horton is a good candidate for this strategy here: DR Horton. You can also make a bearish bet on the homebuilders in general by buying LEAPS puts on the XHB (homebuilder ETF). I am looking at the Jan 2014, 23 strike puts for $1 right now. Patience will be required which is why I recommend long-dated puts, but I nailed this sector the first time around leading up the initial bubble bursting and I suspect that I will be right this time as well.
Disclosure: I have no positions in any stocks mentioned, and no plans to initiate any positions within the next 72 hours. I wrote this article myself, and it expresses my own opinions. I am not receiving compensation for it (other than from Seeking Alpha). I have no business relationship with any company whose stock is mentioned in this article.
Additional disclosure: Long DHI puts