U.S. Economy Sending Optimistic Signals
This analysis aims to identify the direction of the United States Economy by looking at what we consider the major leading economic indicators. Each indicator is analyzed based on the latest data available, and then based upon this we make our opinion on the indication as pointing to either growth, neutral or decline, with a positive or negative outlook on the indicator being possible.
Our analysis is summarized and a decision is made based on this summary for the total economic direction of the US economy. Our summarized scoring table and weightings of each indicator are shown in the summary table in the conclusion.
The following is our analysis of the leading indicators that we put into our crystal ball to show us where the US economy might be heading.
Stock Market
Over the past 3 months the S&P 500 index has shown a very strong 7% increase.
Further to this there has been a 3.47% increase in the index over the most recent month.
These positive increases signal that the market is expecting increased earnings, if earnings estimates are accurate. This points to a continued brighter outlook, with investors seeing value due to improving conditions in their view.
Indication: Growth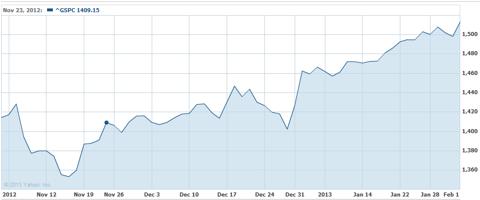 Source: finance.yahoo.com
Business Indicators
Business Confidence
Latest figures of US business confidence in January 2013 show a figure of 53.1, or an increase of +2.9 on December levels. Prior to this December levels were at 50.1 with a +0.7 increase on November. The number has risen above 50 and shows a decent sized jump in the last month, indicating increasing confidence in a majority.
Over the last 3 months the index is up a modest 1.4.
Indication: Neutral (positive outlook)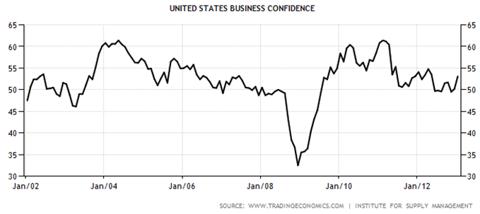 Manufacturing and Trade Inventories and Sales
Latest figures available are from November 2012. U.S. total business end-of-month inventories were $1,621.5 billion, up 0.3% after also rising 0.3% the month before.
Business sales were $1,271.6 billion in November, up 1%, declining 0.3% in the prior month.
This shows us a stable inventory to sales ratio over the last couple of reported months.
Indication: Neutral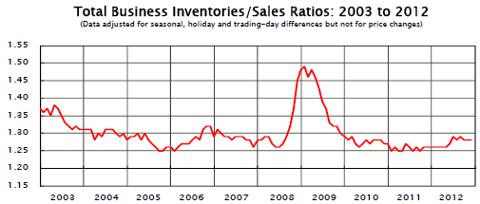 Source: US Department of Commerce
Retail/Consumer Indicators
Consumer Confidence
The US Consumer confidence index for January 2013 is down -8.1 to 58.6. December also showed a decrease of -4.8.
Over the last 3 months we have seen significant declines in consumer confidence from a high of 71.5 to the current 58.6 level, a significant 12.9 decrease.
Levels are showing fairly strong declines in confidence. However the overall level has not dropped to a significantly low enough number for us to consider a decline rating.
Indication: Neutral (negative outlook)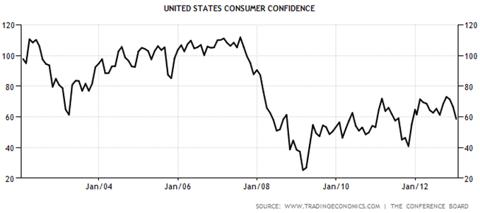 Advance Monthly Sales for Retail and Food Services
In December, U.S. retail and food services sales reached $415.7 billion, an increase of 0.5%, after an increase of 0.4% in the prior month of November.
As the graph below shows, auto made up most of the modest increases in November, and it is encouraging to see December show a rise in ex auto sales. While these are not strong up ticks, it is encouraging enough for us to see small signs hinting toward positivity.
Indication: Neutral (positive outlook)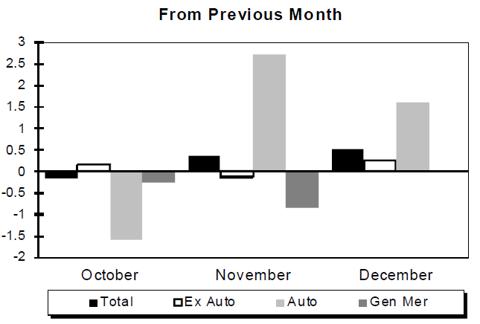 Source: US Department of Commerce
Construction/Building Indicators
Construction Spending
Construction spending in the US was at $885.0 billion in December 2012. This shows a 0.9% increase on November. Over the last 3 months construction spending is up 2.6%.
Construction spending is showing a continued rising trend and indicates a growing economy.
Indication: Growth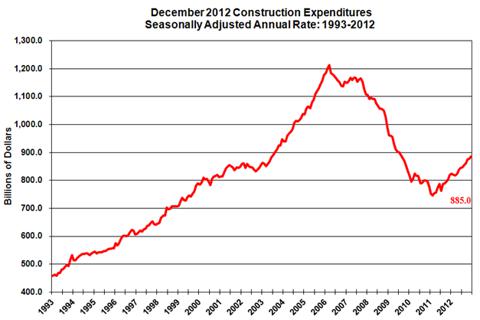 Building Permits
Latest building permit information is to December 2012. Seasonally adjusted data shows a 1% increase in housing building permit issues in the US. Over the previous 3 months there has also been a 2.1% increase
The building permit indicator tends to move up and down a lot from month to month. Therefore, looking at 2012 as whole it showed a nice steady gain overall, and in the last quarter. For this reason, we think the indicator is pointing in a positive direction going forward for the economy, but lacking those larger jumps for us to view it as giving a stronger indication.
Indication: Neutral (positive outlook)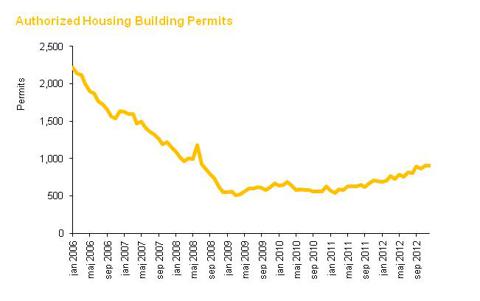 Conclusion
Investors are very confident regarding the US economy, based on the current rise of the S&P 500. This very high optimism is not yet shared quite as strongly by consumers, manufacturers, retailers and construction alike. However, there does definitely appear to be a growing, yet restrained optimism. This restraint is very likely on the back of global economic concerns, including China's slowing down, Europe and the US's own high debt levels.
The tables below show a summary of our scaling for the US economic direction and a summary of our analysis in the above writings. As can be seen, the total score comes in at 3.6, indicating a neutral position with a positive outlook for the US economy.
This indicates that the US economy is in a very stable phase, and looks as though it should continue to see growth into the short term at least and no substantial drops long term. Also any potential large positive or negative market events could kick the economy into an even stronger forward drive, however, the same of course applies for a slow down.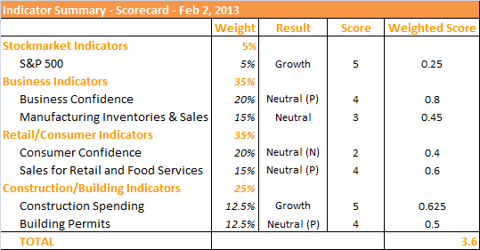 Disclosure: I have no positions in any stocks mentioned, and no plans to initiate any positions within the next 72 hours. I wrote this article myself, and it expresses my own opinions. I am not receiving compensation for it (other than from Seeking Alpha). I have no business relationship with any company whose stock is mentioned in this article.