The Manitowoc Company, Inc. (NYSE:MTW) has seen a phenomenal growth of ~69% in its stock price the last six months. It even surpassed S&P returns with a high margin. The stock has recovered tremendously after hitting a low of ~$9.7 in May 2012 and is currently trading at ~$17.75. I feel that much of this recovery is attributed to the fact that Manitowoc gets the majority of its business from North America, and is not geographically as diverse as its competitors are. Hence, it was least impacted by the on-going crisis in Europe.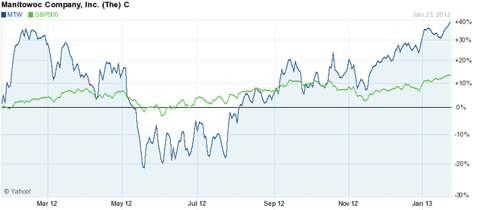 Source: Yahoo Finance
Impressive Food Service Segment
The company's unique product offerings and the operational efficiency in its Food service segment has helped it in achieving a strong operating margin of ~18%, in spite of flat sales in the previous quarter. This segment contributed ~60% to the company's overall operating profit. In order to maintain the same level of margin going forward, the company is reorganizing its operations. In 3Q12, it closed down its Fort Wayne ovens plant and consolidated it into Cleveland, Ohio. This move will help the company to achieve significant savings in labor costs as well as expand its manufacturing capabilities. With rising commodity costs in the food service industry, I expect the demand for new equipment to further increase as its customers will attempt to increase productivity. Consequently, Manitowoc is adding new products such as the self-serving coffee and ice-cream equipment with a different mix of technology than the one currently being used. It is targeting at least 50 new products from specialty beverage products to accelerated cooking systems.
Peer Review
Its main competitor, the Middleby Corp. (NASDAQ:MIDD), is also focusing on extending its product line. Middleby is already known for its energy-efficient and cost-efficient products in the industry which contribute a larger portion to its sales. The company's innovative concept "Kitchen of the Future" was launched in 2011. Under this initiative it introduced kitchen equipment which uses 30% less energy, requires less manpower and improves productivity by around 40%. Till 3Q12, it has installed these units in around 780 stores and this will reach to a total of 1500 in 1H13. To further expand its product line, it recently acquired Viking Range Corporation for ~$380 million. Via this acquisition, Middleby would be launching a new product range in 2013 including various induction and speed cooking technologies from Viking. These initiatives would definitely help the company to boost its sales revenue along with increasing its competitive position.
Another competitor Illinois Tool Works Inc. (NYSE:ITW) has higher exposure to Europe with ~32% of its global sales coming from this region. I feel this could make a dent on the company's revenue as I don't expect a significant economic recovery in Europe in the near-term. On the brighter side, I am really impressed by the company's focus on the after-market services. The company is currently at ~34% of MRO mix even higher than the overall industry average of ~30%. This will definitely help the company in achieving its target of ~20% operating margin by 2017 (up from ~16% currently). Other than this, I anticipate around 3% of organic revenue growth for Illinois in 2013.
Vision 2013
I expect the food-service revenue to grow by ~6% in 2013, as the new equipment replacement cycle begins. Manitowoc's favorable product mix will further help it in posting good margins. On the other hand, looking at the success of Illinois, I feel that after-market service should emerge as a strong opportunity for Manitowoc in the upcoming time. The company is targeting after-market services at ~20% of its mix by 2017, up from ~15% currently. This would be a highly beneficial move as the margins are nearly double in after-market services as compared to the new equipment sales. Talking about Manitowoc another segment - cranes, it is also set for growth curve in 2013. The recently released data for the U.S. crane industry forecasted crane revenue to grow around 8% y/y in 2013. This would act as a catalyst for Manitowoc for additional equipment purchases in 2013. I expect these growth drivers to increase the company's EPS by around 7% in 2013.
Summing up, I feel the whole operating margin enhancement story in the food service segment will boost the company's profits in 2013. Also I don't see any significant debt maturities for the company until 2016. Therefore, investors can expect rewarding dividends from the improved cash flow. I consider it as a good investment option at this point.
Disclosure: I have no positions in any stocks mentioned, and no plans to initiate any positions within the next 72 hours. I wrote this article myself, and it expresses my own opinions. I am not receiving compensation for it (other than from Seeking Alpha). I have no business relationship with any company whose stock is mentioned in this article.