The second biggest oilfield services firm Halliburton (HAL) has recently released its fourth quarter and full year results. Unlike its rival Schlumberger (SLB), the company relies heavily on pressure pumping and drilling activity in North America. The slowdown in its primary market has caused a drop in its income. Where quarterly revenues have increased by 3.20% to $7.29 billion, the total operating income and net income from continuing operations have fallen by 31.40% and 35% to $981 million and $589 million respectively which translates into earnings per share (excluding one-off charges) of $0.67. However, the quarterly results managed to beat market expectations which caused a 5.92% increase in its stock on Friday (25th January). For the full year, revenues have climbed by 14.80% to $28.50 billion but total operating income and income from continuing operations have dropped by 12.20% and 14.24% to $4.16 billion and $2.58 billion respectively.
In 2012, Halliburton earned 56% of its revenues from North America and 43% from abroad. On the other hand, Schlumberger has earned less than one-third (32%) of its total revenues from its home market and nearly 70% from abroad.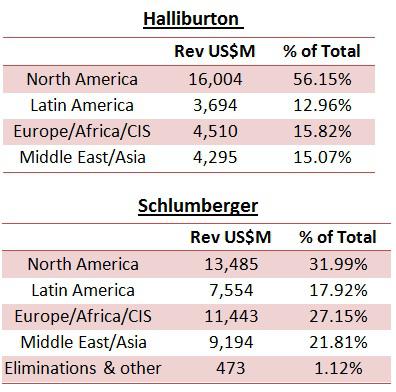 Halliburton's full year operating income increased by 29% ($135 million) in Latin America, 148% ($354 Million) in Europe/Africa/CIS* and 52% ($236 million) in Middle East/Asia regions but the 26% ($1.04 billion) drop in North America was enough to completely offset the impressive gains made in international markets.

On the other hand, while Schlumberger's operating income (pretax) also fell by 10% ($316 million), but the 31% ($1.36 billion) increase in the operating income from outside of North America was more than enough to cover for the fall in North America and translated into 15.23% ($719 million) increase in income from continuing operations to $5.44 billion for the year 2012.

In essence, not only does Halliburton rely on North America for more than 56% of its revenues, it has witnessed more than twice as much drop in earnings from there as compared to Schlumberger.
Moreover, in terms of revenues over a period of five years (since 2008), Schlumberger has achieved at least 40% growth in all of its markets. Its revenues in North America have more than doubled from $5.91 billion in 2008 to $13.48 billion in 2012. Similarly, Latin America, Europe/CIS/Africa and Middle East/Asia regions have reported revenue growths of 78.6%, 40% and 60.6% respectively. In the three years from the beginning of 2008 till the end of 2010, Schlumberger earned more in Europe/CIS/Africa than in North America. Since 2011, its home market has become the biggest contributor to its revenues, although Europe/CIS/Africa is a close second and the emerging markets of Middle East/Asia are quickly catching up.

Halliburton's five year growth story is relatively less exciting (there is no triple digit growth here). Revenues from North America have almost doubled from $8.34 billion in 2008 to $16 billion in 2012 showing an increase of 91.9%. Revenues from Latin America and Middle East/Asia have increased by 52.3% and 35.6% respectively. Halliburton's Europe/Africa/CIS revenues have remained fairly flat and have registered a growth of just 3.8% from their 2008 levels.

Overall, since 2008, Schlumberger's international revenues have increased by 55.5% while Halliburton's international revenues have gone up by 25.8%.
More importantly, while Schlumberger continues to generate more than twice as much revenues from abroad than from North America, Halliburton is going in the opposite direction. The latter is focusing more on the United States where it yields considerable political influence. Until 2008, the company earned $1.56 billion more in overseas than at its home market. By 2010, this difference shrank to just $319 million and finally, from 2011 onwards, North America became its major market from where it earned at least $3.5 billion more in revenues than from international markets.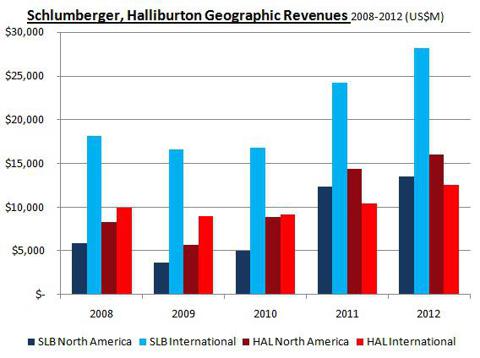 In the CY-2012, Schlumberger's stock has risen by 3.56% while Halliburton has trailed below the industry leader registering a growth of just 0.52%. Schlumberger has recently increased its quarterly dividend by 13.6% which has taken its yield to $1.70%. Halliburton's stock gives a yield of 0.90% and is currently trading at $40.68 with a P/E of 14.31. Citigroup, on the back of better than expected results, has raised Halliburton's price target to $46 while MarketWatch suggests a price target of $46.95. Although Halliburton is a buy at the moment, given the choice, I would always prefer Schlumberger (also a buy - discussed in more detail in my previous article) which offers better yield, is more profitable (as it doesn't rely on the low margin North American operations for most of its revenues) and a better return on equity.

*CIS: Commonwealth of Independent States
Disclosure: I have no positions in any stocks mentioned, and no plans to initiate any positions within the next 72 hours. I wrote this article myself, and it expresses my own opinions. I am not receiving compensation for it (other than from Seeking Alpha). I have no business relationship with any company whose stock is mentioned in this article.