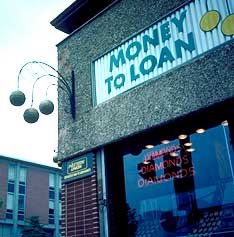 If you are looking for recession and depression resistant stocks, one option is High Cash, No Debt, High Yield Stocks. However, another option is to buy the stocks of publicly traded pawn shop chains. A pawn shop is basically a company that provides a small loan at a high interest rate with a personal item put up as collateral. The item can be anything from a guitar to a TV to a diamond ring. Pawn shops have been reporting that business is booming, and that more and more middle class and upper class people are taking advantage of their services.

Here is a list of a few publicly traded pawn shop companies worth checking out:

Cash America International, Inc. (NYSE:CSH) is a Fort Worth, Texas company founded in 1984, which owns about 500 pawn shops in 22 states. The stock has a P/E ratio of 8.5 and a PEG ratio of 0.66. They also pay a yield of 0.50%.

EZCORP Inc. (NASDAQ:EZPW) is an Austin, Texas based chain of pawn shops. It has over 290 pawn shops in the US, and over 90 shops in Mexico. The stock has a P/E ratio of 12 and a PEG ratio of 0.5.

First Cash Financial Services Inc. (NASDAQ:FCFS) is an Arlington, Texas based company with over 275 pawn shops. The stock has a forward P/E ratio of 12 and a PEG ratio of 0.84.

Besides pawn shops, another industry that may be considered recession resistant is the big pharma stocks.

Disclosure: Author does not own any of the above.