Wal-Mart (NYSE:WMT) is the quintessential "widows and orphans" safe-haven dividend growth stock. It doesn't take a genius to understand the company's business model: they sell almost everything to everyone at costs that very few competitors could afford to do profitably. The firm continues to expand and grow, its "moat" is as secure as it gets, and quite frankly it's as "recession-proof" as a company can be. It won't double overnight, but there are a number of very compelling reasons to consider adding shares to your portfolio on a pull-back for long term growth.
Dividend Growth Dream
For a stock like Wal-Mart, investors certainly expect some level of steady capital appreciation, but the real gem is that investors can count on dividend-growth. For a more detailed description of why dividend-growth companies rock, I suggest the article "19 Things I Like About Dividends" by David Van Knapp, but the essence of the premise is simple: you buy a great company, and as its earnings increase, its dividend will increase as well. This means your investment is not only likely to appreciate, but the yield on your initial investment is also likely to grow -- a long term double play.
In order to grow dividends in a sustainable fashion, net income needs to grow, which Wal-Mart has been quite good at doing so even during the "Great Recession":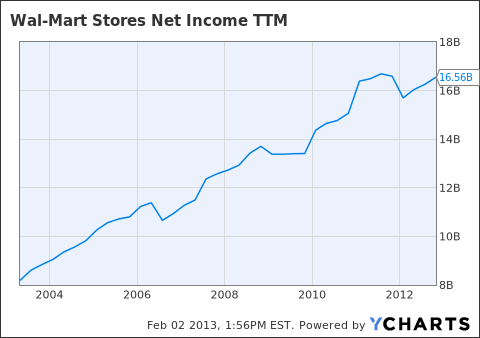 WMT Net Income TTM data by YCharts
The next thing we need to look at is the share count over this same period: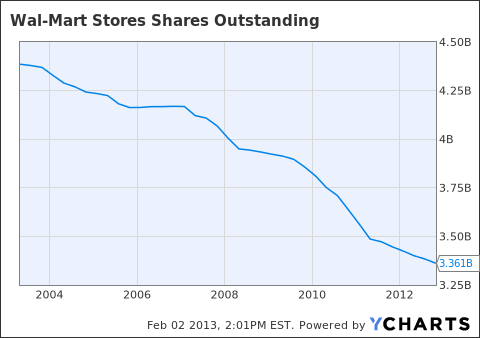 WMT Shares Outstanding data by YCharts
So this is as good as it gets from a dividend-growth perspective: the share count has declined by 25% while net income over this same period has doubled.
The final ingredient, then, is to take a look at the firm's payout ratio: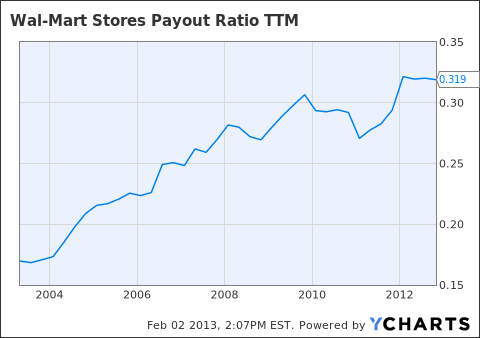 WMT Payout Ratio TTM data by YCharts
The payout ratio has actually increased quite nicely over this period as well, so as net income grows, Wal-Mart is likely to actually increase its payout ratio.
Risks
Obviously, every business has risks, and Wal-Mart is no different. Bret Jensen wrote an excellent article, "Wal-Mart: Looking Like Dead Money At Best In 2013". Some of the negatives to the dividend growth thesis that Bret brings up include:
The company is heavily targeted by unions which, if successful, could dramatically impact operating margins.
Dividend growth may slow as Wal-Mart shifts shareholder returns to stock buybacks
Amazon's (NASDAQ:AMZN) monster expansion of fulfillment centers all over the country could pose as a long term competitive threat to margins
Conclusion
With the markets near all-time highs, it will soon be time for a broad market pullback. If you're looking for a long-term, stable dividend growth company that has demonstrated uninterrupted earnings growth even through the worst of times, then Wal-Mart is worth serious consideration for your portfolio.
Disclosure: I have no positions in any stocks mentioned, and no plans to initiate any positions within the next 72 hours. I wrote this article myself, and it expresses my own opinions. I am not receiving compensation for it (other than from Seeking Alpha). I have no business relationship with any company whose stock is mentioned in this article.