An article in Digitimes, one of the most widely read tech-press sites on the web, made the following claims:
Toshiba is the first tablet vendor that plans to adopt the Nvidia (NASDAQ:NVDA) Tegra 4
Toshiba is the only tablet vendor that is planning on adopting the Tegra 4, with the rest of Nvidia's usual crew (Asus, Acer, and so on) not particularly interested in the chip.
The purpose of this article is to show that this rumor is more than likely false, especially in light of quite substantial evidence to the contrary.
Vizio: Proof By Contradiction
The easiest way to disprove a claim is to show a counter-example. Well, here it is: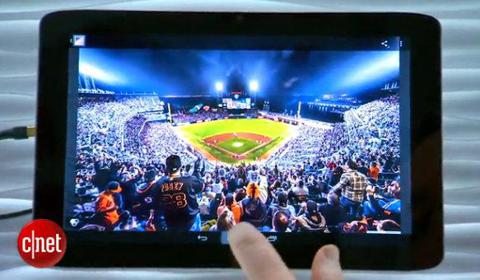 This is a 10" tablet that Vizio showed off at CES. It's powered by the Tegra 4, sports a 2560x1600 display, and is as high end as a tablet gets. Easy counterexample to the notion that only Toshiba is interested in the Tegra 4. However, the ultimate implication of this article is that demand for Tegra 4 is simply not there. That leads me to my next point:
Tegra 4: More Successful Than Tegra 3
After CES, Nvidia released a promotional slide-deck on its site about the newly announced Tegra 4. In it, there was the following slide: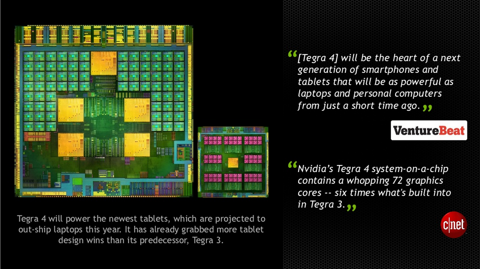 While the quotes from the media don't speak much to Nvidia's design win momentum, the blurb right under the chip die shot does. Here's what it says:
Tegra 4 will power the newest tablets, which are projected to out-ship laptops this year. It has already grabbed more tablet design wins than its predecessor, Tegra 3.
Considering that Nvidia had the highest market share of any non-Apple (NASDAQ:AAPL) tablet chip vendor (17% of all tablets), and further considering that in the next design cycle Texas Instruments (NYSE:TXN) and Freescale (NYSE:FSL) will not be playing, it is very likely that we see Nvidia's market share actually increase in this coming design cycle. The TAM will also expand, which is another tailwind for the company. It is extremely unlikely that Nvidia is outright lying to its investors, and the facts support that.
Conclusion
Always pay attention to articles from the trade press such as Digitimes -- more often than not, such articles actually influence share price, leaving many investors confused. However, make sure to critically analyze the "news" and determine whether it makes sense. If the market irrationally reacts (in either direction), then there could be some money to be made by determining whether the rumors are true or not. This rumor, however, seems completely bogus in light of the very obvious evidence and publicly made statements.
Disclosure: I am long NVDA. I wrote this article myself, and it expresses my own opinions. I am not receiving compensation for it (other than from Seeking Alpha). I have no business relationship with any company whose stock is mentioned in this article.