Oil giant ConocoPhillips (NYSE:COP) reported decent fourth quarter results Wednesday night. Earnings, adjusted for certain items and to reflect the divestiture of Phillips 66 (NYSE:PSX), declined 8% year-over-year to $1.43 per share, which was a penny better than the Street expected.
Production was up modestly compared to the same period a year ago, growing 1.8% to 1,607 MBOE (MBOE = one thousand barrels of oil equivalents), with production hitting record numbers in the Eagle Ford and Bakken shales. The firm also had solid growth in reserve replacements, which totaled 156% for the year at 8.6 million BOE. The majority of reserves came from oil sands in Canada, as well as increased provable reserves at US shale sites. The firm continues to aggressively invest in exploration via both traditional venues like deep water drilling and less-conventional paths like oil sands and shale.
ConocoPhillips' 2013 outlook includes relatively flat production (shown below), though that number will be down as soon as $9.6 billion worth of asset divestitures close by mid-2013. We aren't anticipating huge upside or downside to either natural gas or crude oil prices at this time, which should prevent a major swing in profitability relative to expectations (Image Source: COP Earnings Presentation).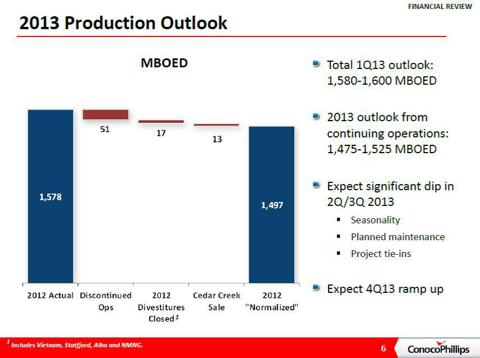 Still, we continue to be disappointed with Conoco's free cash flow generation. The company doesn't have a terribly high debt-to-capital ratio (31%), but for a firm paying such a large dividend, we'd like to see operating cash exceed capital expenditures in order to ensure the dividend's safety. The company can only use asset sales as a source of cash for so long before they run out (Image Source: COP Earnings Presentation).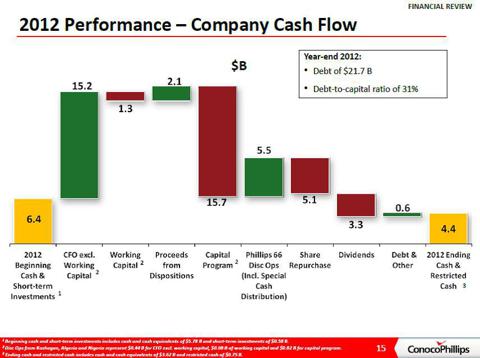 Given its deteriorating organic cash flow trends, we're currently evaluating whether or not to eliminate the name from the portfolio of our Dividend Growth Newsletter, especially since shares look about fully valued at current levels.
Disclosure: I have no positions in any stocks mentioned, and no plans to initiate any positions within the next 72 hours. I wrote this article myself, and it expresses my own opinions. I am not receiving compensation for it (other than from Seeking Alpha). I have no business relationship with any company whose stock is mentioned in this article.
Additional disclosure: COP and PSX are included in our Dividend Growth Newsletter.