Public Storage (NYSE:PSA) introduced a new traditional preferred stock on January 8 that is now trading under the symbol PSA-W (see prospectus). Boasting a Moody's A3 rating, the new security offers a 5.200% annual dividend to investors.
Early Trading Performance
This new preferred stock started trading on the wholesale Over-The-Counter stock exchange on January 9 under the temporary OTC trading symbol PSAXL for an opening price of $24.87 (read how to purchase preferred stock shares at a discount below par).
PSAWL transferred to the NYSE on January 16 as PSA-W (see preferred stock trading symbol cross-reference table). On January 31 PSA-W closed at $25.15.
Issuing Company
Public Storage is a $26.6 billion (market cap) self-storage REIT founded in 1971 and is headquartered in Glendale, California. PSA has the highest rated preferred stocks trading on U.S. stock exchanges of any REIT. The company's preferred stocks joined Moody's investment grade ranks in November 1995 (Baa2) and remained there until August 2006 when the rating agency upgraded the securities to Baa1, up one notch.
The most recent upgrade came in October of last year to the current A3 rating. The glowing ratings are a real testament to CEO Ron Havner and his management team (see latest quarterly conference call transcript with Wall Street analysts).
Market Position
Even at the lofty A3 rating, the market is signaling that they have an even higher opinion of Public Storage preferred stocks. At the close on January 31, the market priced PSA-W at $25.15 which translates to a yield of 5.170% - consistent with a Moody's Aa3 rating in today's market, two notches up the investment grade scale from A3.
This Risk versus Reward Profile chart illustrates the classic trade-off between risk and reward as it is currently being played out in the U.S. marketplace for preferred stocks. Within the mix, you can see how the new PSA-W from Public Storage stacks up [1].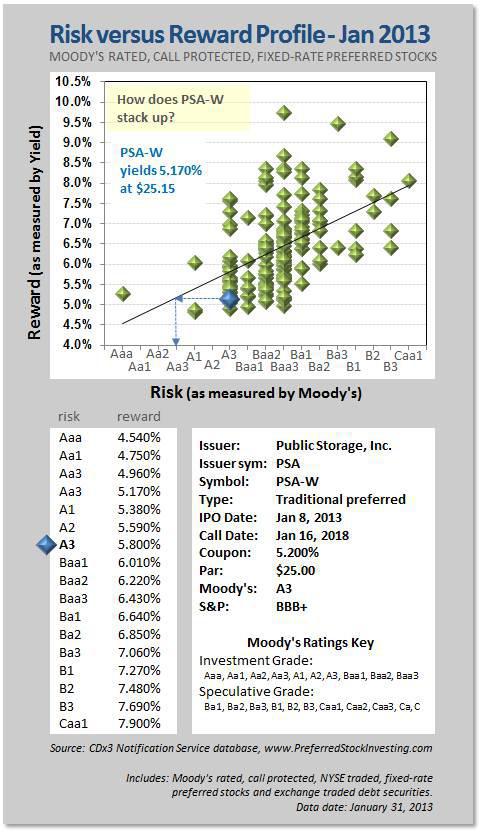 Peer Issuers
Risk Peers: PSA-W has a total of 24 peers at the A3 risk level including preferreds issued by Southern Company (NYSE:SO) subsidiary Gulf Power and Goldman Sachs Group (NYSE:GS). As mentioned earlier, PSA is the only REIT with A3 rated preferred stocks.
Reward Peers: Using PSA-W's 5.170% yield seen on the Risk versus Reward Profile chart as a mid-point, there are 23 peers offering a similar yield (within 0.25%) including preferred stocks from Comcast Corporation (NASDAQ:CMCSA) and Wells Fargo (NYSE:WFC).
Investing in This Security
Both the default risk and reward for PSA-W are at the low end of the scale. Investors are reminded that paying close attention to future interest rate direction comes along with investing in securities with a fixed return, especially if you are considering paying more than the security's par value ($25 per share in the case of PSA-W).
While the Federal Reserve and many other analysts do not expect rates to start rising for another couple of years (2015?), market prices of fixed-rate securities (such as PSA-W) will tend to fall during a period of increasing rates (see chart and data for this relationship). Investing in such securities during a period of lower rates requires that additional attention be paid once rates start to rise in the future. Selling your shares may become advisable in order to avoid a future capital loss.
Regardless of what happens to rates in the future, PSA-W will continue to pay shareholders its 5.875% per year dividend which will produce $2.94 per share in dividend income over the next two years.
Footnotes:
[1] Source for all preferred stock data in this article: CDx3 Notification Service database, Preferred Stock Investing, Fourth Edition (PreferredStockInvesting.com). Historical price data provided by TDAmeritrade. Disclosure: The CDx3 Notification Service is my preferred stock email alert and research newsletter service and includes the database of all preferred stocks and exchange-traded debt securities traded on U.S. stock exchanges used for this article.
Disclosure: I have no positions in any stocks mentioned, and no plans to initiate any positions within the next 72 hours. I wrote this article myself, and it expresses my own opinions. I am not receiving compensation for it (other than from Seeking Alpha). I have no business relationship with any company whose stock is mentioned in this article.
Additional disclosure: This article is intended to provide preferred stock investors with a sense for the current risk/reward trade-off being offered by today's marketplace and the position of recently introduced securities therein. Securities identified within this article are for illustration purposes only and are not to be taken as recommendations.