It has been a regular story since the beginning of the year. After all of this time since the outbreak of the financial crisis, the "great rotation" out of bonds and into stocks by investors is finally underway. And this rotation along with an economy that is picking up steam as we move through 2013 will be the primary fuel to drive the next phase higher in the stock market. This all sounds like a very appealing and sustainable investment theme. But before diving head first into the sizzling hot market rally, it is important to first step back and ask one key question. Is any of this real? If not, it is important to proceed with caution.
What of this "great rotation" we've been hearing about so much since the beginning of the year? Certainly, it is a story that is as old as the crisis itself. Naive and fearful investors that piled into the bond market for safety in the aftermath of the financial crisis are finally realizing that staying in fixed income destines them for meager returns at best. They are also waking up to the fact that the only way to generate reasonable returns and secure the income they need is by moving out of bonds and into stocks. And those that stay behind in bonds will be truly sorry once they sustain considerable capital losses on their investments.
OK. This all sounds like a reasonable idea. And at some point, we are more than likely to see this actually happen. But is this "great rotation" by the investment public out of bonds and into stocks actually what we are seeing today? Put simply, the answer is, "Not at all."
Let's focus first on the bond side. According to both the Investment Company Institute [ICI] and Lipper, both taxable bond and municipal bond mutual funds and exchange traded funds (ETFs) have continued to experience consistently solid net cash inflows throughout the month of January. In fact, the +$28 billion in net inflows into bond funds during the first three weeks of January alone is over 70% higher than the +$16 billion net bond fund inflows that has occurred each month on average since the beginning of the financial crisis according to ICI. In short, money is not rotating out of bonds. Instead, it is still pouring in at a healthy rate.
We'll now move on to stocks. Yes, we have seen net inflows into stock mutual funds and ETFs in recent weeks according to both ICI and Lipper. But the key point here is in recent weeks. One or two data points do not at all indicate a change in trend. According to ICI, domestic stock mutual funds have experienced over -$600 billion in net outflows since the outbreak of the financial crisis several years ago. In this context, the +$16 billion in net inflows into domestic stock mutual funds over the last few weeks barely scratches the surface by bringing us back only to early December 2012 levels.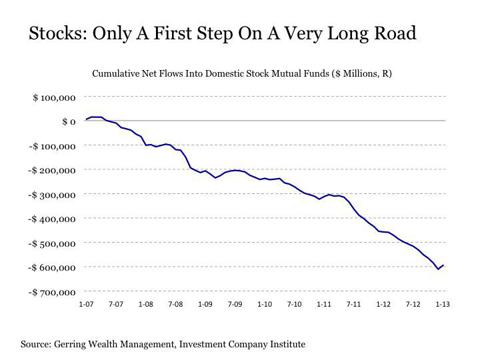 It is also worth noting that January is a seasonally strong month for domestic stock mutual fund inflows. This is due to a variety of factors, including the receipt of annual employee bonuses and increased 401k contributions at the beginning of the year among others.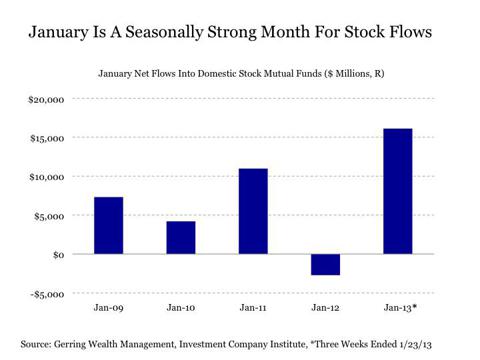 And while the net inflows into domestic stock mutual funds in January 2013 may seem particularly strong, it is worth noting that the net outflows during the previous month in December 2012 were particularly pronounced due in large part to the anxieties surrounding the outcome of the fiscal cliff debate in Washington. Thus, any strength in the net inflow figures this year is more than explained by a redeployment of capital that was withdrawn the previous month.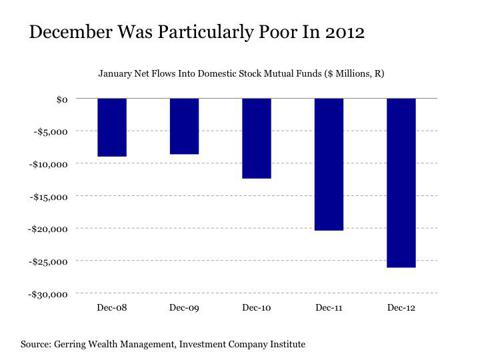 "I just sit around and start inventing these, like, intricate scenarios. And then I don't want to have wasted my time, so I want to believe them." - Sex, Lies, and Videotape
Clearly, the "great rotation" is nowhere close to being underway. It has not even started. So why then have we been hearing so much in the media and from numerous analysts since the beginning of the year about the stampede by investors out of bonds and into stocks? Because it is a sexy story that catches the attention of those listening to the headlines. Unfortunately, these are not stories founded in truth and facts. Instead, they are based purely on hope and conjecture. This is not good.
Whether it makes sense or not, we live in a stock obsessed world. Someone tuning into the financial news would understandably come to the quick conclusion that stocks represent all that matter and are good, that bonds are for the cowardly and meek, and gold is for those that are radically dogmatic that the global financial system is going to collapse. A grossly disproportionate amount of time is spent focusing on stocks and stocks alone. Nobody in the financial media was rejoicing when long-term U.S. Treasuries were rallying by +34% in late 2008 or by +35% in mid 2011. Instead, the focus centered almost exclusively on the fact that stocks were falling through the floor. So if the opportunity presents itself to start pushing a story that the "great rotation" out of bonds and back into stocks is finally getting underway, even if it is based on only one-half of one or two very small data points, the inclination is to run with it, particularly as the stock market itself is rocketing to the moon with so few investors actually on the ride. After all, the revitalization of sustained investor belief in the stock market is presumably essential in encouraging viewers, readers and retail investors to finally come back after such a long time away.
Unfortunately, hope is not reality. Will this "great rotation" eventually happen someday? Almost certainly. But are there any meaningful signs it is happening right now? Absolutely not. Thus, the fact that we are hearing so much about a story that is founded solely in hope is worrisome, for it introduces an additional layer of risk that investors are forced to navigate.
Just as importantly, it raises another critical question; if domestic stock funds have hemorrhaged fund flows to the tune of over -$600 billion since the beginning of the financial crisis, why exactly has the stock market rebounded so strongly over this same time period? Even the last few weeks require scrutiny. Sure the rally since the beginning of the year has been robust, but +$16 billion in net inflows falls well short of even beginning to explain the magnitude of the advance in stocks in January 2013.
Of course, the answer resides with the repeatedly massive injections of liquidity by the U.S. Federal Reserve along with other global central banks since the beginning of the financial crisis. One is only left to wonder where stocks might be today if the Fed had stepped away once they had stabilized the global economy following the conclusion of QE1 back in March 2010. The world will never know.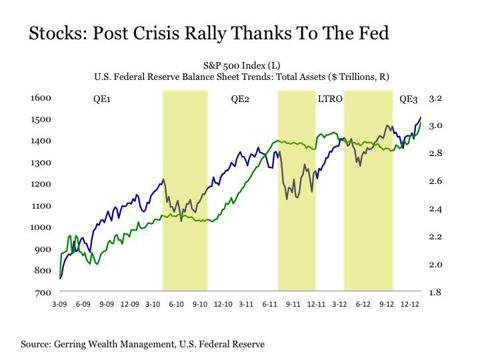 But the fact that we are hearing so much about a "great rotation" that is not happening brings forth attention to some other common themes we hear on a daily basis. For example, the consensus view is that the economic recovery is bound to accelerate as we move through 2013, thus dialing up allocations to stocks is a sensible move. But what if the economy does not accelerate? What if we instead fall into recession? Given the fact that we are facing higher taxes and cuts in government spending at a time when businesses continue to operate under vast regulatory uncertainty, one does not have to make a great leap to find reasons why personal consumption expenditures, gross private domestic investment, and government consumption and gross investment might not only fall short of expectations but actually decline over the coming year. And it would be a Herculean task for corporations to meet their already lofty revenue and earnings expectations the market has placed upon them in such an environment. Such an environment is bad for stocks and good for bonds.
As another example, what if the bond market including U.S. Treasuries is actually not in the bubble that so many proclaim? More specifically, what if bond yields are currently so low not because of the Fed's unprecedented bond buying programs? Instead, what if bond yields are actually this low due to actual investor demand for protection against deflation? Such positioning would actually be quite rational and is an idea that is supported not only by the $1.2 trillion in net inflows into total bond mutual funds since the beginning of the crisis, but also by the fact that yields actually rise when the Fed is purchasing Treasuries under QE and fall when the Fed steps away and allows the bond market to operate on its own. Thus, instead of the Fed inflating a bond bubble, perhaps they are trying to encourage money out of a more rational bond market in repeatedly trying to inflate a stock bubble. Maybe. Maybe not. But a different perspective that at least warrants consideration.
One final example. It is widely assumed (but certainly not universally believed) that once the economy finally gets going on a sustainably strong growth path that the U.S. Federal Reserve will be able to drain the financial system of its excess liquidity in a controlled way that will not at all disrupt the pace of the recovery or the financial markets. But when this same Federal Reserve essentially missed the warning signs of the housing bubble that preceded the crisis, why should we take it as a given that they will clearly see the warning signals in advance and know how to perfectly navigate out of the situation this time around? Building on this point, the Fed has no road map or past precedent to help guide its policy actions going forward. We are in uncharted territory, and mistakes are inevitable in the process along the way.
All of this highlights the fact that risks remain as high as ever in investment markets. Thus, a diversified portfolio asset allocation remains as important as ever.
Of course, it has certainly been worthwhile to position portfolios to participate in the recent stock market rally. Allocations to higher beta positions such as U.S. mid-cap stocks (NYSEARCA:MDY) as well as individual names such as BHP Billiton (NYSE:BHP), Occidental Petroleum (NYSE:OXY), Apache (NYSE:APA) and Potash Corporation (POT) have all been rewarded in recent weeks. And while emerging markets (NYSEARCA:EEM) such as China (NYSEARCA:FXI) and Brazil (NYSEARCA:EWZ) have paused recently, it has come on the heels of previously robust advances. Even the more stable stock offerings have performed well recently including low volatility stocks (NYSEARCA:SPLV) such as McDonald's (NYSE:MCD). High yield bonds (NYSEARCA:HYG) have also performed well in this context despite the pullback over the last few days.
The fact that the stock rally is running so hot raises some legitimate concerns, particularly given the fact that the economic and market fundamentals behind the rally remain dubious at best. At some point, this equity rally is likely to run out of steam and a sharp correction will follow. It could come next week, next month or later in the year. And the correction may last a few weeks, a month or two, or it could mark the beginning of the final cleansing phase of the secular bear market that began all the way back in the year 2000. And all of this could occur even with the support of continued monetary generosity from the U.S. Federal Reserve.
As a result, it remains as important as ever to maintain hedges in your portfolio against these various outcomes. Although they continue to grind despite showing some signs of life in recent weeks, both gold (NYSEARCA:GLD) and silver (NYSEARCA:SLV) remain important allocations for the medium-term and long-term. As the rampant money printing leaks its way into the global financial system, these precious metals stand to benefit from the currency debasing effects. And if another crisis scenario were to unfold, these precious metals provide a safe haven. The Central GoldTrust (NYSEMKT:GTU), Central Fund of Canada (NYSEMKT:CEF) and Sprott Physical Silver Trust (NYSEARCA:PSLV) all provide ideal securities to establish this exposure.
Allocations to U.S. TIPS (NYSEARCA:TIP) also make sense in this same context. They provide protection against an inflationary outbreak. At the same time, they offer safe haven protection during times of instability given their status as a U.S. Treasury security.
Lastly, holding positions in cash should not be overlooked along the way as a perfectly reasonable short-term strategy for moving to the sidelines to weather any storm while waiting for the next attractive re-entry point.
It will be interesting to see how events play out in the months ahead. Along the way, it will remain important to keep one's head. And a sensible way to accomplish this goal is to try to look past the sexy stories in the news of the day, for it may be riddled with unfounded speculation and factual inaccuracies. Instead, by remaining disciplined and balanced in one's asset allocation and portfolio approach, they can still participate in stock market rallies while also being fully prepared to continue generating positive returns from different parts of their portfolio in the event that the tide suddenly turns.
Disclosure: I am long APA, BHP, CEF, EEM, EWZ, FXI, GTU, HYG, MCD, MDY, OXY, POT, PSLV, SPLV, TIP. I wrote this article myself, and it expresses my own opinions. I am not receiving compensation for it (other than from Seeking Alpha). I have no business relationship with any company whose stock is mentioned in this article.
This post is for information purposes only. There are risks involved with investing including loss of principal. Gerring Wealth Management (GWM) makes no explicit or implicit guarantee with respect to performance or the outcome of any investment or projections made by GWM. There is no guarantee that the goals of the strategies discussed by GWM will be met.