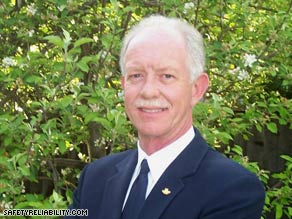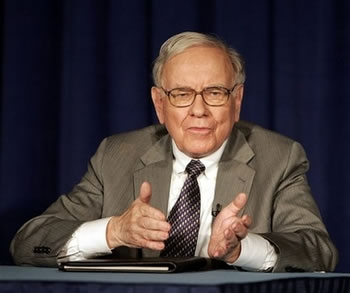 The American economy has stalled, but we have some of the most competent people in the world working for us. Last week, one of those very competent Americans, pilot Chesley Sullenberger, shown above on the left, glided a US Airways (LCC) jet to a safe landing in the Hudson River. Not a single passenger died.
Warren Buffett, shown above on the right, is the economic equivalent in competence of Sullenberger. He has taken advantage of his extraordinary understanding to help the many investors who have entrusted their savings to him.
In 2003, Buffett proposed an Import Certificates Plan to balance trade in order to avoid the crash that he saw on America's horizon. His brilliant plan would stimulate exports at the same time that it would limit imports.
In October 2008, we pointed out that it is exactly what the United States economy needs right now in order to deal with the recession and keep our economy growing for the long-term.
Buffett was one of Obama's unofficial advisors during the election campaign. Unfortunately, since winning the election, President-elect Obama has turned to incompetent economic advisors, the sort who never saw the current problems coming. They think that they can stimulate the economy without fixing the trade deficit, which is like pumping up a tire without fixing the leak.
Economist and former VP candidate Pat Choate agrees with the Levy Economic Institute of Bard College that Obama's stimulus package won't accomplish much if it doesn't address the trade deficit. He is disappointed with Obama's chief economic advisors. Here is how he assessed them in a January 10 commentary:
Lawrence Summers, the former Treasury Secretary in the Clinton Administration, a key advocate for NAFTA and an architect of U.S. policies for global financial deregulation, will head the Obama National Economic Council....

The Secretary of the Treasury will be Timothy F. Geithner, Summers' aide in the 1990s and now the head of the New York Federal Reserve Bank – the man who failed to monitor Wall Street during the Bush years....

The Administration's point person on trade will be Ron Kirk, who is glaringly inexperienced in trade policy. In the late 1990s, Kirk was the Mayor of Dallas, Texas, and in 2002, a candidate for the U.S. Senate seat now held by his GOP opponent. After failing to win that race, Kirk joined the giant Houston law firm of Vinson Elkins, where among other work he lobbied the Texas Legislature for the Wall Street private equity firm Kohlberg Kravis Roberts & Co and TPG, a global investment firm....
America, like Pilot Chesley Sullenberger, does not have much time to solve its problems. During President Obama's "honeymoon," his economic team could easily get Buffett's Import Certificates plan passed. If they don't, we will continue losing our remaining manufacturing industries and will continue to pile on more and more debt. We could be heading toward a dollar crash.