United Parcel Service (NYSE:UPS) recently released its Q4, 2012 earnings where it announced, among other things, that it was giving back more to its shareholders through share repurchases and dividends after the cancellation of its deal with TNT Express.
But before we look deeper into this, let's take a step back and look at the company's earnings. Starting with the bad, UPS took some one-time non-cash charges that reduced its 2012 EPS from $4.53 to just $0.83. Its generated free cash flow for the year was $5.65 per share.
From the company's Q4 2012 earnings call transcript:
Andy Dolny - Vice President of Investor Relations

These two factors, the change in the bond portfolio mix and the compression in the spreads to treasuries resulted in a significant drop in our average discount rate. This led to a non-cash mark-to-market after-tax charge of $3 billion on our company-sponsored pension and post-retirement benefit plans for 2012. [...] Keep in mind this charge does not affect UPS cash flow, benefits paid to plan participants, or required pension funding.

(Note: After this explanation, management talked about income and earnings excluding the non-cash charges)

Kurt Kuehn - Chief Financial Officer, Principal Accounting Officer, Senior Vice President and Treasurer

[...] We wrapped up the year with free cash flow of approximately $5.4 billion, and although we feel short of our target for the year, UPS generated record earnings per share of $4.53. This was achieved in the face of weak global trade, and in spite of superstorm Sandy, which cost us about $0.05 a share.
Using its ample cash flows and the cash that was reserved for the deal with TNT, UPS intents to buy back $4 billion of its stock which is about 5% of its current market cap. In addition to that, Kurt Kuehn the company's CFO also emphasized the importance of dividends, implying a raise in dividends paid too.
Kurt Kuehn - Chief Financial Officer, Principal Accounting Officer, Senior Vice President and Treasurer

[...] For the year, UPS paid $2.1 billion in dividends, an increase of 9.6% per share. In addition, we repurchased 21.8 million shares for approximately $1.6 billion. Looking ahead to 2013, UPS expects strong free cash flow to continue, again exceeding 100% of net income.

As a result [...] UPS is increasing our 2013 guidance for share repurchases by an additional $2.5 billion, up to a total of $4 billion. As always, dividends will also continue to be a priority. [...] we expect another good year of earnings growth. We are anticipating earnings per share in the range of $4.80 to $5.06, an increase of 6% to 12%.
For 2013 UPS gave guidance for $4.80 to $5.06 EPS and for its FCF to be more than 100% its EPS. In addition UPS has consistently increased the amount of dividends paid and its dividend per share almost every year (except 2008) for the past decade. Add these up, and you have a pretty solid case that UPS is going to raise its absolute cash dividend payments again in 2013.
The real question is how much is UPS' dividend going to grow?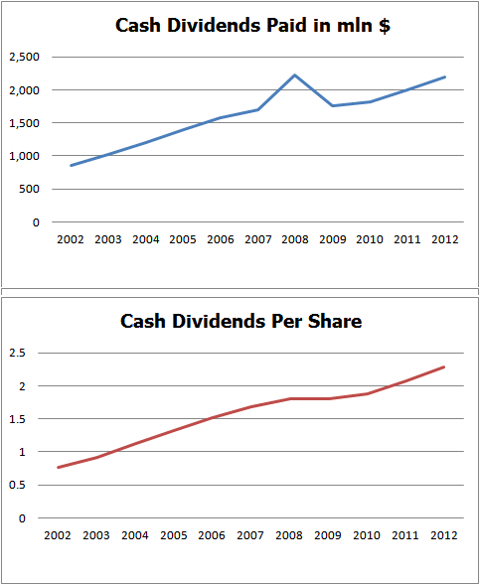 (Data from Morningstar, chart by the author. The cash dividends paid in 2012 is an estimate)
Historically, UPS' annual dividend increase (excluding the effect from share buybacks) averages about 10%.
Furthermore, we are still in the early stages of the business cycle, and there are a lot of recovery and boom years ahead for UPS to grow and increase its FCF even more.
Scott Davis - Chairman, Chief Executive Officer and Chairman of Executive Committee

[...] We're starting to see a pickup in global trade which is very important for us as we look forward.

[...] the game plan is we will keep a balanced use of cash going forward. We will continue to increase distributions to shareholders. We will review dividend policy here in a couple of weeks.
Putting all these together
Let's see what we've gathered so far:
UPS is going to repurchase $4 billion of its shares which is 5% of its current market cap.
Management expects $4.80 to $5.06 EPS for 2013 (including the buyback effect) and expects FCF to be above 100% of EPS.
UPS has an almost unbreakable tradition of increasing its dividend every year both in absolute and per-share terms.
UPS's average annual dividend payments increase is 10%.
UPS has a lot of years of growth ahead.
My take from all of this, is that UPS will increase its dividend by 10% to $2.50 when its management re-evaluates its dividend policy in a few weeks. That's a forward dividend yield of 3.125% at UPS's current stock price.
UPS is also trading at its fair value, which is approximately 16x forward earnings. The reason for that high multiple is UPS' long term growth rate, which is 6%.
For dividend growth investors, I believe that UPS is very good investment, because at this pace, it will at least double its dividend every 7 years. Furthermore, it is fairly priced, and as a result, has only moderate downside risk.
Disclosure: I have no positions in any stocks mentioned, and no plans to initiate any positions within the next 72 hours. I wrote this article myself, and it expresses my own opinions. I am not receiving compensation for it (other than from Seeking Alpha). I have no business relationship with any company whose stock is mentioned in this article.