Unless you live in a galaxy far, far away, you probably know by now that Disney (NYSE:DIS) has acquired the rights to most of the Star Wars franchise through the purchase of LucasArts, Lucasfilms, Industrial Light & Magic, and Skywalker Sound. You may have also heard that the White House has rejected a petition to begin construction on the Death Star, which, unfortunately for Disney, means they won't be able to sell the plans to the federal government for big bucks. Fear not though, unlike the Death Star, Disney cannot be destroyed by a statement from the White House nor a Jedi in an X-Wing. They may have paid $4.05 billion in shares and cash to acquire the company and the franchise, but the price does not matter, it's the return that matters. Disney clearly had the capital to pull this off with relative ease, now the question is whether they will see a return on this investment or not. Disney's own prediction is that their new acquisition will start contributing positively to net income in 2015, which makes sense as that is when the first Disney Star Wars movie is set to premiere. Until then we may see lower returns from costs associated with the acquisition. As Disney is set to release on February 5th their first earnings statement since completing the acquisition, now is a great time to analyze the company and see where it might be headed.
Fundamentals and Technical Analysis
First we will look at the company's fundamentals and do some basic technical analysis. Revenue for 2012 grew 3.4% to $42.3 billion from $40.9 billion in 2011. Net income grew much faster, however, from $4.8 billion to $5.7 billion for a gain of 18.2%. As of September 29th, they had just under $43 billion in retained earnings on their balance sheet, more than enough to absorb the acquisition. Disney's stock closed at $54.59 on Friday, February 1st. In 2012, the price climbed 32.8% from $37.50 to $49.79, outperforming the S&P 500 by over 19%. Its price-earnings for the trailing twelve months is 17.5, just above the S&P 500 average of 17.14. At Friday's close of $54.59 and the most recent dividend of $0.75, Disney's stock is yielding 1.4% in dividends, below the S&P 500 average of 2.07%. Since 2004, however, the company has been steadily increasing the dividend - a total of 257% over the past nine years. The dividend has increased twice as fast as the stock price which increased by 127% during that same nine years. Last year alone the dividend increased by 25%. Although Disney's income growth and dividend growth are both impressive, the average price-earnings and below average dividend yield may cause you to think twice before investing right now, this is why next we will look at the company's history and business model to get a fuller picture of the true value of Disney.
Previous Acquisitions
Now for what is perhaps the most important part of the analysis - Disney's track record. Disney is no stranger to making acquisitions and profiting from them. On July 31, 1995, Disney announced that it was purchasing Capital Cities/ABC Inc. for a cash and stock total of $19 billion, making it the second largest corporate takeover in history to that date. This deal brought A&E as well as ESPN to Disney's portfolio. The latter is definitely the most profitable part of Disney's operations. It was estimated by a Wunderlich study in the summer of 2012 that ESPN is currently worth $40 billion while Disney as a whole is worth $86 billion. Since Disney owns 80% of ESPN, or $32 billion worth, that means that ESPN makes up more than 37% of Disney's total worth. Last year ESPN revenues totaled $8.4 billion and have grown consistently at 9% per year. While other companies are seeing declining ad sales based on the reality that no one watches television shows live anymore, ESPN has not been hurt at all as 99.4% of all sports events are still being watched live. Because of this, ESPN is the highest valued channel in terms of affiliate fees (fees paid by cable companies to the channel), priced at $5.13 per viewer, as compared to the basic cable channel average of $0.26 per viewer. That deal was clearly a homerun for Disney.
More recently, however was the acquisition of Pixar Animation Studios from Steve Jobs in 2006 (coincidentally, Steve Jobs had bought Pixar from George Lucas in 1986 when it was operating under the name The Graphics Group). Pixar entered the feature film business in 1991 via a partnership with Disney in which they would split the costs and profits of the films relatively equally. By the end of 2005, the Disney/Pixar team had created six films (Toy Story, A Bug's Life, Toy Story 2, Monsters Inc., Finding Nemo, and The Incredibles) with box office revenue totaling more than $3.2 billion. At that time Disney's relationship with Pixar was wearing thin, and Pixar began searching for a new partner to distribute their work. After seeing the success of these films, especially Toy Story, and the merchandise associated with them, Disney realized that it could not afford to lose Pixar. On January 23, 2006, Disney made a strategic move and announced that it would buy Pixar in an all-stock transaction totaling $7.4 billion. Since then, Disney-Pixar has been releasing a new feature length film each summer, the biggest of which was Toy Story 3, the first animated movie to gross over $1 billion at the box office. Total box office revenue for Disney-Pixar since the acquisition has been $4.5 billion, bringing Pixar's total box office revenue to $7.8 billion over the last seventeen years. They did this all on the budget graphed below totaling $1.3 billion. Also notice that this revenue figure does not even include admission to the Pixar themed attractions at their worldwide amusement parks or the total royalties they receive for combined merchandising on toys, games, and books. Disney has consistently ranked as the number one licensor in the world by sales at retail and in 2010 their total licensed sales were $28.6 billion, $2.4 billion of which came from Disney-Pixar's Toy Story 3. The exact percentage Disney gets from these sales is unknown as they do not make public that information.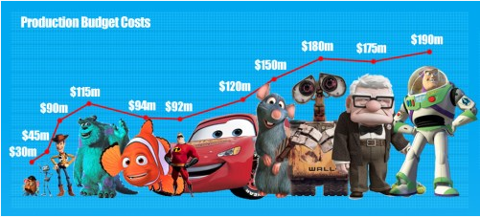 Another more recent example took place on December 31, 2009 when Disney announced that it had completed the acquisition of Marvel Entertainment for $4.24 billion in a cash and stock transaction. The deal valued Marvel stock at $50 which was a 29% premium over that day's closing price of under $39. The acquisition of Marvel Entertainment brought more than five thousand new characters into Disney's arsenal, most of which had a great amount of appeal for boys, an area where Disney was somewhat lacking. Marvel was best known as one of the two largest comic book companies (the other being DC) until the mid-1990's when the comic book bubble crashed. By the time Disney purchased Marvel, the comic book company had realized that the bulk of its business was now in the entertainment industry. They had produced their first feature length movie (Blade) in 1998 with New Line Cinema, a subsidiary of Time Warner (NYSE:TWX). By 2008 Marvel began producing their own movies with Iron Man, in addition to co-producing with other companies on things like the Spiderman and X-Men series. Disney has already shown that it can exploit this brand. On a list of the highest grossing films of all time, unadjusted for inflation, you will see The Avengers in third place with $1.51 billion. Marvel and Disney already have several other big name movies in the works including Iron Man 3, Captain America: The Winter Soldier, and sequels to Amazing Spiderman and The Avengers. Another unique aspect of this acquisition is that Marvel is a wholly owned subsidiary of Disney and therefore their merchandising sales are tracked separately. Combined merchandising sales for Marvel in 2010 were $5.6 billion, separate from the previously mentioned $28.6 billion figure, making Marvel the sixth most valuable licensing brand in the world.
The last two acquisitions were made under CEO Bob Iger, who was the president at ABC at the time Disney acquired it. Mr. Iger seems to be using a very risk-averse strategy to grow Disney. He is acquiring brands that are already trusted and well established. He then uses Disney's vast personnel expertise and large amount of assets to grow the brands and market them like never before. We have already seen Disney take Pixar from making six movies and $3.2 billion in their first fifteen years to making seven movies and $4.5 billion dollars in half that time for their most recent seven years. Next, we took a look at how Disney helped Marvel distribute a movie that would become the third highest grossing movie of all time before inflation adjustments.We have also seen how Disney has become the world leader in brand licensing by taking advantage of characters from their own movies as well as Pixar and Marvel characters. What we have not seen is how Disney has integrated Pixar and Marvel (and even some Star Wars already) characters into their theme parks, but with 121.4 million visitors to Disney theme parks in 2011 (according to the AECOM Economics Theme Index, pictured below), you get the idea. Disney has some pretty good channels with which they can milk every last dollar out of a brand.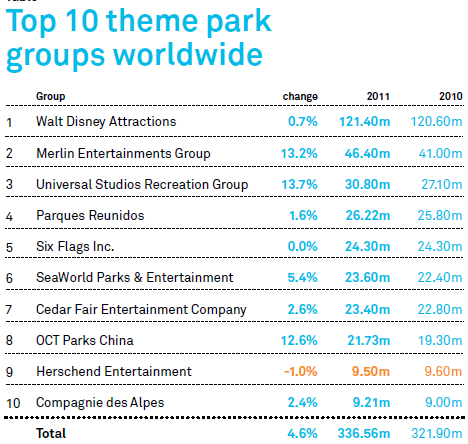 None of that changes with the acquisition of Lucasfilm. This acquisition is just business as usual for a company with a track record like Disney. Disney has acquired a company with a very successful track record and two great brands associated with it, Star Wars and Indiana Jones. Everyone knows that Star Wars is definitely the more exploitable of the two brands, and the main reason Disney made the purchase. What is interesting is that Disney paid less for Lucasfilm than for Marvel. According to estimates, Star Wars has a total of 17,000 exploitable characters, more than three times as many as Marvel. The Star Wars franchise also has an incredible history of sales. Look at the graphic below to see just how much Star Wars has made in each category since the release of the first movie in 1977.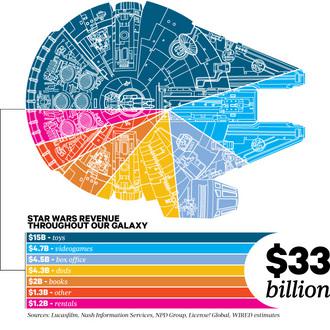 Clearly the biggest category is toys. Disney knows this, and they will market Star Wars toys to their maximum potential. Disney also sees profitability in releasing a third trilogy of movies. New Star Wars movies have been talked about for years now, but this time it's serious. Disney just recently confirmed that J. J. Abrams, founder of Bad Robot Productions and director of Star Trek (2009) and Star Trek into Darkness (2013), as well as Mission Impossible III (2006), and Super 8 (2011) will be directing Star Wars Episode VII slated for release in 2015. The planned new trilogy will have movies with release dates approximately two to three years apart and are almost sure to be a success. When adjusted for inflation, Star Wars Episode IV: A New Hope has the third highest box office revenue in history, with $2.7 billion, behind Gone with the Wind and Avatar. Disney has already proven that they can take a big brand and make it bigger, with a brand already as huge as Star Wars, they can do things greater than even Emperor Palpatine could think possible.
Conclusion
Looking at the traditional technical measures of stock valuation, Disney looks like an average buy. Looking further into Disney's diversified portfolio of characters and businesses, it becomes clear that Disney has just begun to tap into the potential of the Pixar and Marvel acquisitions and already they are seeing incredible returns. And don't forget about ESPN, the most valued channel in all of cable. Clearly Disney knows what it's doing. Led by Mr. Iger, Disney continues to follow its strategy of buying something big and making it bigger. Star Wars is just another planet system in the huge empire that is Disney.
Disclosure: I have no positions in any stocks mentioned, and no plans to initiate any positions within the next 72 hours. I wrote this article myself, and it expresses my own opinions. I am not receiving compensation for it (other than from Seeking Alpha). I have no business relationship with any company whose stock is mentioned in this article.