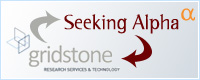 I'm happy to announce an innovative partnership between Seeking Alpha and Gridstone Research. Starting today, Seeking Alpha will be providing Gridstone's institutional equity research platform at no cost to 225 of our leading contributors.
Gridstone Research offers subscription and research services to firms in the capital markets. Gridstone's research platform is a powerful web-based stock research tool, provided to hedge funds and mutual funds on a subscription basis. Gridstone competes in the institutional investor market with Thomson Reuters (NYSE:TRI), among others. The Gridstone system has just about any piece of data that a company makes available on a regular basis. Data is clearly laid out in spreadsheet form, viewable on the web or in Excel. Clicking on a data point accesses the exact location of the data in the original source document.
According to Gridstone, searching, retrieving and organizing data can take more than 60% of an analyst's or portfolio manager's time. Gridstone has therefore built a powerful search engine that understands financial terms and financial documents, and searches across SEC filings, company earning releases, and earnings call transcripts. The search results are snippets of relevant text and not just links to the documents. Each snippet can be clicked to see it in its exact location in the original document.
Gridstone has agreed to provide additional free support and training to a handpicked group of Seeking Alpha contributors. Gridstone requests only that the author link to its service in the body of posts.
This is an important partnership for Seeking Alpha. We've created a platform where our contributors can enhance their reputations among their peers, be seen and heard by the most important decision-makers on Wall Street, make connections with those who are serious about investing, and share their opinions with a massive readership.
We want to provide our contributors with powerful research tools and resources that they might not otherwise have access to -- particularly in a weak economy where finance jobs are disappearing. We'd like to help our contributors enhance their stock picking and personal trading, and further deepen their skills and professional development.
Our partnership with Gridstone not only provides an opportunity for us to reward contributors, but also to provide them with comprehensive and robust data for their research and articles.
If you are a Seeking Alpha contributor who would like a free Gridstone account, please email us at contributors [at] seekingalpha.com
Some of the Seeking Alpha contributors who will be using the Gridstone Research platform:
Roger Nusbaum, Phil Davis, Paul Kedrosky, Todd Sullivan, Andrew Schmitt, Rob Day, Charles Morand, Richard Shaw, Zachary Scheidt, Jeff Miller, Gary Gordon, Alan Brochstein, Brad Zigler, Kris Tuttle and Seth Gilbert.