The Debate Rages On
We were in a 'quiet' period after the executive branch showed its cards -- those cards were not as far-reaching/invasive/extreme as some feared. The legislative process will continue. With the proposed bans moving to the Senate, expect to hear another roar from both sides of this debate as the anti-gun bill reaches the Senate and then flows on to the House of Representatives. Pass or fail, the media attention surrounding this issue will increase gun and ammo sales.
Gun and Ammunition stocks reacted favorably to the new 23-point plan recently unveiled by the president. The driving fear was that an executive order would be signed by the president banning various weapons. Now that this fear has passed, gun and ammo manufacturer stocks (along with gun-related retail stocks) for the most part experienced a rise in value.
Gun Control Bill Hits The Senate
A gun control bill by Democratic Senator Dianne Feinstein is proposing legislation that we can profit from. You can read all the details here about what the bill covers.
What we can expect is a resurgence of the media discussing gun control, social media debating it, and a general heating up of the debate. Expect to see the battle broadcast ad nauseum on cable television, radio, and various newspapers once it comes up for a vote in the Senate.
Senator Feinstein said: "The purpose is to dry up the supply of these weapons over time."
(Senator Feinstein displaying a Semi-Automatic Weapon)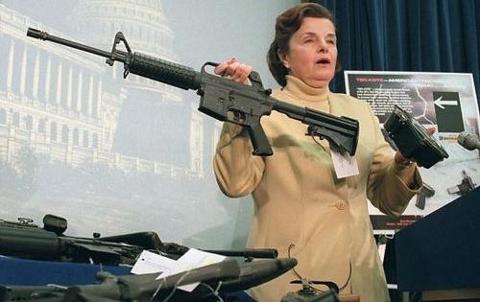 With various guns and most ammo in tight supply, this media frenzy will only add fuel to the fire. Sales will increase even further for gun and ammo companies. Of course -- that is assuming people can even buy anything -- since the supply of guns and ammo is very constrained.
Ammo Shortage
They say a picture is worth a thousand words: you be the judge. Ammunition is still flying off the shelves -- that is --when the shelves actually have any ammo in stock.
(Almost no ammo at a Mississippi Walmart)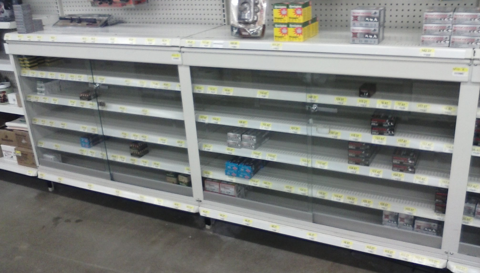 (A gun shop advertises - Picture courtesy of DigitalScalesaz.com)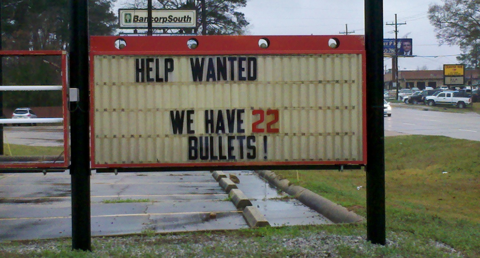 Weapons Pure Plays
So how can we profit off the upcoming media frenzy? For a pure play in weapons we can look to Ruger (NYSE:RGR) or Smith & Wesson (SWHC). Let's view them from a fundamental perspective: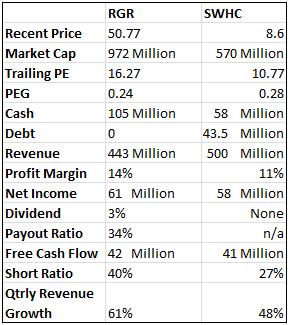 We like both stocks. Ruger is a little more profitable and has a stronger balance sheet, but it has a much higher market cap. Smith & Wesson has a lower PE but a slightly larger PEG ratio. Overall, we could buy either one and be just fine.
Ammunition Plays (Diversified)
If we still want a concentrated amount of exposure to the anti-gun issue, we can invest in ammo stocks such as Alliant Techsystems (ATK) or Olin Corp (NYSE:OLN). Both are in lackluster shape from a fundamental perspective, still... with the surge in ammo prices they could warrant further study.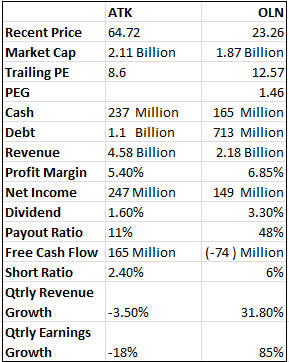 Retail Plays
Cabela's (NYSE:CAB) receives over 20% of its revenue from gun and ammo sales while Kohlberg Kravis Roberts and Co. (NYSE:KKR) owns Academy Sporting Goods among various other companies.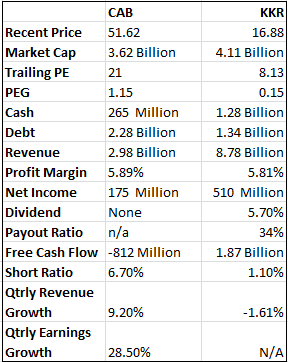 KKR looks like a steal here and is most likely unknown for the most part. The PEG ratio and PE ratio are very low. Net Income for KKR is many times higher than CAB. KKR is the least dependent upon gun sales, though, as it is very diversified.
Conclusion
The gun control battle is about to heat up and various guns and ammo are going to continue to be in a very tight supply. Rest assured: the gun and ammo manufacturers are working 24/7 to pump out as many weapons and as much ammo as humanly possible during this unprecedented mania. This media-induced frenzy will affect the gun and ammo stocks in a positive manner. We should see record-breaking sales and revenues during the next quarter. Get in now before the herd wakes up.
Disclosure: I am long SWHC. I wrote this article myself, and it expresses my own opinions. I am not receiving compensation for it (other than from Seeking Alpha). I have no business relationship with any company whose stock is mentioned in this article.