It was another interesting week for gold and silver markets as chronicled on Friday in Did Anything Change This Week For Precious Metals Markets? With a bit more time to ponder the subject, it seems the question posed in that title can be answered a bit more definitively now.
Yes - something did change last week in precious metals markets.
In short, recent economic data has revealed how fragile the U.S. economy is and this makes it far less likely that the Federal Reserve will stop printing money or start raising interest rates anytime soon. As investors watch the Fed's balance sheet rise in the months ahead and wonder what elected officials in Washington will do about the nation's intractable debt troubles without choking off the recovery, investor interest is sure to return to precious metals.
That's the message that can be gleaned from the surprise drop in fourth quarter economic growth and the increase in the unemployment rate, though there were also a few other notable events in precious metals markets last week including record coin sales, central bank buying, and developments in Asia.
The gold price briefly topped $1,680 an ounce on multiple occasions in recent days before giving back some of those gains and the metal ended the week 0.5 percent higher, up from $1,659.30 an ounce to $1,667.60. Silver also challenged resistance levels, in this case just above $32 an ounce, before faltering, but it ended with big gains for the week, up 2.1 percent, from $31.18 an ounce to $31.84.
After 11 straight years of gains, gold remains down for the year at -0.5 percent, some 13.3 percent below its 2011 high, and silver is up an impressive 4.9 percent so far in 2013, down 35.7 percent from its high almost two years ago.
It seemed constructive to look at the gold price alongside the combination of rising U.S. debt and increased central bank money printing and the result is shown below.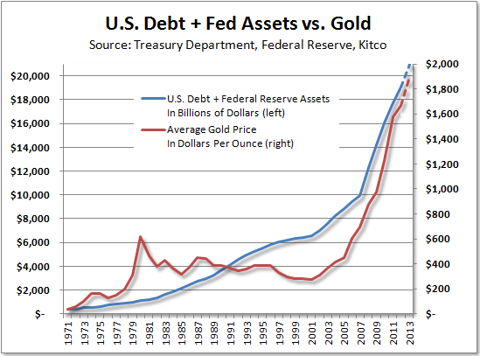 Why?
Because what we learned last week was, despite the recent optimism, the U.S. economic recovery is still very weak and, as a result, there is plenty more of both increased debt and Fed money printing to come as indicated by the dashed blue line in the upper-right area of the chart.
The dashed red line shows what the gold price would be expected to do after extrapolating from what's happened in the last decade and, as long as the blue line continues to go up, my guess is that the red line will too.
Using the average annual gold price takes a good deal of the noise out of the gold price curve and the two curves together tell a simple story that is not likely to change this year.
The U.S. economy remains heavily dependent on more deficit spending by elected officials in Washington and more money printing by the Federal Reserve and it is likely to get about a trillion dollars of each this year.
Surging silver and gold coin sales in January make clear that many Americans have come to this same conclusion. Bloomberg reports rather dryly, the following:
Sales of American Eagle silver coins by the U.S. Mint jumped to a record this month on increased demand for an alternative to currencies as the U.S. central bank presses on with unprecedented stimulus.
Six or eight years ago, you wouldn't have dreamed of reading an opening paragraph like this in a story from a news outlet like Bloomberg, but there it is.
The U.S. Mint reported that 7.5 million ounces of silver coins were sold in January, the biggest monthly sales total since they started keeping records in 1986 worth just shy of a quarter of a billion dollars. While sales are expected to slow in the months ahead due to seasonal factors, this is a tremendous start for the year.
January gold coin sales also set a new record at 150,000 ounces, the highest monthly sales total since July 2010, also worth about a quarter of a billion dollars. All told January gold and silver coin sales by the U.S. Mint totaled about a half a billion dollars "on increased demand for an alternative to currencies".
U.S. mine production is falling, so, that won't make it any easier for the mint to keep up with demand if it continues to grow. The U.S. Geological Survey reported last week that domestic mines produced 230 tonnes of gold in 2012, down from 234 tonnes in 2011 and silver production fell from 1,120 tonnes to 1,050 tones.
Central banks continue to buy gold as the International Monetary Fund reported that Russia added 20 tonnes in December, raising their holdings to 958 tonnes, and Kazakhstan's gold reserves increased by 2 tonnes to 115 tonnes, up over 40 percent on the year. Iraq reduced their gold holdings by 10 tonnes to just 30 tonnes. Central banks purchased about 500 tonnes of gold in 2012 and they remain an important source of demand.
The story of Germany's gold repatriation continues to reverberate around the financial world with the lingering question being why it will take up to seven years to transport 300 tonnes of the metal from New York Federal Reserve vaults back to the Bundesbank. In another remarkable story in the mainstream financial media related to this development, this Financial Times article lent credence to GATA's often heard claims of gold market manipulation:
That the Bundesbank has been nudged into this new-found transparency must be chalked up as a victory for the groups of investors - most prominent among them, the Gold Anti-Trust Action Committee, or Gata - that have for years been asking central banks to reveal their activities.

If central banks wish to refute suggestions from such groups that their gold does not exist, or that they are scheming to manipulate prices, they could do worse than to follow the Bundesbank's lead.
That is food for thought, to be sure, particularly when coming from the Financial Times where other contributors have a decidedly different view of the barbarous relic, a good example being detailed by Tim Price of PFP Wealth Management and recounted in Poor Tim Harford last week.
In India, after raising gold import duties for the third time in a year, the central bank said it has no plans for additional taxes aimed at curbing gold demand that, in turn, are aimed at reducing their trade deficit. The central bank also said that it has linked gold ETFs to bank gold deposit programs in an effort to somehow bring upwards of 30 tonnes of idle domestic gold back into the market and, as a result, reduce gold imports by the same amount.
Since India has been such a big source of global gold demand through the years, this continues to be a very important (if underappreciated) story for gold investors around the world and it was taken up in The Indian Government's Misguided Effort To Curb Gold Demand last week.
New gold ETFs are being launched in China where the government encourages gold ownership. This is one of the key reasons why China will soon surpass India as the world's biggest source of gold demand - if not in 2012 (final data is not yet in), this will surely occur in 2013.
Here in the U.S., metal has flowed out of the trusts for the major gold and silver ETFs in recent days, 2 tonnes from the SPDR Gold Shares ETF (NYSEARCA:GLD) and some 44 tonnes from the iShares Silver Trust ETF (NYSEARCA:SLV).
The "tonnes in the trust" for GLD remain near their record highs from December and recent declines in the holdings for SLV follow a massive 572 tonne addition in mid-January as shown below.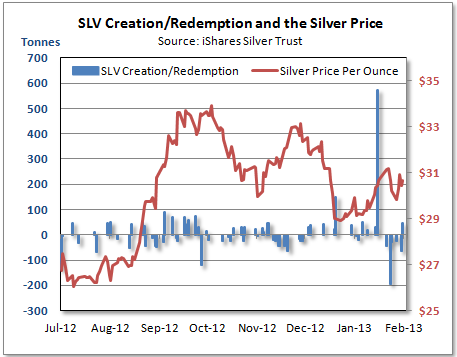 Lastly, there were more downward revisions to gold and silver price forecasts, but, the lowered price targets still represent significant gains from current levels.
BNP Paribas maintained a positive outlook for precious metals but predicted an average 2013 gold price of $1,790 an ounce, down from $1,865, while also lowering its average silver price forecast by $5 to $34.10 an ounce.
JP Morgan analysts expect further gold price consolidation over the near term, but they see gold trading at around $1,800 an ounce by mid-year.
At this point, $1,800 an ounce gold and $34 an ounce silver in 2013 would look pretty good to most precious metals investors.
Disclosure: I am long GLD, SLV. I wrote this article myself, and it expresses my own opinions. I am not receiving compensation for it (other than from Seeking Alpha). I have no business relationship with any company whose stock is mentioned in this article.
Additional disclosure: I also own gold and silver coins and bars.