When doctors diagnose patients with neuropathic pain, it almost always comes as a shock to patients and family members because it is often difficult to pinpoint and even more difficult to treat. Neuropathic pain is different from muscular or skeletal pain, as the pain or burning sensation is caused by damage to neurons or cells in the nervous system. Most drugs treat the symptoms of neuropathic pain and try to alleviate the physical discomfort and psychological agony without treating the root cause.
Lpath's (LPTN) Lpathomab directly targets Lysophosphatidic Acid (LPA) which plays an important role in neuropathic pain associated with neurotrauma, traumatic brain injury and spinal cord injury. Below, I will discuss how Lpathomab could help people with neuropathic pain by targeting the root cause of the pain, unlike its competitors which target symptoms. Successful Phase 2 trials of Lpathomab could act as a growth catalyst for the stock.
What Is Neuropathic Pain?
Neuropathic Pain can be described as intense pain resulting from damage to the nervous or somatosensory system. These abnormal sensations are caused by damage to neurons and neural tissue which causes continuous or episodic pain, a burning sensation, numbness and itching. Neuropathic pain affects 7% to 8% of the total European population, and the incidence is believed to be similar worldwide. Neuropathic pain can result from cancer or the treatment of cancers, along with HIV/AIDS and diabetes.
How Is Neuropathic Pain Treated?
Treating neuropathic pain is very difficult, and most physicians expect only 40 to 60% of patients experiencing only partial relief. Most patients are prescribed antidepressants, anti-epileptic drugs, Opioids, topical agents and cannabinoids. Antidepressants may come in the form of selective serotonin reuptake inhibitors or tricyclic antidepressants. Antidepressants not only elevate mood, but also reduce chemical reactions in the brain that helps us to perceive pain. Opioids like methadone may be prescribed when neuropathic pain is unbearable.
Extracts of the cannabis plant are sometimes given to patients when no other treatment works. Even with these choices, and a few other pain killers by big pharmaceuticals which I will discuss later, there is no treatment that directly targets the root cause of neuropathic pain.
Market Size
According to Nature Publishing Group,the neuropathic pain market is expected to grow from $2.4 billion in 2010 to $3.6 billion by 2020. Nucynta ER, manufactured by Janssen Pharmaceuticals, owned by Johnson & Johnson (NYSE:JNJ), is expected to lead the market by 2020 with sales of $1.2 billion. Nature Publishing Group is a leading publisher of scientific medical information.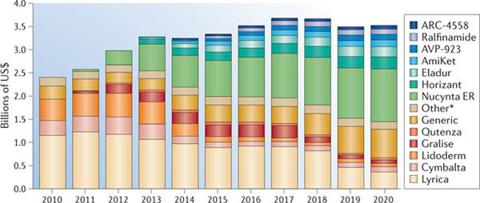 Lpathomab Treats the Root Cause of Neuropathic Pain
Lpath's Lpathomab is a monoclonal antibody against lysophosphatidic acid (LPA). It targets LPA directly. LPA is a clinically established cause of tumorigenesis, metastasis and fibrotic disease. LPA is also known to promote neuropathic pain. Lpathomab protects the body against neuronal cell death due to LPA activity and prevents neuropathic pain from progressing. Lpathomab can be used against a range of central nervous system disorders that cause unexplained pain and trauma.
Lpathomab is being considered for Alzheimer's disease and other degenerative diseases of the nervous system. Unlike its competitors, Lpathomab directly combats LPA and generates antibodies that protect the nervous system, enabling the nervous system to stop cell death, which is the root cause of neuropathic pain. Lpathomab will enter Phase 2 trials later this year. If and when the drug is granted approval from FDA to treat neuropathic pain and other central nervous system disorders, Lpath could give its competitors a run for their money.
Competing Drugs Don't Treat Root Cause
Pfizer's (NYSE:PFE) Lyrica, Eli Lilly's (NYSE:LLY) Cymbalta, and
Janssen Pharmaceutical's (owned by Johnson & Johnson) Topamax
are currently prescribed to alleviate the symptoms of neuropathic pain.
Pfizer's Lyrica treats the symptoms of neuropathic pain, but does not target Lysophosphatidic Acid (LPA), which causes cell death. Thus, the patient experiences temporary relief from pain, but continues to lose more neuronal tissue and cells, causing intense pain that can't be treated.
Eli Lilly's Cymbalta is an antidepressant that is often prescribed for those with mood disorders. However, it is also used in pain management, especially in diabetic peripheral neuropathic pain and fibromyalgia. Cymbalta (duloxetine) received approval from FDA to treat generalized anxiety disorder in February 2007. However, it is known to cause a number of side effects, including liver toxicity and suicidal events.
Topiramate (Topamax) is manufactured by Janssen Pharmaceutical (owned by Johnson & Johnson) and acts as an anticonvulsant. It is used to prevent seizures from occurring among those who suffer from epilepsy. The drug is has been linked to side effects such as nausea, confusion, memory problems, psychomotor slowing and upper respiratory tract infection.
Risks
Lpath currently trades at $5 and has a market cap of $52 million, putting it in microcap territory. With an enterprise value of $37 million, it is still a small company when compared to its competitors like Pfizer, Eli Lilly and Johnson & Johnson. The company has a price to sales ratio of 6.02 and a price to book ratio of 9.09, which suggests that it is not only doing exceptionally well when compared to its own previous performance, but is performing well when compared against its peers.
The company's profitability and management effectiveness are critical to its future at this stage of the business. With a profit margin of -58% and an operating margin of -70%, the company really needs the FDA to clear Lpathomab for neuropathic pain. Management needs to keep tight control of research and development expenses. Total assets decreased from $21 million at the end of Q2 to $18.7 million at the end of Q3. Total liabilities decreased from $14.3 million to $12.9 million during the same period. Operating income has been negative in every quarter throughout 2012.
However, Lpath is headed by well rounded business veterans who have experience in both the public and private sector. Some members of the management team also have substantial experience in biology and have researched lipids extensively. President and CEO Scott Pancoast has significant experience leading public companies. He was managing partner of a venture capital fund with $30 million to $100 million under management depending on the time period, between 1994 and 2004. He assumed the role of CEO or interim CEO for six start-up companies and served on the board of directors for over 15 companies, including three public companies.
Roger Sabbadini is Lpath's Vice President and Scientific founder. He founded three biotechnology companies and has extensively researched anti-body based therapeutics agains bioactive lipids, sspecifically S1P, which are now undergoing phase 2 trials for cancer and ocular disorders.
Conclusion
If the FDA approves Lpathomab for treating neuropathic pain, Lpath could be sitting on a significant financial and stock growth catalyst. The company currently has no debt and total cash of $16 million. This is one company that investors must carefully watch. Investors should watch new developments surrounding Lpathomab closely. If Phase 2 trials of Lpathomab are successful, investors should be prepared to buy.
Disclosure: I have no positions in any stocks mentioned, and no plans to initiate any positions within the next 72 hours. I wrote this article myself, and it expresses my own opinions. I am not receiving compensation for it (other than from Seeking Alpha). I have no business relationship with any company whose stock is mentioned in this article.