Southern Company (NYSE:SO) is a holding company, which owns Alabama Power, Georgia Power, Gulf Power, and Mississippi Power, each of which is an operating public utility company. SO generates and distributes electricity to more than 4.4 million customers in the Southeast with more than 43,500 megawatts of generating capacity. The latest earnings for SO will be reviewed, and SO's fundamentals will be analyzed in the following.
Recent Highlights
Q4, 2012 earnings: On January 30, 2013, SO reported Q4, 2012 earnings of $0.44 per share, beating Zacks Consensus Estimate of $0.39 per share and the year-ago profit of $0.30 amid higher energy use and a drop in costs. The Q4, 2012 revenue of $3,703M was slightly higher than Q4, 2011 revenue of $3,696M but was lower than Zacks Consensus Estimate of $4,465M. According to the report, below-normal temperatures across Southern's core Southeast market boosted electricity demand for heating. Weather-driven demand for heating in Georgia, Southern's largest market, rose 9.4 percent from a year earlier, according to data compiled by Bloomberg. Comparing to the other utilities companies, Southern is more greatly impacted by the direction of the economy as about one-third of Southern's total sales come from the industrial customers. On the cost side, SO's operation and maintenance expense decreased 11.5% year-over-year, the second quarterly decline following two successive increases. The full earnings transcript for SO's CEO discussion on Q4, 2012 result can be accessed here at Seeking Alpha.
Positive outlook: SO expects an EPS of $0.51 for Q1, 2013 and EPS of $2.68-$2.80 for the fiscal 2013, which are above analysts' expectation of $0.48 and $2.76 respectively. As reported by Zacks, "Management indicated that it continues to see positive indications of economic growth in the Southeast region but admitted delayed decision making related to expansion and hiring on the back of uncertainty over longer-term fiscal issues." Southern Company also sees power sales growth increasing to 1.4%-1.5% after 2013.
Stable dividends: Southern had been consistently distributing and increasing its dividend since January 27, 1987. SO went ex-dividend on January 31, 2013 with a cash payment of $0.49 per share, payable on March 6, 2013. Currently, the annual dividend yield is 4.45 percent at the share price of $44.01.
Key Stats and Valuation
SO has an enterprise value of $39.55B with a market cap of $38.47B. By using the data obtained from Morningstar, SO's key stats will be compared to its competitors in the industry of utilities, including Duke Energy (NYSE:DUK) and American Electric Power Co. Inc. (NYSE:AEP). SO has the same revenue growth (3 year average) of 1.0 as the industry average. SO has an operating margin of 25.6%, ttm, which is higher than the industry average of 19.5. SO has higher net margin of 13.5%, ttm, as compared to the average of 8.8%, ttm. SO generates higher ROE of 12.0, comparing to the average of 9.7. SO's P/E of 17.4 is higher than the industry average of 16.9 and higher than SO's 5 year average of 16.8. SO has a forward P/E of 13.5, which is higher than S&P 500's average of 13.3.
Competition Comparison
Since the beginning of 2013, SO's performance of +2.79% had been underperforming compared to S&P's 6.09% gain, AEP's 6.00% increase, and DUK's 7.90% advance as of February 1, 2013, as seen from the chart below.

Source: Google Finance
DUK's market perform rating was reiterated by Sanford C. Bernstein with a $69.00 price target on January 31, 2013. On January 25, 2013, FBR Capital also reiterated DUKE's market perform rating with a $66.50 price target. DUK closed at $68.84 as of February 1, 2013. For AEP, it's "Buy" rating was reiterated by analysts at Sun Trust with a $48.00 price target on January 31, 2013. On January 17, 2013, Morgan Stanley downgraded AEG from "overweight" rating to an "equal weight" rating with a $45.00 price target. AEG is expected to report its Q4, 2012 earnings on February 5, 2013.
Technical Analysis
SO closed at $44.01 with 0.50% loss on February 1, 2013. SO had been trading in the range of $41.75-$48.59 in the past 52 weeks. SO has a very low beta of 0.27. The MACD (12, 26, 9) indicator had been showing a bullish trend; however, the MACD difference had been converging in the last few trading days. The momentum indicator, RSI (14), had been indicating a bullish lean but had been decreasing slightly. SO is currently trading above its 50-day MA of $42.90 and is approaching its 200-day MA of $44.35, as seen from the chart below.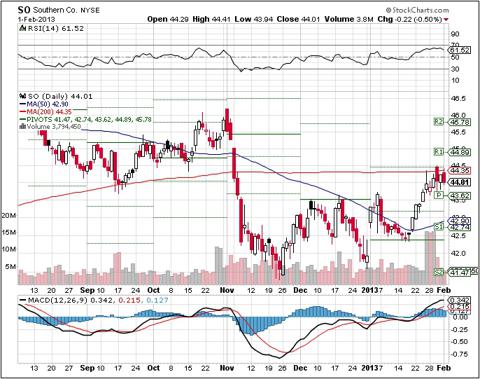 Source: StockCharts.com
Reviewing Options
For our last reviewed credit put of Jan 19, 2013, $42/$45, the options play did not generate profit and resulted the purchase of SO stock at the cost of $44.44. With the dividend distribution of $0.49 on January 31, 2013, our holding cost is $43.95, which is slightly below SO's current price of $44.01 as of February 1, 2013. For long-term stock holders, a covered short call of March 16, 2013 $45 call can be reviewed. For investors who would like to establish new long positions, a credit put spread of May 18, 2013 $39/$42 can be reviewed to gain some upside potentials while having the plan to acquire the stock below $42.
ETF Exposure
For investors who would like to gain exposure to SO through ETF, Select Sector SPDR Fund - Utilities (NYSEARCA:XLU), iShares Dow Jones U.S. Utilities Index Fund (NYSEARCA:IDU), and Vanguard Utilities ETF (NYSEARCA:VPU) can be reviewed, each has SO as a top 10 holding.
Note: All prices are quoted from the closing of February 1, 2013 and all calculations are before fees and expenses. Investors and traders are recommended to do their own due diligence and research before making any trading/investing decisions.
Disclosure: I have no positions in any stocks mentioned, but may initiate a long position in SO over the next 72 hours. I wrote this article myself, and it expresses my own opinions. I am not receiving compensation for it (other than from Seeking Alpha). I have no business relationship with any company whose stock is mentioned in this article.