Baidu reports quarter ending December 2012 earnings on Monday, February 4, after market close. Baidu (NASDAQ:BIDU) CEO Robin Li and CFO Jennifer Li are estimating QE December 2012 revenues of RMB6.155 billion to RMB6.345 billion. That currently converts to $988 million to $1.02 billion. Reaching $1 billion in revenues is expected and will be no surprise in the world's largest internet market. The currency conversion essentially has Baidu at that level already. It is the push higher, greater than $1 billion, that will be watched as the top line expectation of growth.
Management's RMB revenue outlook ranges from a prior quarter September 2012 possible decrease of -1.54% to a possible increase of +1.50% QoQ. This is an increase of 38% to 42% from the prior year, QE December 2011, but yet a continuing downtrend in long-term growth. That is how spectacular Baidu's growth has been. Even though YoY revenue growth is slowing, it is still vastly superior to mere mortal companies.
Estimated QE December 2012 Total Revenues (GAAP)
Analyst Estimates: $1.01B avg, $991.73M low, $1.02B high, 17 analysts
Prior Quarter (current conversion rate): $1.00B = +0.6% QoQ
Prior Year (current conversion rate): $718M = +41% YoY
Baidu Management Outlook (current conversion rate): $988M to $1.02B which is +38% to +42% YoY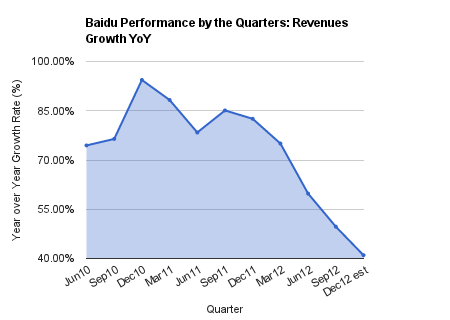 The quarter ending December has historically been a strong quarter for Baidu on an annual cyclical basis. This peak is then followed by a dip at the quarter ending March. Baidu is expected to push higher at QE December 2012 on earnings per share, no matter the analysts' estimates. That is, earnings per share needs to beat the prior quarter $1.37, which was a record high.
Estimated QE December 2012 Earnings per Share (GAAP)
Analyst Estimates: $1.29 avg, $1.21 low, $1.36 high, 17 analysts
Prior Quarter: $1.37 = -6% QoQ
Prior Year: $0.93 = +39% YoY
Baidu Management Outlook: none provided
Last quarter, Baidu met the lower end of their Q3 2012 revenue guidance (actual RMB6.251 vs. projected RMB6.245) and reported record quarterly total revenues, operating income, net income, cash flow per share, and earnings per share. Gross, operating, and net margins continued above historical averages. Financial position is strong and liquid.
The YoY growth rates for total revenues and earnings per share are slowing. The 10-quarter averages have been an incredible +76% and +98%, respectively. Last quarter, these were +50% and +60%, respectively, which most companies and investors dream about. These historical growth rates are apparently impossible to maintain, even for Baidu.
I do not like Baidu as a long or short position at pre-earnings. Therefore, I am neutral going into the earnings announcement and will wait to see what the financial results are. I traded BIDU during the spectacular growth phase and even called Baidu a Chinese Stock Star once upon a time.
Expectations had been sky high for this rising star, and CEO Li has delivered in the past as the Internet expanded in China. The Baidu space is becoming crowded, though Baidu is attempting vertical and horizontal expansion, including entering other countries. I want to see a re-acceleration of growth to justify a long position and any hope of reaching the now distant 7-26-11 all-time closing high of $164.36. I will review the upcoming earnings to see if there is any reasonable trade set-up in 2013.
Three uncertainties are always in the background: the Chinese government, Chinese accounting and auditing standards, and Chinese corporate structuring. The regime can make or break Baidu with their actions and censorship, their favor or disfavor. The reliability of Chinese financial statements, and the audit of same, has been questioned. The structuring of publicly held Chinese corporations for overseas investors has been questioned. Baidu has not been specifically named, but these issues should be researched and monitored by you as a Baidu or Chinese stock investor. Perform your due diligence.
Some amounts above are in Chinese renminbi, designated RMB. The currency conversion rate as of this writing: 1 USD = 6.2274 RMB. Analyst estimates are from Yahoo Finance.
Disclosure: I have no positions in any stocks mentioned, and no plans to initiate any positions within the next 72 hours. I wrote this article myself, and it expresses my own opinions. I am not receiving compensation for it (other than from Seeking Alpha). I have no business relationship with any company whose stock is mentioned in this article.