One sector that has been standing out in my scans is the Biotech sector. While the Biotech Ishares (NASDAQ:IBB) still has some work to do with the chart before it breaks out to new highs, there are a number of stocks breaking out and other stocks in this sector building solid bases that could move higher if the overall market turns bullish. Below the chart are some stock ideas in this industry.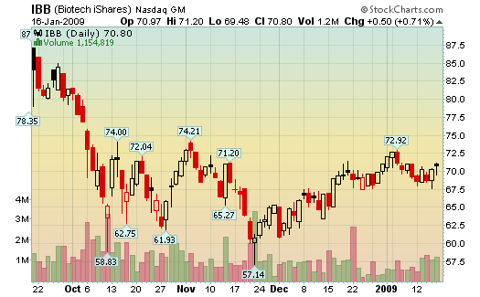 Anadys Pharmaceuticals (NASDAQ:ANDS), Cypress Bioscience (CYPB), CV Therapeutics (CVTX), Valeant Pharmaceuticals (VRX), Illumina (NASDAQ:ILMN), Biogen Idec (NASDAQ:BIIB), Life Technologies (NASDAQ:LIFE), Sequenom (NASDAQ:SQNM), BioMarin Pharmaceutical (NASDAQ:BMRN)
Here is an article from SeekingAlpha that talks about all things biotech: Searching for the Best Biotech ETF.