Last week I was attending The MoneyShow in Orlando where I was a guest speaker on the Forbes panel as well as moderator on a MoneyShow REIT panel. Attendance was very good and I was happy to see that investors were back in the market looking for ways to find the best risk-adjusted securities, while also conducting necessary due diligence in the hope of growing and maintaining a balanced "sleep well at night" (SWAN) portfolio.
I have always loved Orlando as the Magic Kingdom is an enjoyable destination where sunshine, food, and Mickey Mouse make for sound rest and relaxation - and The Intelligent REIT Investor needed both.
There was also some more magic in the air on Friday as the Dow Jones industrial average closed above the 14,000 mark for the first time in more than five years. The final close - the highest since the 14,000 points on October 12, 2007 - was 14,009.79 and the milestone on Friday is certain to breed more psychological allure driven by the wizardry of Mr. Market.
Mr. Magic of Non-Traded REIT-dom
Indeed, the Magic Kingdom is a mystical place where some things seem too good to be true. Conversely, in REIT-dom there are also magical moments where the stars line up almost perfectly for a sleep well at night investor.
One such example is a REIT sponsor known as ARC Properties Advisors and, as I wrote a few weeks ago (The Incredible Houdini Of Non-Traded REIT-Dom Does It Again), the Chairman and CEO, Nicholas Schorsch, has become much like Houdini for transforming several non-traded REITs (by way of full cycle public REIT listings) into beautiful SWANs. As I explained:
Schorsch has certainly mastered the art of creating full-cycle market liquidity for non-traded REIT investors. In fact, I would go as far as saying that he has "schooled" the other non-traded REIT peers by setting the bar for both record liquidity execution and best practices.
In the non-traded REIT world Nicholas Schorsch has become almost supernatural and his magic has recently paid off in the form of around $45 million in stock owned (including common, OP and Preferred shares) in Realty Income (NYSE:O). Mr. Houdini and his management team listed American Realty Capital Trust (NASDAQ:ARCT-OLD) in June of 2011 and in less than two years the company merged with Realty Income to become the largest triple net sector REIT in the nation.
Realty Income has a current market cap of $7.773 billion with a dividend yield of 5.0%. The shares are trading at $43.40 and the Escondido-based company may soon be a candidate for inclusion in the S&P 500.
Schorsch's magically-orchestrated non-traded REIT model has been an evolutionary trend in which he and his peers raise "blind pool" capital and acquire properties in a structure that is less volatile than the publicly-traded peer REITs. Thus, the non-traded REIT investors are essentially trading off low volatility - where Mr. Market has no influence - with publicly-listed REITs - where Mr. Market governs the pricing of the fully liquid shares.
The biggest value proposition for non-traded REITs is the uncorrelated association with Mr. Market. In fact, that is precisely the reason (in my opinion) that non-traded REITs exist. Conversely, that is also the biggest risk - Mr. Market that is. Due to the fact that non-traded REITs have not been able to access instant liquidity, investors have been frightful…up until now…
The Wizard of Non-Traded REIT-dom
There is no question that Schorsch has been the most visible "full-cycle" liquidity king. To date the wizard of (non-traded REIT) Oz has conjured up (raised equity for) a handful of REITs including Healthcare Trust of America (NYSE:HTA), American Realty Capital Trust, American Realty Capital Properties (ARCP), American Realty Capital Trust III (ARCTIII), American Realty Capital Trust IV (ARCTIV), Phillips Edison, ARC Healthcare Trust, Inc., ARC NYRR, ARC Daily NAV, Business Development Corp., and ARC Global Trust. Many of these companies have transformed into publicly listed REITs while the others are in the initial non-traded REIT cycle where volatility is lowest.
As I wrote in a recent article:
It's certainly a magical year for Nicholas Schorsch, Chairman and CEO of ARC Properties Advisors. The veteran non-traded REIT pro has put together a string of liquidity transactions that are certain to raise the bar for investors and peers alike.
ARC Management's track record has been almost unreal as the related companies have closed on over $13.827 billion in deals over the last decade. The single tenant related companies (ARCT, ARCP, and ARCT III) have raised over $3.06 billion during the last 24 months. That translates into over 728 individual stand-alone properties with an average acquisition cap rate of 7.96%.
In addition, ARC Management has raised over $6.5 billion of equity in the past 3 years. In Robert A. Stanger and company's flagship Stanger Report (December 2012), ARCT IV (the newest of ARC's net lease non-traded REITs) has raised over $250 million in the past 2.5 months alone, since becoming effective. In contrast, Cole Credit Property Trust IV (a competing non-traded REIT) has been effective for over one year and has only raised $274 million.
Is The Any Magic to the ARCP Deal?
American Realty Capital Properties listed on NASDAQ on September 7, 2011. As I wrote back then (American Realty Capital Properties IPO: Not A 'Sleep Well At Night' Investment) I was initially skeptical of the company's public listing as I was concerned about the concentration risks with one primary tenant, Citizens Financial Group:
The biggest issue that I have with the IPO is that the assets are highly concentrated with just two tenants, and one of the two tenants is a troubled bank with minimum lease term remaining. Furthermore, like many banks, branches are being reduced in size and, as a result, the "brick and mortar" model is becoming less important (to the banking model).
However since that time, ARCP has grown from 63 initial (IPO) triple-net properties to 148. In addition, ARCP has increased from 2 tenants to 17 today. The REIT's occupancy is 100% (has been since the IPO) and ARCP now has 11 industries (started with 2) with annualized revenue of around $25.6 million.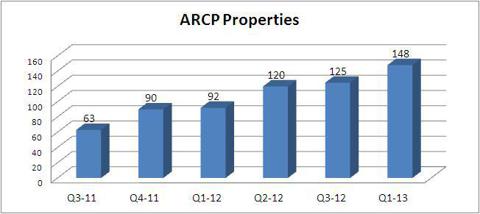 The value proposition for ARCP has been the company's above average market dividend yield. While most peer triple-net REITs are paying a dividend with a 5% dividend handle, ARCP pays a substantially higher dividend of 6.63% (the average yield for the REITs below is 5.63%):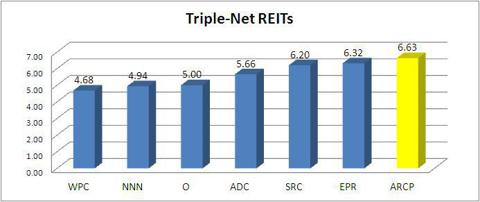 ARCP invests in high-quality assets with shorter lease terms than the peer group and that is the reason that ARCP is able to pay higher dividends. Clearly there is risk to owning a "vintage" Dollar General (NYSE:DG) with 6 years of lease term remaining vs. a Dollar General with 12 years remaining. Simply said, there is a risk-adjusted yield - or a premium for owning a portfolio of "vintage" assets for ARCP investors.
As ARCP has grown its portfolio, I have become less concerned with the concentration risks and more comfortable with the growing diversification. As I wrote in an article (A Little More Risk And A Lot More Return: A Triple Net REIT Paying 8.6%) on June 15, 2012:
In closing and as a follow-up on the nine month review, ARCP is becoming a much better REIT model. Initially I was skeptical relative to management's decision to capitalize the portfolio with just two tenants - one highly concentrated with one financial institution. However, the 82 percent growth supported by strong cash flows, low operating costs, and experienced management has made an impact and I'm pleased to see the investment strategy become more balanced and risk-aligned.
Now since I recommended ARCP the shares have been simply magical. Since that time (June 15, 2012), ARCP has substantially outperformed the RMS and ARCP's peer group - ARCP's total return during that period was 33.61% (from March 1, 2012 - January 9, 2013):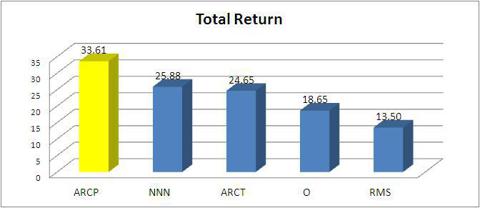 Had one invested $1,000 in ARCP when I recommended the shares (June 15, 2012), the stock portfolio would be worth around $1,408 today.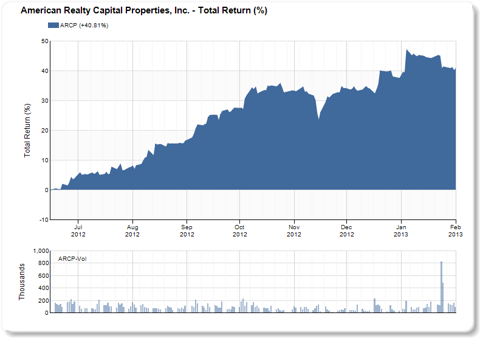 It's Time for the Next Act
As I mentioned above, Schorsch has gained broad recognition for creating a variety of strategically-initiated full-cycle liquidity events. In the latest act, and as I wrote Schorsch has geared up for his latest magic…ladies and gentlemen, welcome to the show.
American Realty Capital Properties Trust III (ARCTIII), a non-traded REIT, has grown from 3 properties (9-30-11) to 658. The 16.5 million square foot portfolio consists of a diverse portfolio of very high-quality tenants (75% investment grade) with lease terms averaging 13.0 years.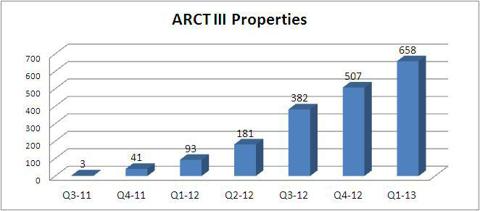 As of December 31, 2012 ARCT III raised around $1.573 billion in equity with an enterprise value of around $2.3 billion (equity market cap at $10 per share plus pro forma debt). Some of ARCT III's "blue chip" tenants include FedEx (NYSE:FDX), Walgreen (WAG), CVS (NYSE:CVS), O'Reilly Auto Parts (NASDAQ:ORLY), Family Dollar (NYSE:FDO), Dollar General, Advance Auto Parts (NYSE:AAP), and Tractor Supply (NASDAQ:TSCO).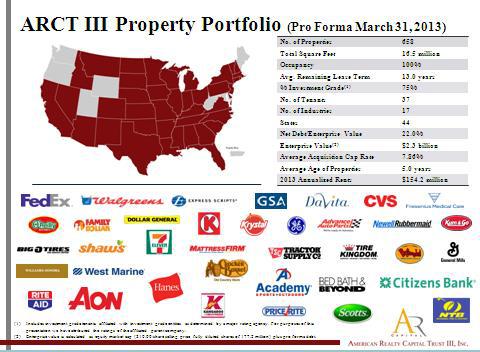 As some may know, I worked over two decades developing sites for many of triple-net companies and this is a sector that I know very well. The most impressive feature of the ARCT III portfolio is the fact that the company has assembled an exceptionally high-quality portfolio of diversified assets that are "like new". With a massive portfolio of non-traded REIT capital, ARCT III acquired many of the properties directly from developers meaning that the average age of the stand-alone facilities are "fresh off the assembly line" - with an average age of around five years. In addition, the average acquisition cap rate (for the portfolio) is 7.86%.
There is no doubt about it. The Houdini of non-traded REIT-dom can aggregate assets. It's truly amazing that Schorsch has been able to continually acquire very high-quality properties (the market size is around $2 trillion) while maintaining a portfolio of 100% leased assets with a revenue stream that is simply "best in class".
So What About Happens When You Mix ARCP and ARCT III
Houdini's (Schorsch) next act is merging ARCP and ARCT III. As mentioned, the magical non-traded REIT veteran is hoping that he can merge his two REITs by creating another full-cycle trophy. ARCT III investors should be feeling good as the transformative combination will create around $700 million of shareholder value - that is $602 million in profit and $86 million in distributions (through 3-31-13).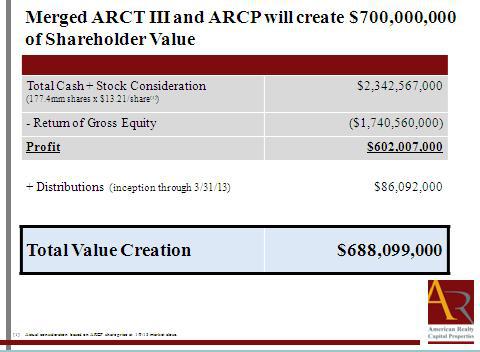 Of course ARCT III shareholders have a choice: to take the cash or to take ARCP stock. In the case of full liquidation (taking cash), investors (assuming a day one purchase) would have made around 30% - or $299 on an investment of $1,000. Conversely, investors choosing stock would receive $13.21 per share in ARCP stock plus dividends - that equates to a total return since inception of around 42%.
Each share of ARCT III will be converted into common shares of ARCP at a faxed exchange ratio of 0.95x with a cash election price of $12.00 per share. The implied cap rate of 5.8% will be one of the lowest peer mergers recorded as the contemplated liquidity event is indicative of the high-quality ARCT portfolio composition and the historically low interest rate environment.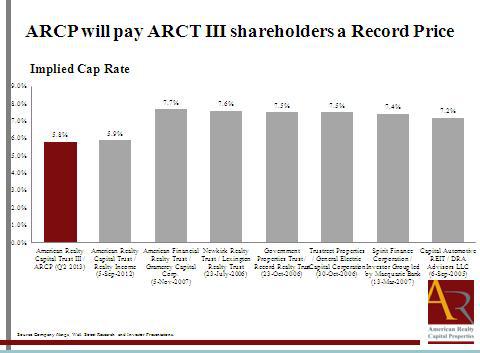 The uniquely synergistic marriage will benefit ARCP investors as the REIT will have perhaps the most high-quality income steam in REIT-dom. I especially like the hedged strategy of owning a 30% mix of medium-term leases (with high-growth) and a 70% mix of long-term leases (with moderate growth). Essentially, this combination provides for strong stability of bond-like revenue with strategically limited exposure to "vintage" rents.
The combined REIT transaction is expected to close in Q2-2013 and the combined company will (at that time) have around 806 properties in 44 states. Anchored by the larger ARCT III portfolio, the combined company - (to be known as ARCP) - will be around 18.93 million square feet with around 77% of tenants rated investment grade. The combined annual revenue will be around $180 million with an equity market cap of around $1.894 billion - moving into 6th place in the triple-net sector (assumes SRC merges with CCPTIII).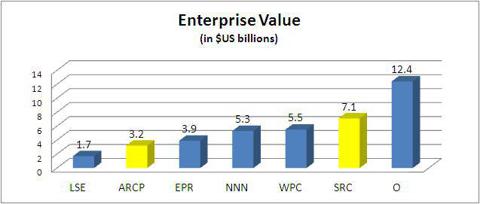 Although smaller in size than most peers, ARCP's differentiated value proposition will be its well-diversified portfolio of high-quality tenants as well as the company's long weighted average lease terms.
The consolidated strategy will also significantly enhance ARCP's size and scale. Today ARCP has a market cap of around $178 million; however, when the ARCT III deal closes the company will have immediate access to public capital. In addition, ARCP will be eligible for index inclusion and that will also enable the company to obtain lower cost capital and obtain an investment grade rating.
As we have seen, the larger REITs tend to deliver stronger performance and trade at higher multiples. Here is a snapshot of the combined company and the peer group: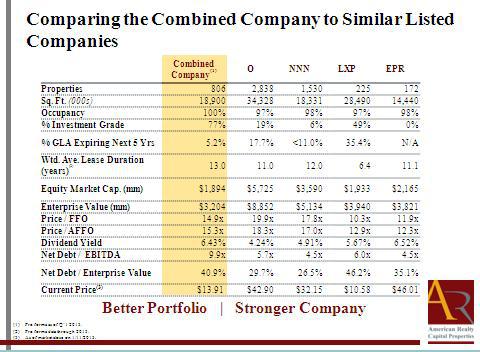 The largest tenant for the combined company will be Dollar General, followed by Citizens Bank, FedEx, AON, Walgreen, and General Mills.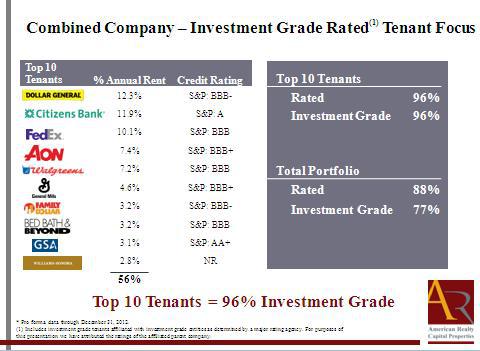 The proposed combined company's tenant diversification is excellent: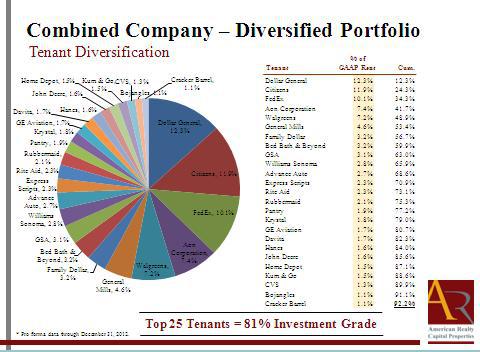 The proposed combined company's industry diversification is also very attractive: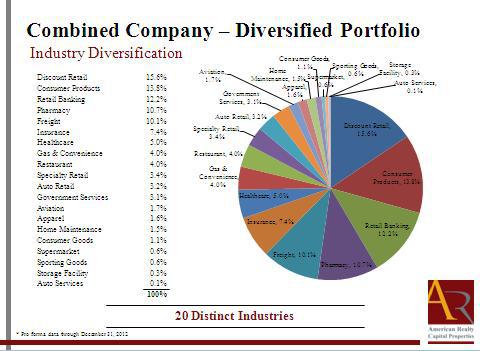 Is Self-Dealing Good for Investors?
When the news of the ARCP / ARCT III deal was announced, my first thought was that it appeared to be a "self-dealing" transaction where ARCT III was simply creating a liquidity event to "beat" Cole Credit Property Trust II, Inc., (CCPT II) to the finish line first. As I mentioned at the start (of this article), non-traded REITs are less volatile and due to lack of liquidity, the incentives for sponsors are often not the same as the investors. In other words, it was my original suspicion that ARCTIII was simply trying to create liquidity for investors before CCPTII was able to do the same.
However, after carefully researching ARCP and ARCT III, I am now convinced that the proposed merger is going down for the right reasons. Unlike CCPTII - a diversified REIT portfolio of various credits - ARCT III is a very high-quality portfolio and given the relative "bond-like" tenant composition, ARCT III could have multiple (liquidity) exit options. However, CCPTII has limited monetization opportunities and that makes the marriage with Spirit Realty Corporation (NYSE:SRC) seem like a most unattractive combination. As I wrote:
Three out of five of these transactions were orchestrated by Nicholas Schorsch, Chairman and CEO of ARC Properties Advisors and none of the five involved Cole Capital. Could Cole be feeling the pressure?

So what about Spirit? What's driving the merger? Spirit needs diversification. Spirit needs lower leverage and more importantly, better debt terms. Spirit simply needs scale.
As an active investment journalist I enjoy visiting corporate offices to conduct interviews with CEOs and CFOs. A few months ago (prior to the ARCP announced merger) I visited the ARCP headquarters in New York City. When I arrived I was impressed with the experience of the ARC management team and I was most impressed with the proven and "open architecture" of the various REIT teams - all unique but also integrated by the incubating characteristics that made the publicly listed REITs successful.
Although the companies are separated by walls and floors, the distinguishing value for the "self-dealing" REITs is the advantageously lower operating costs and fees. To put this into perspective, it costs ARCP investors around 80% less to pay a receptionist than it does if the company was not sharing this HR-related function (by the way, the receptionist at ARC was very nice and that is always the first impression).
Once ARCP and ARCT III merge the combined company will save shareholders around $48 million annually in fees. For example, acquisition fees will be eliminated (both receive 1% now), finance fees will be eliminated (both receive .75% now), asset management fees will be reduced, and property management will be internalized.
While visiting with Schorsch he did not show me any magic tricks (although I was hoping he would have shown me a card trick) and without a doubt, Schorsch has become a leader in creating full-cycle non-traded REIT liquidity.
Is This Simply a Cinderella Story?
But what's missing? ARCP looks like a Cinderella story. Is there anything that Houdini has not accomplished?
Oh wait! Houdini has no track record for paying dividends. Well actually he does. It's just not the track record enjoyed by Realty Income, National Retail Properties (NYSE:NNN), or W.P. Carey (NYSE:WPC). But let's give the wizard of non-traded REIT-dom credit. ARCP, with a current dividend of 6.63% has a very attractive yield and the company has increased its dividend on multiple occasions in a very short period of time:

That is amazing! ARCP which once started as one of my least admired triple-net REITs is now becoming one of my most admired ones. Indeed, there is no comparison to the management experience and track record of Realty Income; however, ARCP is clearly differentiated by the high-quality of tenants and the exceptional dividend yield of 6.63%.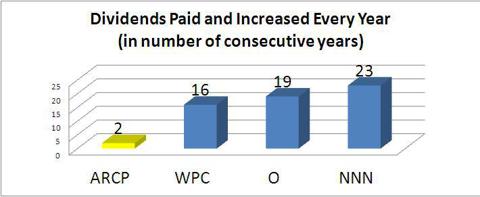 ARCP is trading at $13.49 per share and Baird has a target price of $14.00. Also, JMP has recently issued a market outperform with shares targeted at $15.00. Ladenburg Thalmann also has a buy rating on ARCP with a target price of $14.00. There is plenty of magic left for ARCP and I recommend the company as I believe that the expected earnings increases, as well as the increased liquidity, lower cost structure, and lower funding costs make for an attractive investment opportunity.
Remember investors. You are paying for management when you purchase shares in public companies. Unlike buying owned real estate, REITs are made up of management teams and usually the experience and track record for managing portfolio risk can be the difference between a good stock and a great one.
I applaud ARCP for its strategy of merging with ARCT III as I think the portfolio will provide aligned incentives for investors (of both REITs). Alternatively, the proposed merger with Spirit Realty Corp. and Cole Credit Properties Trust II offers meaningless value and the incentives for merging the two companies are simply unjustified.
ARCP is no longer a "Mickey Mouse" REIT and the discipline of the experienced management team will determine the company's destiny: to become a durable sleep well at night REIT. The growing high-quality tenant composition and continued revenue diversification will have an enduring impact that should allow the triple-net REIT to replicate the success of the stalwart peer group (O, NNN, and WPC).
Remember Rule #1: Protect Principal at all Costs. I have included ARCP in my SALSA portfolio as well as my SWAN portfolio. As the merger details unfold, I will provide a follow-up during the second quarter of 2013. Good luck and remember Rule #1 and you will sleep well at night!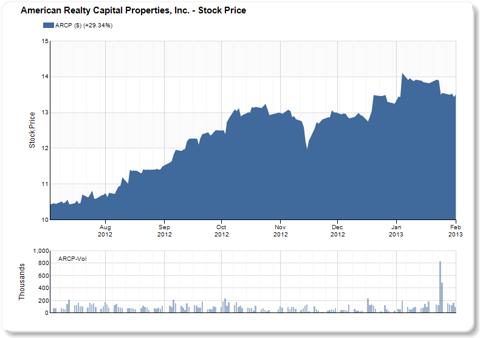 Source: SNL Financial, ARCT III Presentation
Other REITs mentioned: (NYSE:ADC), (NYSE:EPR), (NYSE:LXP), (NYSE:LSE)
Disclosure: I have no positions in any stocks mentioned, and no plans to initiate any positions within the next 72 hours. I wrote this article myself, and it expresses my own opinions. I am not receiving compensation for it (other than from Seeking Alpha). I have no business relationship with any company whose stock is mentioned in this article.