With interest rates near historical lows, investors of all ages and risk tolerances are increasing their focus on high-yielding opportunities. I utilize a dividend screen discussed below to identify potential ex-dividend opportunities and this week there are 12 candidates (11 analyzed below based upon SA readership criteria). These equities are primarily utilities ranging from natural gas distributors to traditional electrical utility providers. Natural gas partnerships are growing in popularity with investors due to their yields that are frequently in excess of 5 percent. This week we have two related coal partnerships, Alliance Resource Partners and the publicly traded general partner, on the screen. Coal may not be the most glamorous investment story at the moment but I believe there is value for patient investors. Yields are diverse this week but there are three equities offering above 7 percent. Market capitalizations are concentrated around the $3B mark. Intel dominates the pack and is larger than all other 11 firms combined. Half of the opportunities go ex-dividend tomorrow with another quarter trading without their dividend on Wednesday. I know you are likely tired from Super Sunday so grab a cup of coffee and hopefully you find an attractive equity below.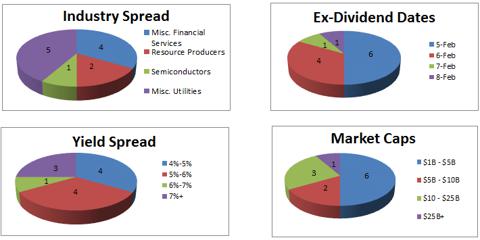 For details of the strategy and my screener details, please consult my methodology on the topic (last modified 1/21/2013). In brief, the screen focuses on relatively stable equities with a concentration on liquid companies at affordable valuations. This is summarized below:
Dividend Yield ≥ 4.0 percent
Ex-Dividend Date = Next Week
Market Capitalization ≥ $1B
P/E Ratio: 0-20
Institutional Ownership ≥ 15 percent
Ideally Modest YTD S&P 500 Underperformance
Minimal European Exposure
After applying this screen I arrived at the equities discussed below. Although I envision these as short-term trading ideas, (i.e. less than three-month holding period), you still need to exercise caution. Depending on your belief in the investment hypothesis, you may decide to just hold long enough for the dividend or to make the stock a longer-term holding. The information presented below should simply be a starting point for further research in consultation with your professional financial advisor before making an investment decisions. My goal is to present new companies to you and provide a brief overview of their recent developments; this should not be considered a substitute for your own due diligence.
Energy Transfer Partners LP (NYSE:ETP): 7.61 percent Yield; Ex-Dividend 2/5
Energy Transfer Partners LP is a master limited partnership (MLP) that operates approximately 70,000 miles of natural gas, natural gas liquids (NGL), refined products, and crude oil pipelines throughout the Southern and Eastern United States. ETP is a unique partnership because it is somewhat uncommon to find one pipeline operator that specializes in so many different products. ETP has been active recently in diversifying its operations and there are currently three other publicly traded partnerships in the Energy Transfer family of operations. Management admits that the organization structure has gotten complex and is less than optimal. The objective in the upcoming years will be on realignment and optimization. For example, operational assets should be moved from the general partner to ETP in the next year or two.
As you can see from the chart below, ETP changed its profile dramatically in 2012 as the new crude/refined operations account for almost 25 percent of adjusted EBIDTA. Interstate is also forecast to rise by approximately 15 percent with intrastate declining 20 percent. Propane operations were primarily divested to AmeriGas Partners. Unlike most MLPs, ELP does not hedge commodity prices far out into the future. As of December 2012, only 16 percent of intrastate fuel was hedged and no NGL hedges were utilized. This risk is mitigated due to the use fee-based contracts that are largely independent of commodity price movements.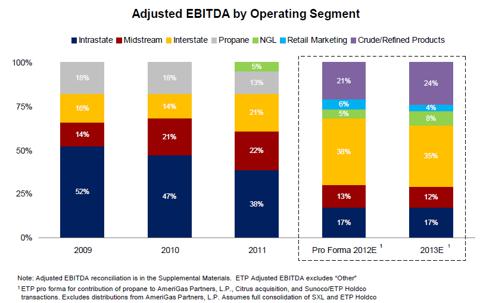 (Source: ETP Presentation at Wells Fargo Securities 11th Annual Pipeline, MLP, and Energy Symposium 12/4/12)
Net income through the last 12 months ended 9/30/12 is double that of full-year 2011 net income due to the deconsolidation of Propane Business. Revenue is down approximately $1B but 90 percent of the decline was due to the propane business. Despite the $1B decline in revenue, operating income dropped by only $70M. Due to the large non-recurring gain, prior period comparisons are unreliable but non-GAAP distributable cash flows have been over $275M for each of the past three quarters and adjusted EBITDA continues to rise. Overall I believe Energy Transfer Partners is pursuing a very strong diversification strategy and profit margins should improve significantly in the next two years based upon consolidation synergies.
New York Community Bancorp, Inc. (NYSE:NYCB): 7.49 percent Yield; Ex-Dividend 2/7
NYCB primarily engages in generating deposits and originating loans. The stock was on a strong run in 2012 and came close to setting a new 52-week high before slumping toward $12.50. I continue to recommend NYCB because it has a very sleepy business model compared with underwriting, trading, etc. that have recently causes volatility for other financial stocks. Essentially this is a bank in the traditional sense of the word and offers a robust dividend to compensate patient investors. Earnings in 2012 continue to impress in this environment and important negative metrics such as past-due (non-performing) loans have been declining. Earnings have slipped compared with the comparable to 2011 as the third quarter was slightly weak but the dividend yield remains strong. In addition to being a solid company, NYB is always a good company to monitor because it provides insight into the broader real estate market.
Note that the company changed its ticker symbol back to logical 'NYCB' in November, which may explain why charts and other prior period information appear incomplete.
Enbridge Energy Partners, L.P. (NYSE:EEP): 7.25 percent Yield; Ex-Dividend 2/5
Enbridge Energy Partners, L.P. is a MLP that specializes in crude oil and liquids transportation but has been diversifying into natural gas and midstreaming operations. Two-thirds of operating income is derived from liquid pipelines with the balance coming from natural gas. Like Energy Transfer, Enbridge has four publicly traded companies in its equity family (refer to diagram below). EEP is growing slower than some of its peers (2 percent-5 percent forecast CAGR) but offers a yield that is approximately 70 basis points higher. EEP has a lower risk profile as it relies on cost-of-service contracts and fee-based contracts for approximately 75 percent of revenue. By 2016 commodity sensitive revenue is projected to be only 12 percent. Distribution coverage has been declining from 1.0 since 2010 but should rebound in 2014 so the absolute distribution payout should rise. Enbridge also has four times fewer spills than its peers so this is a relatively safe partnership.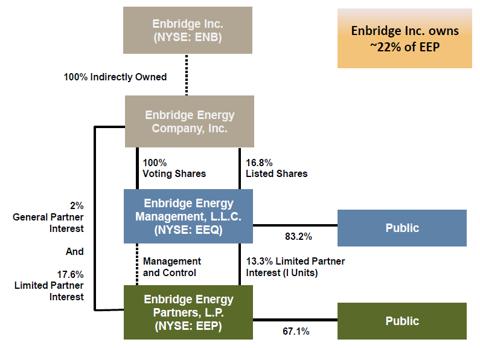 (Source: January 2013 Investment Community Presentation)
Alliance Resource Partners, L.P. (NASDAQ:ARLP): 6.92 percent Yield; Ex-Dividend 2/7
Alliance Holdings GP, L.P. (NASDAQ:AHGP): 5.86 percent Yield; Ex-Dividend 2/8
Alliance Resource Partners ("Alliance") is an MLP that focuses on the production of coal and Alliance Holdings GP is a the managing general partner with a 2 percent interest in ARLP. Additionally AHGP has 100 percent of incentive distribution rights and owns approximately 40 percent of ARLP's outstanding shares. Coal is not a hot commodity due to recent clean energy initiatives but that has not stopped Alliance from reporting strong performance. In fact, Alliance has reported 12 consecutive years of record financial results. Revenue climbed 10 percent in the last year but net income declined primarily due to higher depreciation. On an EBITDA basis, performance was marginally higher in 2012 ($581M vs. $571) but distributable cash flows declined due to higher estimated maintenance. Alliance has generated over $550M in cash flows from operations in the past two years, which is generally high enough to meet lofty investing requirements.
The partnership's distributions continue to grow at a steady rate and have grown every quarter since 2008: this quarterly distribution grew by nearly 3 percent. Since 2007 the distribution has grown at a CAGR of 14.5 percent as adjusted EBITDA has climbed at a CAGR of 16.5 percent. Consumption of coal dropped approximately 50 percent in 2012 but supply and demand are forecast to equilibrate in 2013. This should result in a less volatile year of performance and Alliance has already committed and priced 95 percent of its 2013 estimated volume. Alliance is positioned well for the future as nearly 80 percent of its reserves related to the Illinois Basin Region, which is projected to experience moderate growth through 2015.
ARLP and other coal stocks have had a challenging 2012 but I believe most of the pain has already been inflicted on the sector. I continue to take the contrarian view on coal and I am more than willing to collect the nearly 7 percent dividend while I wait.
AllianceBernstein Income Fund Inc. (ACG): 5.89 percent Yield; Ex-Dividend 2/8
This closed-end fund offering from Alliance Bernstein has the objective of generating high current income to outperform the broader bond market with a side objective of preservation of capital. This is a very popular market segment recently and the fund has appreciated more than 5 percent this year. The fund's portfolio is available here as of December 31, and there are no unexpected holdings. Sixty-one percent of holdings are government securities with nearly 70 percent of the portfolio rated triple-A, so you may be wondering how the robust 5.9 percent yield is achieved.
The answer is primarily leverage: the fund has 45 percent leverage, which boosts the returns. The use of leverage in this low-interest rate environment may be prudent but this is a red flag for dividend capturing as the trade could very easily turn against you. Both the leverage and government allocation have been uncharacteristically volatile for this type of fund, both exhibiting 3 percent swings in a few months. The fund charges 65 basis points, which brings the overall yield closer to 5 percent.
Inergy, L.P. (NRGY): 5.79 percent Yield; Ex-Dividend 2/5
Inergy is an MLP with natural gas/natural gas liquids operations including transportation, storage and supply logistics. The business spans the United States and Canada; however, natural gas storage is centered in Texas. Inergy is the general partner for, and majority shareholder in, Inergy Midstream, L.P. (NRGM), which is a pure natural gas play on North East exposure. NRGM is unique in that it has such a large presence near New York.
Over 75 percent of gross profits are derived from long-term storage and transportation contracts and thus provides Inergy with a stable source of cash flows to distribute. Commodity risks are minimal and half of customers are utilities that have predictable demand. The dividend was slashed from $.705 quarterly to $.29 quarterly over the last year due to the divestiture of retail propane operations. In summary, Inergy should be able to at least maintain its current distributable cash flow. Gross profit and operating income have contracted slightly over the past two years. Earnings were boosted substantially in 2012 due to the gain on disposal of retail propane operations but that was a non-cash event and cash flows have been negative in the past two years.
Inergy has significant insider ownership (~20 percent), which is always nice to see but there have been conflicting current events for the partnership. On one hand the stock was recently downgraded by The Street and Robert Baird, which put the stock under pressure but there has been bullish option activity recently. The stock has already climbed approximately 11 percent in 2013, but is still down 51 percent over the two-year period. Ron Hiram provides a very detailed analysis of the partnership and comes to the conclusion that it is not worth owning. Overall the negative factors outweigh the positive ones and I would avoid Inergy for ex-dividend purposes.
FirstEnergy Corp. (FE): 5.43 percent Yield; Ex-Dividend 2/5
FirstEnergy is a diversified, regulated energy company that services six million customers in the Mid-Atlantic. FirstEnergy has a low return on equity (8.0 percent), even for the utility sector but is one of the few utility companies that has been growing revenue recently. FirstEnergy was hit decently hard by Hurricane Sandy but fortunately most of FirstEnergy's customers were not in the disaster region. Damage estimates are around $500M, which essentially wipes out an entire quarter of net income. The forward P/E is modest at 13.6 and the company continues to generate strong cash flows from operations so I am not overly worried about short-term fluctuations. Whenever a utility company has a yield in the ballpark of 5.5 percent it starts to grab my attention. Cramer continues to be bearish on FirstEnergy and utility companies in general but I think the stock has been beaten up enough in the past quarter (down 11 percent) to justify considering a long position.
Intel Corporation (INTC): 4.28 percent Yield; Ex-Dividend 2/5
The computer processor giant Intel sneaks onto this week's dividend screen with a yield above 4 percent. Unfortunately for Intel investors, the stock has generally stagnated for approximately three years and it is difficult to envision a catalyst to break this trend. I wrote about Intel recently when it touched its 52-week low and I am not bullish on its near-term prospects for a variety of reasons. You know the basic story: PC sales are slowing as consumers and enterprises are delaying purchasing new computers. If you are an income-oriented investor now might be an advantageous time to open a position with the stock lagging the S&P 500 by approximately 6.5 percent this year. If you are looking for a pure ex-dividend play, I would look elsewhere as Intel can be somewhat volatile based on breaking news.
American Electric Power Company, Inc. (NYSE:AEP): 4.15 percent Yield; Ex-Dividend 2/6
American Electric Power is one of the nation's largest utility companies with 5.3 million customers in the Southern and Central United States. AEP is currently at its 52-week high and is up 20 percent in the past year. On a forward P/E basis AEP is still affordable at 14.5 but the low RoE (9.7 percent) and weak liquidity (0.7 current ratio) give me concern. With a very low beta (.5) AEP is your typical ex-dividend play but I would be cautious with the stock trading so rich recently.
Federated Investors, Inc. (FII): 4.06 percent Yield - Ex-Dividend 2/6
Federated Investors, Inc. is a global asset management holding company that focuses on international equity, fixed income, alternative, and money market strategies. Half of managed assets relate to wealth management operations with broker/dealer activities corresponding to 30 percent. The financial performance of Federated has been in a downward spiral since 2008 and 2011 was not kind for Federated as both revenue and net income declined. 2012 is on pace to surpass 2011 as revenue has inched higher through the first nine months of 2012. Operating income has rebounded nicely and is up approximately 17 percent year-over-year. Despite the recent uptrend, this poor performance is impacting the critical metric of managed assets. Total assets under management have stabilized around $365B recently and should increase somewhat if Q4 results continue the positive trend.
Aside from special cash dividends, the dividend payment has been flat for the past four years but the special dividends have been sizable. For example, the special dividend in 2012 was $1.51 per share versus annual per share dividends of $0.96. The special dividend has been distributed in even-numbered years since 2008 and essentially brings the adjusted yield closer to 7.2 percent (assuming $1.71 effective annual distributions per share). This is a very good yield; however, I do not like the unpredictability or lack of transparency involved in maintaining a stable dividend payment and relying on special cash dividends biannually. Federated Investors is a well-managed solid company that appears to be on the right track but is not a current ex-dividend candidate. In summary, the four percent dividend yield received for 2013 is not enough to compensate for the risk of this company.
The information presented has been summarized below. I make no warranties regarding the information in the chart as industry classifications are frequently imperfect. Yellow and red represent "avoid" and "consider" classifications, respectively.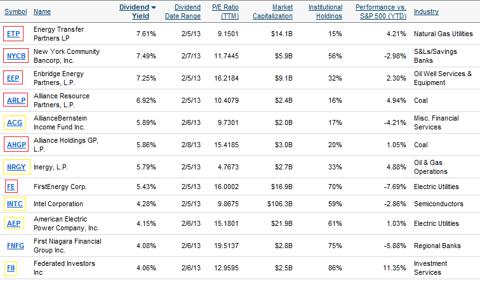 Please refer to profile page for disclaimers.
Disclosure: I have no positions in any stocks mentioned, and no plans to initiate any positions within the next 72 hours. I wrote this article myself, and it expresses my own opinions. I am not receiving compensation for it (other than from Seeking Alpha). I have no business relationship with any company whose stock is mentioned in this article.
Additional disclosure: Please refer to profile page for disclaimers.