After celebrating the turnaround in the housing, let's look at some of the housing stocks. The inventories are at rock bottom and there is pent up demand in the market. From the quarterly earnings reports of the homebuilders during the last week, we can conclude that the housing industry has laid a sturdy foundation for itself. The question is - How long can these builders sustain such growth? Should we dip our toes in to profit or pull our money out?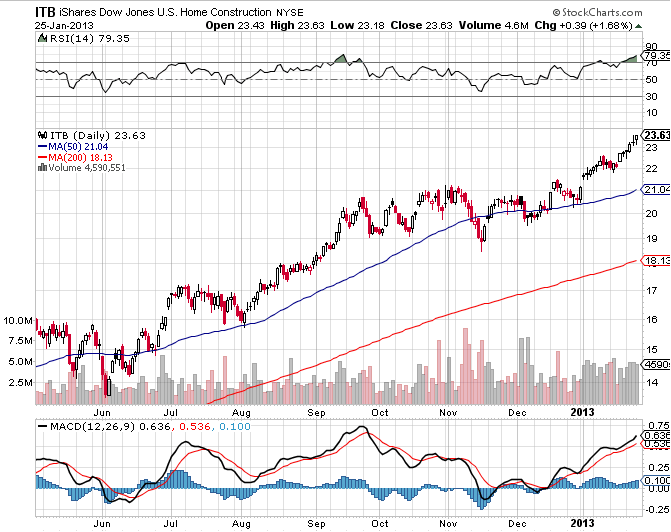 Overall, homebuilders have dramatically outperformed the stock market in the last year. PulteGroup (PHM) shares have nearly tripled in price; And Ryland (NYSE:RYL), Standard Pacific (SPF) and MDC Holdings (NYSE:MDC) have doubled in value. As a matter of fact, shares of Lennar (NYSE:LEN) rose 97% and D.R. Horton (NYSE:DHI) increased by 67%. But one thing to remember is - PulteGroup fell 69% in 2007, Lennar lost 66% in 2007 and then 52% in 2008, and D.R. Horton stock declined 50% in 2007 and 46% in 2008.
As Lombard Street Research analyst Melissa Kidd notes, homebuilders' profits have actually risen faster than their prices, and their net profit margins are higher than pre-crash peak levels. Let's look at the gross margin.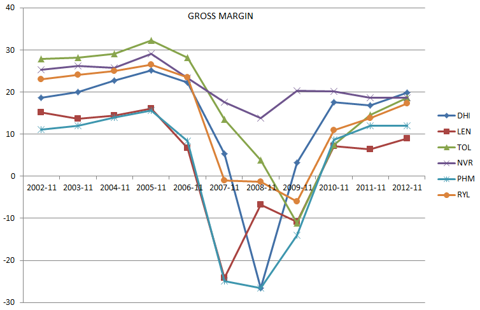 The gross margin of the giant Pulte and wholesale builder D.R. Horton are at their pre-crash levels. But the operating margins are not there yet.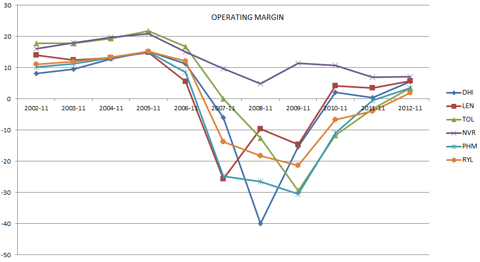 All these recovery in the margins and the earnings are sans the fact that home prices are up by just 7% Year-Over-Year. Most analysts concur that the future profits are already baked in the current stock prices of the builders.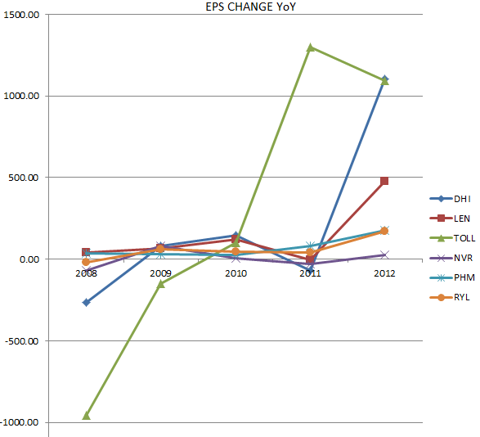 Let's analyze some companies whose stock prices have skyrocketed in last few months.
Even after PulteGroup's run-up, its price-to-forward-earnings ratio is 17.7, according to FactSet; revenue for 2012 is estimated at $4.7 billion, while this year it's expected to climb to $6.1 billion. Meanwhile, Lennar's stock is trading at 23.3 times forward earnings, with its financial year 2012 revenue of $4.1 billion estimated to grow to $5.4 billion. It's a similar story for D.R. Horton, which has a price-to-forward-earnings ratio of 18, and is expected to see its $4.4 billion FY2012 revenue grow more than 25% to about $5.6 billion.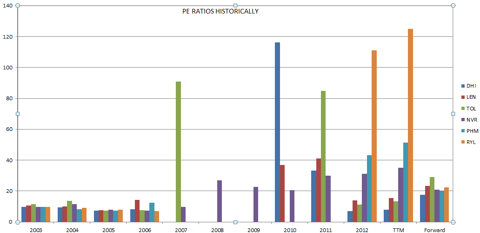 Juxtaposing all the premium homebuilders in the U.S., it is easy to conclude that the mean P/E multiple was around 10 before the boom and the bust. But now the scenario is different. Even though we are far off from the peak of new home sales of 1.3 million in 2005, the new home sales have been growing at a brisk pace in last 5 quarters. Expectations for housing starts and new home sales are both in the 20% range for 2013. So a forward P/E of 18 to 23 for a growth in excess of 25% is acceptable as long as the companies keep growing.

"Just because the stocks are overvalued doesn't mean they are not going to go up more," says David Goldberg, a housing analyst at UBS. "It's a momentum play." Goldberg warns, however, that there is a lot of growth baked into these stock valuations for 2013, expectations that may be tough to meet. This uptick in price might not be at a 45 degree angle and might have pauses, but now is not the time to cash out of the builders. I think the growth can be sustained for the next couple of years if the economy doesn't contract and the job market is good.
Lastly - Homebuilder Orders (Fourth Quarter 2012)
D.R. Horton up 39%

Toll Bros. up 36%

Lennar up 32%

Beazer up 29%

KB Home up 4%
So my suggestion is: Hold onto the builders and add some more during pullbacks (specially to the 50 DMA).
But which companies are worth adding to the portfolio? Based on the operating margins, earnings growth and PE ratios (Historical, TTM and Forward), I believe that Lennar and D.R. Horton are the best of the pack. Let's quickly go over the recent earnings posted by both companies.
Lennar announced its earnings a couple of weeks ago. The Florida-based builder crushed estimates as fourth-quarter earnings more than tripled on 42% higher sales. Lennar's new orders rose 20% and its order backlog was up 35% as of November. Lennar CEO Stuart Miller said in the company's earnings announcement that the housing market is stabilizing, "driven by a combination of low home prices and low interest rates, making the decision to purchase a new home more attractive."
Homebuilder D.R. Horton reported fourth-quarter EPS growth of 122%, easily clearing the consensus estimate. Revenue climbed 38% to $1.22 billion, vs. views for $1.13 billion. The Fort Worth, Texas-based company reported "dollar value increases in homes sold of 60%, homes closed of 38% and backlog of 80%."
We will delve deeper into the fundamentals of Lennar and D.R. Horton in the next post. But you can get a high level preview of the margin expansion and the earnings growth for both companies from the above linked charts.
Lastly, if you don't feel comfortable buying these homebuilders, you can own the homebuilders ETF (BATS:ITB). Another way to play housing recovery is by buying companies such as Home Depot (NYSE:HD) (re-modeling, new home set up etc.), Sherwin-Williams (NYSE:SHW) (Paints), Tronox Inc (NYSE:TROX) (Pigment for paints) and Corelogix (NYSE:CLGX) (Mortgage-related information provider).
Disclosure: I am long LEN, DHI. I wrote this article myself, and it expresses my own opinions. I am not receiving compensation for it. I have no business relationship with any company whose stock is mentioned in this article.