Long-term interest rates are moving higher. Although it can be difficult to interpret the meaning of interest rate movements given the Federal Reserve is an active player in manipulating rates, I am guessing a large part of the current move comes from an ever increasing confidence in the American economic recovery. iShares Barclays 20+ Year Treasury Bond Fund (NYSEARCA:TLT), whose price moves inverse to yields, has traded to nine-month lows in a continuation of a breakdown that really began in fits and starts when the Federal Reserve announced another round of quantitative easing (QE3) last September.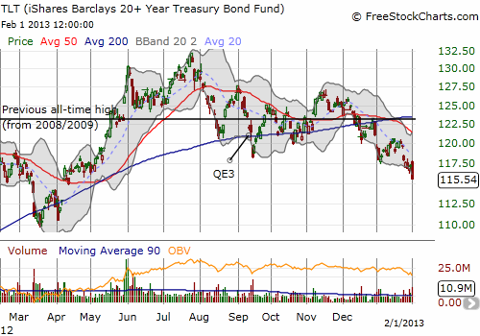 TLT continues to break down
Source: FreeStockCharts.com
Ten-year rates are also finally bouncing sharply from a historic low.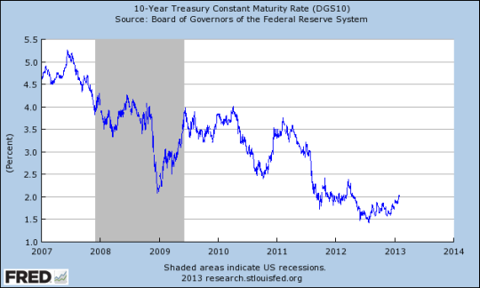 In a relative sense, 10-year rates have spiked higher in recent months, but they remain firmly locked in an overall downtrend.
Source: Federal Reserve Bank of St. Louis
So while QE3 has succeeded in goosing the S&P 500 (NYSEARCA:SPY) to 5-year highs and closer and closer to all-time highs, it is failing to drive rates lower as advertised. I am currently long TLT puts and shares in ProShares UltraShort 20+ Year Treasury (NYSEARCA:TBT). If the rally in stocks continues, I think it is safe to assume that interest rates will continue to grind higher if only because stock/bond allocations will shift toward stocks. Since rates are around historic lows, I am guessing rates will have to go a lot higher before disturbing the rally in stocks. The more immediate question of interest to me is whether the nascent housing recovery will get impacted by higher rates. In the short-term, I do not think so.
Higher rates could be a mixed bag for housing. On the one hand, the current recovery has mainly been fueled by cash buyers and the few people fortunate enough to qualify under today's extremely strict underwriting rules (see for example "On The Front Lines, The Housing Recovery Is Visible But Needlessly Slow"). Higher rates should have little impact on these buyers. However, higher rates will certainly deter those on the margins of qualification and/or affordability. Homebuilders looking to expand their base of buyers would likely find disappointment instead. On the other hand, higher rates could accelerate some homebuying decisions and pull forward some demand. Under such a scenario, employment and wages will need marked improvement to fill airpockets in demand in the future.
So far, interest rates have not seeped into the narrative around the continued stream of strong data points for the housing recovery. Here are some of the recent highlights:
Las Vegas was a notable soft spot in the West: December home sales fell year-over-year for the seventh straight month.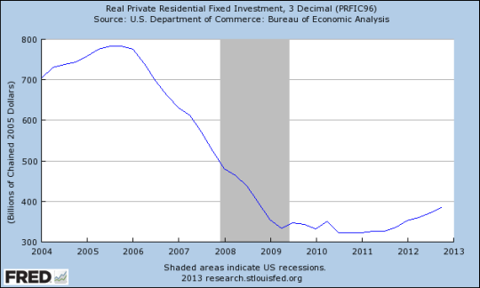 Real Private Residential Fixed Investment (2004-2012)
Source: Federal Reserve Bank of St. Louis
In total, I do not see the current bump up in interest rates placing a dent in strong data points like the ones above. Even the SPDR S&P Homebuilders ETF (NYSEARCA:XHB) has traded relatively independent of the volatility in long-term rates. The chart below compares TLT (thick black line and gray area) to XHB (thin blue line). Most notably, the bulk of the recent run-up since last year's lows has occurred even as TLT has drifted downward.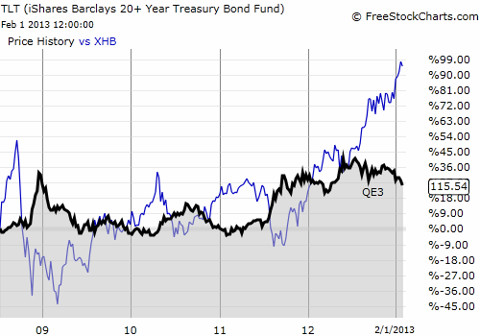 TLT vs XHB
Source: FreeStockCharts.com
Be careful out there!
Disclosure: I am short TLT. I wrote this article myself, and it expresses my own opinions. I am not receiving compensation for it (other than from Seeking Alpha). I have no business relationship with any company whose stock is mentioned in this article.
Additional disclosure: I am short TLT through put options and TBT shares.