I stumbled across Blackrock Kelso Capital Corp (NASDAQ:BKCC) looking for a high yielding stock (10%), with a small market cap ($786 million). The research below on the company led me to believe it is a well-run Business Development Company that has a track record of making sound investments and returning capital to shareholders.
The Basics
A Business Development Company is a closed-end investment company that primarily invests in private businesses. The company is also a regulated investment company, or RIC, under Subchapter M of the Internal Revenue Code. To maintain status as a RIC, the company must distribute annually to stockholders at least 90% of investment company taxable income; and to avoid an excise tax imposed on RICs, it must distribute annually at least 98% of ordinary income and 98.2% of net capital gains (from company website & Quarterly Filing).
In the most recent quarter, the company held investments in 50 companies. Holdings were divided up by: 59% senior secured loans, 16% in senior secured notes, 13% in unsecured or subordinated debt securities, 12% in equity investments, and less than 1% in cash and cash equivalents.
As of Q3 reporting, the company's net asset value (NAV) was $9.55 per share. A table below shows how NAV has changed since the company began trading (Source).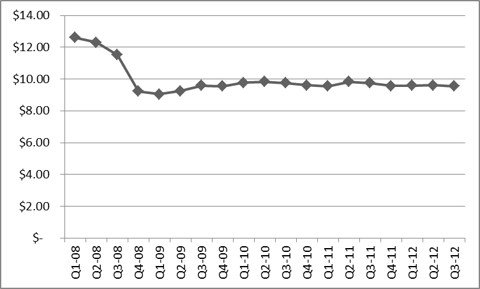 Since the company must pay out almost all earnings, significant NAV per share growth is not realistic. The NAV did sustain a significant hit during the 2008 financial crisis but the company has gotten back on level footing and has maintained a roughly constant NAV per share value since then. Instead of relying on NAV growth for shareholder returns, BKCC operates similar to other PE firms and takes advantage of the significant cash flows to pay out high dividends. The company's investments have a weighted average yield of 12.2%, which greatly contributes to making the dividend yield of 10% sustainable (Source).
The chart below, from Marketwatch, shows stock price, total return, rolling dividend, and yield since inception of the company.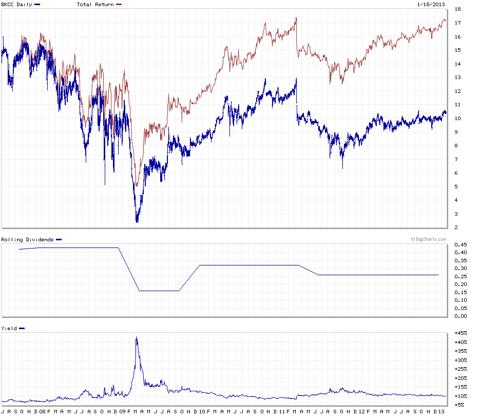 From the figure above, the dividend payments contributed significantly to the total return of the stock and the yield has consistently been at or above 10% since the worst of the crisis subsided in 2009. Also, the $10 stock price is near the lower end of normal valuations over the life of the company.
The company does have an existing share repurchase agreement though it is rarely utilized. As of Q3, the agreement allows for the repurchase of 1,331,143 shares (or roughly 2% of the float). However in CY 2012 the company did not purchased a single share under this agreement. In the life of the company, it has only repurchased 1,425,507 shares of stock worth $9.5 million. I don't expect the company to repurchase shares under this agreement any time soon.
The management is relatively experienced and the leaders worked in private equity prior to joining BKCC. Based on their performance over the past several years, they have done a good job of finding new investments and they can utilize the resources of both namesake companies for expert advice. The company utilizes advisors from both Blackrock and Kelso & Company, a leading private equity company.
There are only eight analysts covering the stock (Source). That means that this stock could be inefficiently priced or all public information may not be priced into shares.
After looking over the basics, the total return of the stock is impressive and gives credence to the management's commitment (and requirement) to return profits. The drop in NAV during the financial crisis does show how susceptible the company is to economic downturns.
Blackrock Kelso's Investments
The firm focuses on middle-market companies with $500 million to $1 billion in revenue and EBITDA or operating cash flows of $10 to $50 million. The firm highlights that this is a good demographic for lending and investing in because they are under-served in the financing industry. Also, larger companies frequently buy companies of this size, presenting opportunities for BKCC to cash out. The graphic below, from the company's Q3 earnings presentation, displays the company investments by industry. The company is well-diversified in its investments allowing profits to continue even if one industry is struggling in a given year.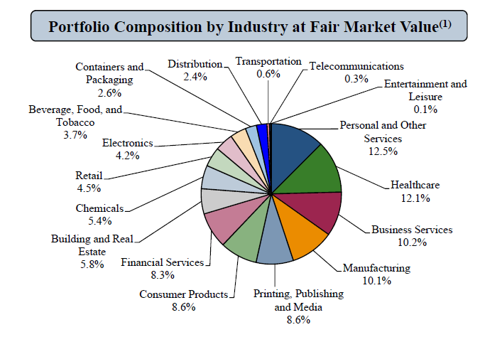 The geographic composition of the portfolio at fair value was United States 95.6% and Canada 4.4% (September 30, 2012). The geographic composition is determined by the location of the corporate headquarters of the portfolio company. For those interested in researching further, here is the list of company's current portfolio holdings.
After looking over its investments, the firm focuses on a narrow range of companies by size but it is well diversified across different industries.
Valuation of Investments
The company bases valuations for NAV on over 99% of its holdings on "inputs that are unobservable and significant to the overall fair value measurement. The inputs into the determination of fair value may require significant management judgment or estimation." To value these investments, the company applied EBITDA multiples between 2.5x and 10.75x and market yields between 7.5% and 25%. Investors cannot independently identify the value of holdings, therefore it takes confidence in the current management team for investors to trust that holdings are valued appropriately.
The company ranks each of its investments by how it is performing relative to expectations before the investment. This division of assets, shown in the table below, is probably as close to a 'leading indicator' as normal investors can get with this company. If more investments begin to move down from the 'Grade 1' row, it's probably a good idea to start lightening up on the stock. Though, if they can keep the vast majority of their investments in the 'Grade 1' row, the company looks like it will be able to continue to pay out steady dividends to shareholders.
| | | |
| --- | --- | --- |
| Investment Grading | September 30, 2012 | December 31, 2011 |
| Grade 1 - Investment thesis is better now than during initial investment. | 83.46% | 83.17% |
| Grade 2 - Performed worse than expected but no loss of investment return expected. | 15.78% | 14.91% |
| Grade 3 - Some loss of investment return expected. No principle loss expected. | 0.56% | 0.86% |
| Grade 4 - Loss of principle expected. | 0.20% | 1.05% |
| Not Rated | 0.01% | 0.01% |
With both valuation of investments and rating relative to expectations of those investments, you must trust the management to grade investments appropriately for this information to be worthwhile. Given the strong lineage of the company, from Blackrock and Kelso & Co, I consider it a valid assumption that both companies have suitable checks in place to verify company officers are acting in good faith.
This table could provide a warning sign if the company starts to struggle for those that agree with this assumption. If the percentage of investments that are rated Grade 1 drops, it can be used as an early warning sign that earnings or distributions may be hit in future quarters.
Advisor Fees
The fee structure for the firm's advisors shows that the company is aligning the advisor's interests with shareholders. The advisors receive a base fee of 2% of company assets per quarter. The firm also pays an incentive fee if shareholder returns (measured by NAV and distributions combined) meet certain thresholds. If shareholder returns are less than 8% annually, there is no incentive fee paid. As shareholder returns increase to 13.3% annually, the fee grows, reaching its full fee above that level. These fees provide a high bar for the advisors to work toward. During the third quarter, no incentive fees were paid to the advisors (Source).
Company & Insider Sales
BKCC has sufficient liquidity and room to increase utilization of revolving credit. It has a standing Shelf Registration on file with the SEC, so it may launch a secondary offering at any time. The last time the company launched a secondary offering was September 2010, when it sold 6.9 million shares (6 million plus over-allotment) at $11.95 per share - which was over 20% above NAV (Source).
BKCC has a float of 72.47 million shares. As of January 19, the Virginia Retirement System (via Virginia Retirement System & Virginia Retirement System et al) owns over 25.6 million shares of the company or roughly 35% of the company (Source). Since March, 2012, VRS has slowly sold over 5.1 million shares in 77 different transactions (Source). Outside of VRS sales, there are few insider transactions. The sales from the VRS don't appear to be slowing down any time soon but the entity is being very patient and not dumping the shares on the market, which would have a large negative effect on the price, even during periods of market uncertainty such as early summer of 2012. Thus, these sales should continue to limit the upside in the share price for some time but shouldn't have an outsized impact on the price.
The shelf registration of the company is concerning because it means it can perform secondary offerings whenever it wants. The consistent selling by the largest shareholder adds consistent downward pressure to the stock. Given the current valuations, at 11% over NAV, the downward pressure on the stock isn't a significant deterrent especially since investors in the company aren't counting on share prices to rally for their return.
Summary
The company performed a secondary offering in 2010, though at a price well above their NAV. It seems that overall company investment strategy is good for investors as well, buy at or below NAV and lighten up on the investment if the stock begins to trade at a 20% premium to NAV.
Blackrock Kelso Capital is a good investment to gain exposure to smaller companies in a variety of industries. The firm is well run and has returned significant capital to shareholders. Investors should keep an eye on the company's ratings of the investments as this may serve as a leading indicator of future earnings. This is included near the end of the quarterly filings. Try to buy the shares under NAV and sell, like the company has done, when the share price is significantly above NAV.
Disclosure: I am long BKCC. I wrote this article myself, and it expresses my own opinions. I am not receiving compensation for it (other than from Seeking Alpha). I have no business relationship with any company whose stock is mentioned in this article.