Since I have already stated that General Electric (NYSE:GE) is my 2013 stock pick of the year, it should come as no surprise that any followup articles I write will continue to bestow as many platitudes as I believe the company and the stock deserve; until it disappoints me as it has done in prior years of course. (By the way, I suggested buying GE at $14.80/share)
For now, I suggest that you put away your political biases, your animosity towards the CEO, and whatever distaste you have from years gone by.
In the global world of business, GE just might be the perfect stock to own.
The World Is GE's Playground
In my most recent article, I might have been a bit eager about the share price doubling in 12-18 months. Perhaps it could be within 24-36 months. The point is that the share price could propel significantly higher by the fact that the company is in just about every business that is important to mankind. Add to that the enormous global footprint, one of the world's greatest brand, and a business model that has been producing terrific results, and we have a stock that everyone should consider owning right now.
I have used this graphic before, but it should be looked at once again as a reminder. GE has focused more of its resources to emerging markets. That alone could fuel enormous growth for the company and the stock.
Another important graphic to review: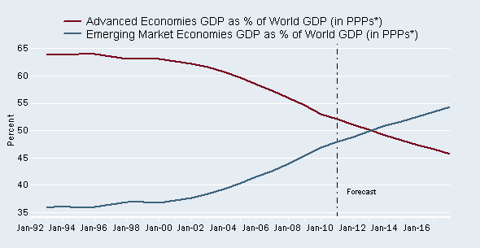 "Emerging markets are countries undergoing rapid economic growth and industrialization that are becoming bigger players on the world stage. These countries make up 82% of the world's population and 36% of the world's economic output. And they are growing fast.

Emerging market economies are expected to grow an impressive two to three times faster than their developed counterparts, according to an April 2012 International Monetary Fund estimate. GE is positioned perhaps better than any other conglomerate in the world to take advantage of this trend."
To further support my opinion, this article states quite emphatically;
".....GE is simply everywhere. And if you're a global-focused investor, this is a name you can't afford to ignore...."
In our economic environment, every investor should be thinking globally. Not necessarily with international stocks, but with companies that have a global presence, and there are few as huge as GE.
Nothing Is Ever Risk Free Of Course
Even though GE is well positioned for strong growth globally, any investor still should note the risks that are inherent with investing, even for a stock like GE.
What we should keep an eye on will come as little surprise, but it warrants our attention.
Central banks around the world can tighten monetary policies which could lead to inflation. If that occurs, an economic slowdown is possible.
China and Asia could reverse current growth trends and place a damper on spending, which would affect GE in key business segments.
Political turmoil in the Middle East could place tensions around the globe. Most

businesses

would face serious set-backs due to negative geopolitical issues such as international conflicts.
The very nature of emerging markets could lead to a less than stable business environment which could in turn impact the growth of General Electric.
Unknown issues that the GE financial division could face might impact further cash infusions back to the parent company. (I do not personally see anything right now, by the way.)
All of these issues should be monitored as with any others that could affect our investments, and GE is not immune of course. That being said, we should also continue to look at the raw fundamentals of GE.
General Electric Earnings Have More Than Been Impressive
To recap from the 4th quarter report, it appears that the company is now firing on all cylinders. Not only did it beat all estimates, it actually blew them away.
GE CFOA of $7.2B for the quarter, $17.8B for the year, +48%
4Q and Full-Year 2012 Highlights
"-- Eleventh consecutive quarter of strong operating earnings growth -- 4Q Operating EPS of $0.44, up 13%; Full-year operating EPS of $1.52, up 16% (up 10% excluding effects of 3Q'11 preferred stock redemption)

-- 4Q Continuing EPS of $0.41, up 11%; Full-year continuing EPS of $1.39, up 12%

-- Second consecutive quarter with all Industrial segments reporting positive earnings growth -- Double-digit earnings growth for five of seven Industrial segments

-- 4Q orders up 7% ex. Wind and FX; Growth region orders up 12%

-- Margins up 120 bps over prior year period, increases in all seven Industrial segments

-- GE Capital earned $1.8 billion in 4Q, up 9%; GECC Tier 1 common ratio 10.2% -- GE Capital 4Q ending ENI balance $419 billion"
What becomes even more interesting is the amount of cash that the much maligned financial division has returned to the company coffers. In 2012, over $6.4 billion came directly from GE Capital. Analysts believe that at least that much will be returned in 2013.
In 2014, the completion of the sale of NBC Universal to Comcast (NASDAQ:CMCSA) will occur. That transaction could net GE somewhere in the vicinity of $15-$20 billion in cash. All of these funds, on top of cash received from operations, could exceed $50 billion in additional cash to its already impressive cash stockpile of $125 billion.
Any company that has almost $200 billion in cash reserves can basically do whatever it wants to do. Especially when the actual business is doing well. The big question is; what will GE actually DO with all of that cash?
On the company conference call, Jeff Immelt stated:
"This company is going to have a ton of cash over the next three years, right?" I don't really want to make any other pronouncements other than disciplined and balanced capital allocation. We'll go over the other bridges as we get there but let's start with that."
I am not going to say that the company will simply write a check to shareholders, as many might like to see, but I will show this chart which was shown at a recent analyst meeting in Florida: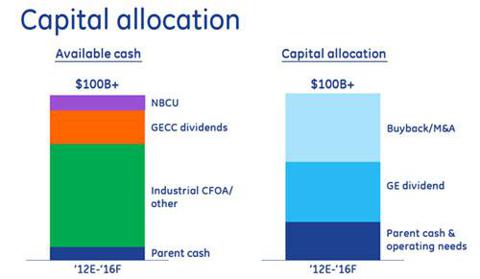 As far as I am concerned, this one chart says that shareholders could be well taken care of. I can see significant dividend increases coupled with the share buyback plans. Keep in mind that GE currently has a dividend payout ratio of just 26% and has just increased dividends by about 12% for 2013.
It might be possible for the company to actually have another increase in 2013, but that would be a bonus. I would be thrilled with 12% annual dividend hikes every year for the next decade anyway. The recent spate of dividend hikes was also explained in the conference call:
"Chief Financial Officer Keith Sherin said the company did not plan to boost its payout quite so often.

"Our historical pattern was to do dividend increases at the end of the year by reviewing capital allocation plans with the board of directors and I would think that would continue to be our practice," he said in an interview."
The company's four increases, from July 2010 through December 2011 were a special case, intended to make up for a sharp cut to the payout during the financial crisis. Suffice it to say, GE is back on track to become a dividend winner once again.
Obviously, when an investor thinks about GE, they should think MONEY!
Basic Fundamentals Have Become Even Stronger
The basics look better than ever, and all investors should familiarize themselves with each bullet point.
An enterprise value of $525 billion.
A forward P/E of only 12.29.
YOY revenue growth of nearly 15%.
YOY earnings growth of almost 8%.
Low payout ratio of 26%.
Current dividend yield of 3.50%
Current cash reserves of over $125 billion.
An ESS rating of bullish to very bullish.
Price to book value of only 1.89.
For the technophiles here, a relative strength index (RSI) of under 30, which constitutes a buy signal to me.
Institutional ownership of only 53% which leads me to believe that there could be plenty of institutional buying in the months and quarters ahead.
Not too many one year charts look this compelling, and this is just the beginning.
Going forward, let's take another peek at this chart: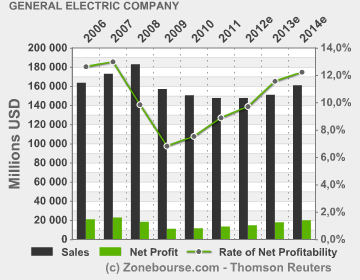 The Bottom Line
As with any investment, I look at shareholder value. To me, GE is a vastly undervalued company based on its past difficulties and mis-steps. Those days are over folks, and by virtue of the facts and opinions presented in this article, I believe that every long-term investor should have some sort of a long position in this stock.
Income seeking dividend investors, as well as growth oriented investors, could see significant gains in the months and years to come.
Perhaps not a double in 12-18 months, but heck, what do I know anyway!
If you want to review my previous articles (other than the ones I have noted above) on GE, as well as the commentary, here are a few recent links:
General Electric - Own It Now Or Own It Later, But ...
General Electric Is Undervalued No Matter What The ...
General Electric: This Elephant Can Fly
Disclaimer: I have been pounding the table for over a year on GE, but obviously these are my own opinions and my own perception of the company as it stands now. This article is in no way a suggestion to buy or sell any security, as my opinions can be just as wrong as they could be right. Please do your own research and due diligence prior to making any investment decisions.
Disclosure: I am long GE. I wrote this article myself, and it expresses my own opinions. I am not receiving compensation for it (other than from Seeking Alpha). I have no business relationship with any company whose stock is mentioned in this article.