I have been following the OCZ (OCZ) story for quite a while (and was even long the name for a good portion of that time) and have been saddened at the recent turn of events. For those new to the story, OCZ makes solid state drives and had been posting pretty impressive growth numbers since its IPO in 2010. Unfortunately, the company so rabidly sought to increase the top line in an attempt to please Wall Street that the company eventually stooped to selling products at negative gross margins just to give the illusion of growth.
The house of cards fell apart. Ryan Petersen resigned, walking away with the millions he made from selling shares into each and every public offering and leaving shareholders with heavy losses. The company brought in Ralph Schmitt, who sat on the Board of Directors as this all unfolded, to clean up the mess, but it's unclear if Schmitt is competent enough to salvage value from this trainwreck. After all, the company still hasn't released its form 10-Q for the August quarter.
But the other day, investors were thrown somewhat of a line when the company announced some preliminary results for the August and November quarters. They weren't pretty:
Cash balance is down to $9M
Debt is at $7M
Revenues for the August and November quarters will both fall within a range of $65M - $85M
Company expects profitability in FY2014 (fiscal year starts this calendar month) as the company projects growth at a 20-30% CAGR from here on out
Do these preliminary results make you feel ready to buy as a recovery play? I highly advise against it.
Significant Liquidity Issues, Key Asset Taken Hostage
OCZ raised a substantial sum of money via secondary offerings as it continued to burn cash. It raised $94M in April, 2011, then they came back for their next hit of $109M in March 2012. Well, the institutions/individuals that paid $8.50 - $9.00 for shares at these offerings are certainly not particularly pleased with the recent turn of events, and it is unlikely that investors would be interested in helping the company raise any further cash. The IPO and the two secondary offerings were generous as it is and a fourth offering is not likely to be underwritten by any reputable investment banking firm. Keep in mind that the majority of them were fairly bullish on the stock and not one had the audacity to raise some of the questions that many short sellers on Yahoo! Message Boards had been bringing up for months.
Further, any equity offering at these levels, coupled with the current share count of 67M, would make any significant offering at current levels materially dilutive to existing shareholders. While new management is likely to be more concerned with shareholder value than the previous team, the company is in such dire condition that if it were possible, I would expect the company to try to issue such an offering.
The problem does remain though: the company has a mere $9M in cash, $7M in debt, and has never posted positive cash flow: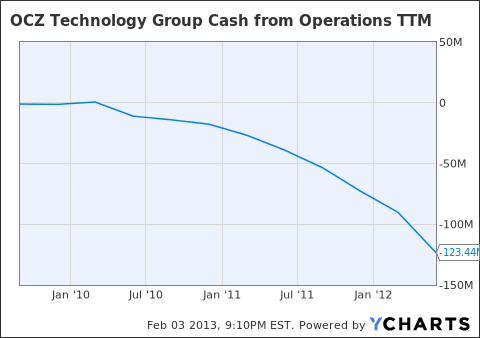 OCZ Cash from Operations TTM data by YCharts
How many quarters can OCZ continue burning cash? In particular, as Austin Craig so astutely points out, OCZ is in such desperate shape, that it is now using its Indilinx subsidiary as collateral on a bank loan. This is critical as Indilinx is the sole part of the company that would give the company any bargaining chips in acquisition talks. Should the company fail to return to a cash flow positive state and ultimately loses the Indilinx subsidiary to Wells Fargo (its creditor), then the company degenerates into a commodity SSD vendor. With no competitive or cost advantages over a number of its peers that license controllers from LSI (LSI) or Marvell (MRVL), there would have no hope of competing with the fully integrated vendors that manufacture their own NAND (the largest part of an SSD's BOM) such as Micron (MU), Samsung, and Hynix from a cost perspective (and in a commodity business such as consumer SSDs, this is critical). This would ultimately lead to bankruptcy and a complete wipe-out of existing shareholders.
Why The Enterprise Space Is Unlikely To Save OCZ
The big hope that OCZ's management is trying to sell investors is that they will be competing in higher margin spaces. On the consumer side, the company is aiming only at higher end enthusiast drives. This is still a commodity business, and the same issues with respect to cost structure relative to players with their own NAND fabs, but gross margins may be generally high enough here to be profitable with enough volume.
The real savior, however, is purported to be the enterprise space. OCZ has typically not had a particular strong presence in the enterprise arena, and chances for success there are relatively slim. The argument for this is quite simple: look at former enterprise SSD superstar STEC (STEC):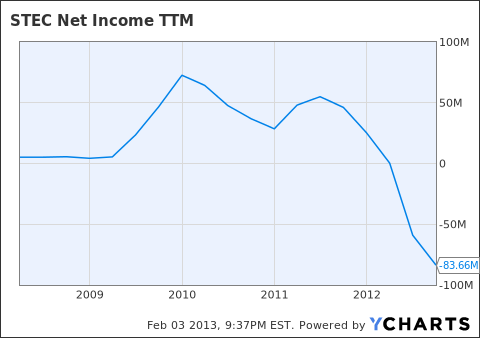 STEC Net Income TTM data by YCharts
STEC was big in 2009 and the stock rose in true bubble-fashion after the company received some relatively big orders from EMC (EMC). Unfortunately, this was not sustainable, especially as the enterprise flash space became much more crowded and many other, larger players were able to muscle in and win in this space. The problem with the SSD business (and the commodity storage business in general) is that the barrier to entry is so low that gross margins continually come under pressure, as they did with STEC: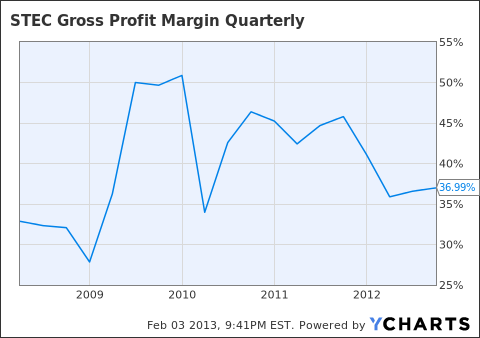 STEC Gross Profit Margin Quarterly data by YCharts
At a low gross margin profile, and with the R&D and SG&A expenses required to serve demanding enteprise customers, the volumes need to be high to turn an operating profit. Given that enterprise clients are unlikely to want to risk shipping mission critical, multi-million dollar storage systems that rely primarily on products from a company with a shoddy track record at best. In a previous article, I observed, thanks to helpful comments from the Fusion-io (FIO) team, that OCZ likely failed to have product pass qualification at some of the key customers that the old CEO touted, such as Microsoft (MSFT) and Facebook (FB). STEC, a company that could legitimately get the design wins and had previously been profitable from the venture, eventually fell by the wayside. It is unlikely that OCZ would have better luck in this space, especially given that STEC faces no liquidity issues (it is in fact, flush with cash).
Growth Rates Issued By Management Difficult To Believe
Management raised investor hopes by projecting a 20-30% CAGR on a go-forward basis. This is difficult to believe as the company faces both competitive headwinds in the pure SSD market from competitors with much better cost structures, and the trend in the market seems to be towards hybrid HDD + SSD solutions, into which OCZ would need to ship very low ASP, low margin consumer drives that do not particularly benefit from the kind of controller level differentiation that the company is positioning itself for (and has explicitly stated that it does not intend to service).
In the enthusiast SSD market, where performance matters, while OCZ's product is competitive, much more well-established brands such as Samsung, Crucial/Micron, and Intel (INTC) also have strong offerings (and these guys all make their own NAND). OCZ gained a lot of share in this space with the discounts/rebates that it offered (i.e. competing on price), but with the price advantage gone, it is unclear how well OCZ will do. Even so, this market is not anywhere near as large as the OEM markets, which OCZ would need to capture a non-trivial portion of in order to engender sustained revenue growth.
Further, broad weakness in the PC market -- and in particular anything that is not thin/light/highly integrated -- is further likely to impact OCZ's business. Even if Intel's "Ultrabook" initiative reinvigorates PCs, OCZ is not a strong player in the mSATA or even embedded flash space that Ultrabooks require. The world of discrete drives in the mainstream consumer space is quickly coming to an end and will likely post negative growth along with the traditional "legacy" PC form factors going forward.
What About A Buyout?
The biggest risk to a short thesis on a small-cap technology stock is the looming threat of a takeover. While I had previously believed that such a transaction could occur, it is quickly becoming clear that this will not happen. Why? No buyers.
Intel, Micron, Samsung, and Hynix -- the major flash players -- all now have their own controller technology, which means OCZ/Indilinx is of no use to them. While many cite the ~$200M - $300M previous going prices for pure-play controller houses such as SandForce, the overarching issue is that the buyers are now saturated. It is also not clear how much Indilinx is worth on the back of a single successful controller design.
The hard disk drive companies such as Seagate (STX) and Western Digital (WDC) have their bets hedged with either acquired enterprise SSD technology or strategic partnerships. The hybrid SSD/HDD controller technology (this is not something that OCZ makes) is supplied by the likes of Marvell and LSI. OCZ cannot add any significant value to the hard disk drive vendors.
Private equity would not be interested as the company has yet to demonstrate any ability to generate positive free cash flow. Just because the market cap is low does not mean that this company is cheap.
Conclusion
OCZ's competitors have significant advantages in the higher volume more commoditized SSD space, and in the enterprise space, the firm has to really fight to establish long term credibility. Stronger, more established players such as STEC have been eaten alive competing here, so it is unlikely that this is what will bring OCZ to profitability. OCZ's most valuable asset, Indilinx, is now being used as collateral for a bank loan and should the firm continue to be cash flow negative, and with no real cash buffer to speak of, it could ultimately lose Indilinx and with it, any remaining embedded value.
Just stay away for now. When and if the fundamentals begin to move in the right direction, it may be worth looking at. If the company shows signs of life in the enterprise space, and once the company returns to a cash flow positive state, then it could be a buy. But right now, the very real risk of bankruptcy or toxic dilution make this unfavorable from a risk/reward standpoint.
Disclosure: I am long INTC, MSFT. I wrote this article myself, and it expresses my own opinions. I am not receiving compensation for it (other than from Seeking Alpha). I have no business relationship with any company whose stock is mentioned in this article.
Additional disclosure: I am short $18 FIO Feburary 16 puts.