Cleveland Biolabs (NASDAQ:CBLI) has been working on an anti-radiation drug for quite a few years. The company has made amazing progress by producing a drug that is tested and works in rats and monkeys. We will cover potential funding via the government and Cleveland's relationship with a special government agency in a moment, but first let's glance at the drug.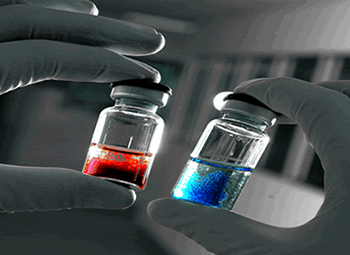 Does The Drug Work?
In June of 2012, the company announced survival results for its randomized, blind, placebo-controlled, efficacy study of Entolimod in 179 rhesus macaques. The animals had a survival rate of nearly three times the control group after a single dose of the drug. The treatment followed exposure to a 70% lethal dose of total body irradiation.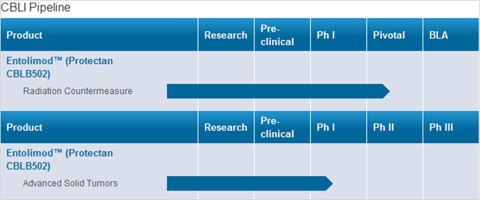 Also interesting to note that given no dose of Entolimod, the survival rate is 27.5% with survivability improving quickly to the 70-75% range with a single dose. (See page 11 and 12.) This shows that the drug is having an effect and that it is not just random occurrence. For a detailed write up on the drug and its potential please see our article here.
The problem that Cleveland ran into is funding. Being a research and development company, it does not generate much revenue, and creating new drugs is very expensive. They rely mostly on government funding.
The target market for this drug is medical and defense applications such as cancer treatment, military defense, and responding to emergencies like the nuclear meltdown in Japan that occurred a few years ago. Clearly the workers trying to contain this disaster could have used this drug.
(Map of Japan and radiation levels after the meltdown)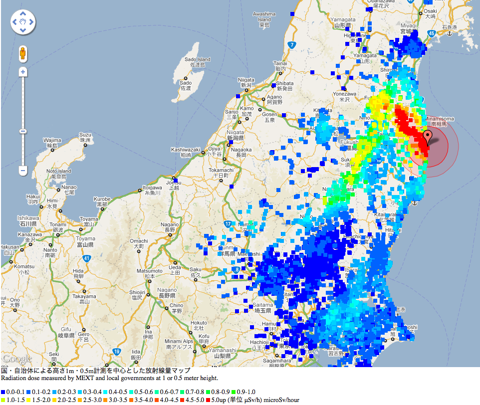 Good news (Money, Money, Money)
Additional funding might be around the corner though. In the past the government (through BARDA (Biomedical Advanced Research and Development Authority)) has funded much anti-radiation research for Cleveland Biolabs. BARDA might be receiving a fresh influx of funding from the government soon.
The House of Representatives voted on the bill "H.R. 307: Pandemic and All-Hazards Preparedness Reauthorization Act of 2013" on the 22nd of January, where it passed 395 for to 29 against. Co-sponsors for the bill are four Democrats and one Republican, so it has a good chance of passing through the Democrat-controlled Senate. We can view the bill here.
The Bill (aka Show Me The Money)
Section 402 titled "Biomedical Advanced Research and Development Authority" of the bill provides for:
(C) Fund- Paragraph (2) of section 319L(d) of the Public Health Service Act (42 U.S.C. 247d-7e(d)(2)) is amended to read as follows:

'(2) FUNDING- To carry out the purposes of this section, there is authorized to be appropriated to the Fund $415,000,000 for each of fiscal years 2013 through 2017, such amounts to remain available until expended.'.
and
the ability of flexible manufacturing activities carried out under this section to--

'(I) secure and leverage leading technical expertise with respect to countermeasure advanced research, development, and manufacturing processes; and

'(ii) meet the surge manufacturing capacity needs presented by novel and emerging threats, including chemical, biological, radiological, and nuclear agents.'.
Section 403 of the bill brings in an additional 583,800,000 in funding
(2) in subsection (F)(1), by striking '$640,000,000 for fiscal year 2002, and such sums as may be necessary for each of fiscal years 2003 through 2006. Such authorization is in addition to amounts in the special reserve fund referred to in subsection (10)(A).' and inserting '$533,800,000 for each of fiscal years 2013 through 2017. Such authorization is in addition to amounts in the special reserve fund referred to in subsection (H).'.
So what does this mean in common English? It means that BARDA (if it passes the Senate and the President) will receive close to 1 billion in funding to meet various threats. In the past BARDA had funded Cleveland Biolabs anti-radiation drug development.
BARDA likes Cleveland
The Biomedical Advanced Research and Development Authority recently invited Cleveland to present at a symposium.
The company was invited to present at a symposium hosted by the Biomedical Advanced Research and Development Authority (BARDA) and National Institute of Allergy and Infectious Diseases (NIAID), part of the National Institutes of Health. The symposium, titled "Development of Radiation Medical Countermeasures for Licensure: Lessons Learned & Paths Forward" will include select product developers like CBLI, as well as U.S. government representatives of BARDA, NIAID, the U.S. Food and Drug Administration, the Department of Defense and the Centers for Disease Control and Prevention.

The primary aim of the two day meeting being held on January 24 and 25, is to share data and serve as a forum regarding the challenges of medical countermeasure product development to mitigate the effects of acute radiation syndrome (ARS), and/or the delayed effects of acute radiation exposure (DEARE). The symposium's goal is to harmonize the current understanding of animal models for ARS and DEARE, and allow for candid discussions between the regulatory authorities and the broader product development community in order to enhance future development."
Conclusion
Cleveland is a risky stock that has tremendous potential. Cleveland has a history of funding with BARDA. Back in 2010 Cleveland received 45 million in funding from the government agency.
Everything hinges on the Cleveland continuing development of its various drug pipelines via government funding. If Cleveland Biolabs can gets its anti-radiation drug out it might become the next Questcor (QCOR) and go from rags to riches- taking investors along for the ride.
Disclosure: I am long CBLI. I wrote this article myself, and it expresses my own opinions. I am not receiving compensation for it (other than from Seeking Alpha). I have no business relationship with any company whose stock is mentioned in this article.