The promising trends seen in recent global economic data provide a backdrop for what could be a good year for equities. The United States drew down inventories in the fourth quarter while consumer sentiment and cautious optimism pushed higher. Companies are poised to place new orders and restock those shelves. This is great news for the intermediate-term and could spark sustainable long-term economic growth. Given this environment, eBay (NASDAQ:EBAY) is strategically positioned to acquire a larger portion of the benefits relative to peers.
Moreover, eBay will steal market share from major credit card companies, such as Visa (NYSE:V) and MasterCard (NYSE:MA), as the company penetrates the offline payment market. eBay CEO, John Donahoe, mentioned on the recent Q4 earnings call that the company "enabled" 19% of global e-commerce and 2% of global retail. These facts are exciting because it demonstrates the company's growth potential. The three most important drivers of eBay's continued success are: marketplaces, payment processing and mobile. This company also has a very strong fundamental foundation and an attractive technical backdrop.
Marketplaces
eBay first hit the scene in 1995 with the popular auction site that blossomed into a thriving market for retailers of all sizes. The company has since expanded to offer more specific markets to buyers and sellers around the globe. StubHub.com is one example of these specific marketplaces. This site facilitates sporting and entertainment tickets' transactions. The Marketplaces segment of eBay brought in $2 billion in revenue during Q4 2012. The company's traditional auction methods have taken the back seat to fixed-price sales instead. The fixed-price listings accounted for 70% of global merchandise volume during the previous quarter. Also, eBay's Marketplaces contributed to a 20% increase in same-store sales for top sellers on the sites. Top sellers attributed 42% of merchandise volume during the quarter. Margins in the Marketplaces segment remained flat over the year but up 90 basis points during Q4.
Payments
The Payments segment, notably PayPal, will continue to propel eBay into the 21st century and is truly a trailblazer in the transactions game. This company enables users to seamlessly conduct transactions without sharing financial information. The buyer in the transaction can use a variety of accounts to accommodate the sale. Also, the seller can accept these payments at very little cost. This attribute enables small businesses to become more efficient in processing transactions. It is for these reasons that PayPal will ultimately become the preferred method of conducting transactions.
There are currently 123 million active PayPal accounts and 5 million of them were opened during the previous quarter. PayPal handled about 700 million payments in Q4 of 2012. PayPal registered $1.5 billion in revenue for the last quarter. Revenue was up 24% from the same quarter a year ago. The transactions margin was flat over the year but remained at 64.7%. PayPal's margin was down 170 basis points to 23% over the year due to increases in marketing related investments. Basically, PayPal has a lot of room to grow and it is prudent for the company to invest in the future. Long-term shareholders will be handsomely rewarded.
PayPal's earnings growth will be driven by the fearless plunge into offline payments. These are transactions that are conducted at the physical business rather than online. This technology is in its infancy and has been adopted by 23 large retailers, such as Jamba Juice. eBay CFO, Bob Swan, described this seamless payment system as relieving "consumer pain points." Consumers are able to place orders and pay with a mobile device and ditch the hassle of waiting in line. Another partnership enables consumers to pay for restaurant checks when they finish eating without having to wait around after the meal. These subtle conveniences become adopted quickly once a norm has been established.
eBay has been strategically deploying resources to create a seamless payment system with ample options for buyers and sellers. This may be costing a small amount of margin today, but the investment is necessary to create a solid network of users. The point-of-sale payment system will only become truly convenient when consumers can use it everywhere. A recent deal with Discover will open up 7 million locations to offline payments in addition to the current 18,000. Morningstar's reported TTM sales for Visa, American Express (NYSE:AXP), and MasterCard are $48,828 million combined. PayPal is coming for a piece of that pie and could catch them asleep at the wheel. Time will tell, but we should expect to see some market penetration by 2014.
Mobile
eBay has put a multiplier effect on Marketplaces and Payments revenue by embracing the mobile platform. John Donahoe points out that the company monetizes mobile the same way that it monetizes the web so there is an advantage over many technology companies that must derive methods of mobile monetization. Furthermore, users on mobile devices are generally connected 24/7 and are typically more engaged than a user who can only access the site on a computer. PayPal Mobile experienced $14 billion in mobile payment volume during 2012. This is an extraordinary increase of over 300% of volume in 2011. PayPal Mobile will play a critical role in the success of the offline payment systems. The mobile platform was responsible for about 10% of PayPal's total volume last year. The mobile platform also brought 4.3 million new users to eBay and experienced over two times the volume seen in 2011. The company is also beginning an effort to use the mobile platform to bring local buyers and sellers together based on geographic location.
Fundamental Valuation
eBay booked $1.99 EPS on about $14 billion in revenue during 2012. The historical EPS are displayed in the chart below. eBay's EPS exploded following 2007 and again during 2010. Analysts' current EPS expectations for this year and next year are about $2.40 and $2.84, respectively.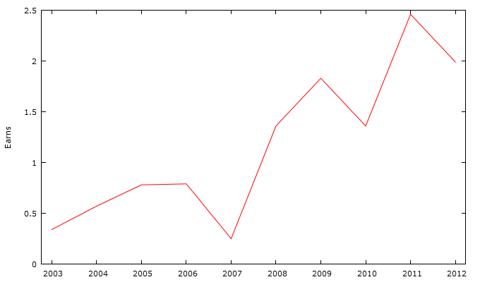 The spread between revenue and income reflect a potential for rapid increases in future income. The chart below shows this spread.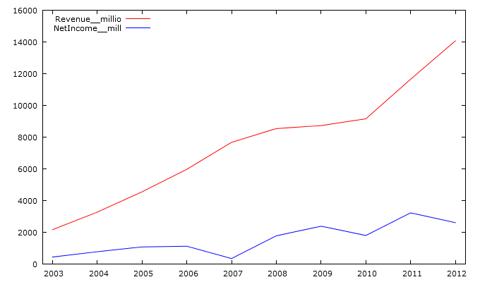 Huge increases in revenue have hardly trickled into the bottom line mostly as the company continues to invest in future earnings. Although margins have come in somewhat, the company has succeeded in keeping costs in line with peers. eBay's current net profit margin and return on equity are better than Amazon (NASDAQ:AMZN), Google (NASDAQ:GOOG) and Overstock.com (NASDAQ:OSTK).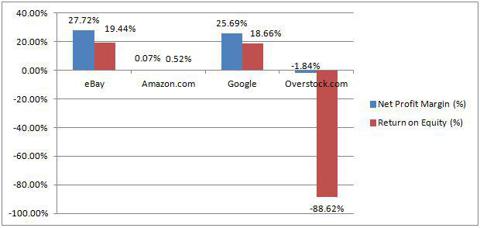 Relative price comparisons show that while not expensive, eBay is by no means a cheap stock. eBay has a PE ratio of 19.34, which is less expensive than Google at 23.42. Amazon has a ridiculously high PE ratio so the relative price metrics shown in the chart below provide a better comparison between all of these companies.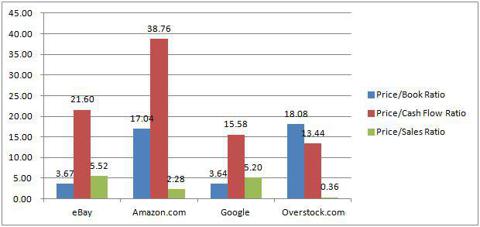 eBay is priced attractively based on book value but investors have been paying up for sales and cash flow relative to Google and Overstock.com.
Technical Backdrop
The 5-year chart below illustrates eBay (the white line) vs. the NASDAQ (the blue line). The stock lagged the overall market until about a year ago when it broke out above the [30, 32.5] range. This yearly chart shows a slightly rising triangle pattern (yellow lines) after pivoting off $10.00 in Jan. '09. The triangle becomes squeezed around $31.00 in Feb. '12 and subsequently breaks out to the upside. The stock has simply been channeling a narrow range upward (red lines) since the breakout but is currently testing some levels at the top of the channel.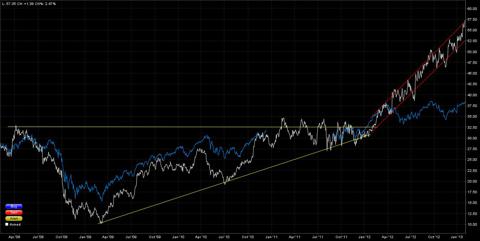 A clearer picture of the near-term action in eBay's stock price is depicted in the six-month chart below. The red lines still indicate the channeling path of the stock. It is clear that investors have been enthusiastic about this stock. The daily price candles reveal two gap-ups in the stock since the beginning of the year and buying volume has outpaced selling volume in both frequency and magnitude over the last six months. Momentum in the stock is currently breaching the upper range of the last six months and has only increased higher than this level one time before. This does not necessarily mean that the stock will fall; it simply means that it will be harder to sustain the strength in upward price movements. The MACD is also contributing an overbought signal. The Bollinger Bands establish a trading range [53, 58] so it would not be surprising to see eBay trade to $58.00 without hesitation. Also, notice that at the beginning of August, the MACD and momentum indicators were acting very similar to how they are acting now and the stock drifted more than 13% higher over the following couple of months.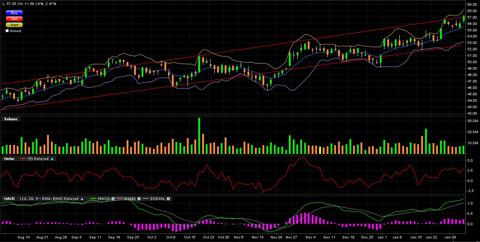 Considerations
eBay will be a productive growth stock in any investor's long-term portfolio. This is a good time to initiate a position but it would be prudent to leave some cash available to add to the position when/if the market pulls back.
Disclosure: I have no positions in any stocks mentioned, but may initiate a long position in EBAY over the next 72 hours. I wrote this article myself, and it expresses my own opinions. I am not receiving compensation for it (other than from Seeking Alpha). I have no business relationship with any company whose stock is mentioned in this article.