For the past 10 years, Microsoft (NASDAQ:MSFT) has largely failed to participate in bull markets. While the stock price has stagnated, remaining in a sideways channel for over a decade, the company has continued to grow and the fundamentals continued to strengthen. This combination has led to a situation where Microsoft's valuation has become more attractive over time, with a P/E ratio of about 15 today compared to its tech bubble era high of 73. It may finally be reaching the point where the company's performance will be reflected by the stock price.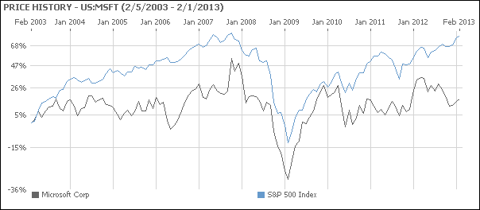 Forget about the price performance of the stock over the past decade. Forget everything you know about Microsoft. What if I told you about a company that has grown revenue 184% from the year 2000 to 2012? A company that has increased cash flow by 176.7% during that period, that trades at 8.8 times forward earnings with a EV/EBITDA ratio of 6.2, both of which metrics are lower than Apples corresponding numbers, even after its recent slide. The yield of this company is 3.4%. This is greater than the S&P 500's 2.2% yield and greater than the 30 Year Treasury's 3.2% coupon, but without any of the interest rate or duration risk. While this company's net income growth from 2000 to 2012 and trailing 12 month P/E are less impressive, if you adjust for a one time loss of $6.2 billion in fiscal year 2012 due to a Goodwill Impairment of an acquisition, net income has grown 146% with a CAGR of about 7.8% in the stated time period. The adjusted P/E is 11. This compares to the S&P 500's earnings growth of about 86% for a CAGR of approximately 5.1%.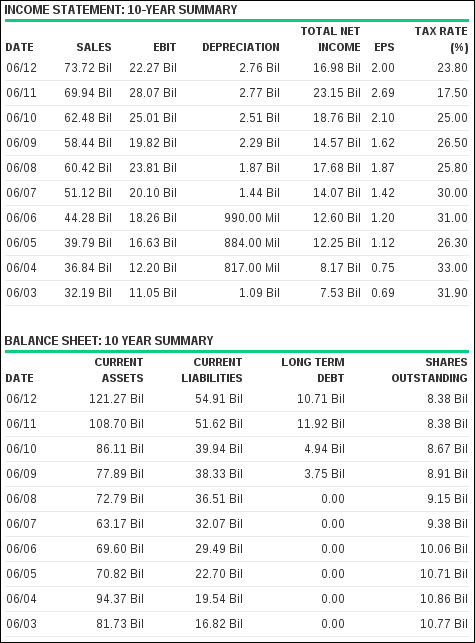 Fundamental strength isn't the only thing this company has going for it, either. The number of shares outstanding has decreased by 22% over the past decade, increasing the amount of ownership each share represents. This company has a varied product line that serves both consumer and enterprise customers, a strong balance sheet, and a triple A credit rating. Would you buy the stock? Perhaps, if the price was fair. It may have taken over a decade, but Microsoft's share price has finally reached an attractive level in line with the fundamentals after the fervor and mania of its tech bubble valuation.
Online Services Division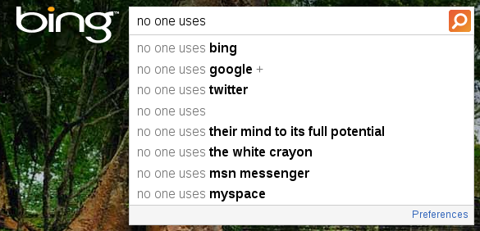 The Online Services Division at Microsoft is a drag on earnings. It recorded another loss this past quarter. On the plus side, these consistent losses have been steadily decreasing over time, shrinking 38% (from $459 million to $283 million) year over year. This is the division sporting Bing, Microsoft's attempt to grab some market share from the undisputed king of search, Google (NASDAQ:GOOG). While both Google's and Bing's auto-complete agree that "no one uses bing," the numbers show otherwise. Bing is 23rd globally and 11th in the US according to alexa.com's traffic rankings. Bing now has more than a 16% share of the search market. It has been growing steadily and now sits in the number two spot in comScore's search market share rankings, although it is a very distant second to Google. Sitting in third is Yahoo! (YHOO), whose search engine is now powered by Bing. This brings the market share of powered by Bing search to over 25%.
Diversification of Products and Services
| | | |
| --- | --- | --- |
| Product | Revenue (millions) | Percent Share of Revenue |
| Microsoft Office system | $22,299 | 30.25% |
| Windows PC operating systems | $17,320 | 23.49% |
| Server products and tools | $14,232 | 19.30% |
| Xbox 360 platform | $8,045 | 10.91% |
| Consulting and product support services | $3,976 | 5.39% |
| Advertising | $3,181 | 4.31% |
| Other | $4,670 | 6.33% |
| | | |
| --- | --- | --- |
| Division | Revenue (millions) | Percent Share of Revenue |
| Windows & Windows Live Division | $18,818 | 25.53% |
| Server and Tools | $18,696 | 25.36% |
| Online Services Division | $2,934 | 3.98% |
| Microsoft Business Division | $23,963 | 32.50% |
| Entertainment and Devices Division | $9,585 | 13.00% |
| Unallocated and other | -$273 | -0.37% |
When many people examine tech companies, they focus on their next big product. It is a fast paced industry with high product turnover and over the years we have seen many giants fall after their latest products fail. Microsoft has one very important attribute that the likes of Nokia (NYSE:NOK), BlackBerry (NASDAQ:BBRY), and a string of other struggling and bankrupt former tech darlings didn't: diversification. No single product line or department accounts for more than one third of their revenue, and these products fall across a range of categories, from home gaming, to enterprise products and services. History has shown that a single product failure (Vista? Windows Phone?) will not sink this ship.
Let's not forget that Windows is still the behemoth when it comes to operating systems, controlling about 85% of the PC operating system market. Microsoft Office has a virtual monopoly on productivity software as well. Both of these products are serious cash flow generators with high margins. Core products like these allow Microsoft to take the risks necessary to grow their business in other areas. For example, the Xbox 360 is the dominant gaming console and accounts for over 10% of revenue a little over a decade after the first Xbox was introduced in the middle of the console cycle against a dominant Playstation system. Doubters questioned whether Microsoft's corporate DNA would allow it to ever compete in the gaming space. Now, the Xbox 360 is dominant gaming platform. Successes like this can make the flops and follies worthwhile for those who are in a position to withstand failure. With their strong balance sheet, healthy margins, and a stable core business, Microsoft is in such a position which should enable them to overcome the pressures of a saturated or even declining PC market.
Disclosure: I have no positions in any stocks mentioned, but may initiate a long position in MSFT over the next 72 hours. I wrote this article myself, and it expresses my own opinions. I am not receiving compensation for it (other than from Seeking Alpha). I have no business relationship with any company whose stock is mentioned in this article.