By Natasha Lomas
Nokia's (NYSE:NOK) slide down the mobile rankings continues: StatCounter figures for January 2013 show Apple (NASDAQ:AAPL) dislodged the Finnish mobile maker for the first time as the most popular mobile vendor in terms of global Internet usage. The figures come from StatCounter GlobalStats and are based on analysis of more than 15 billion page views per month to the StatCounter network of more than three million websites.
According to the research, Apple took the top spot in the ranking -- which covers mobile devices such as smartphones and the iPod touch, but does not cover tablets -- with Cupertino taking just over a quarter (25.86%) share. However Apple's share was down 2.81 percentage points on the year-ago period, when StatCounter pegged its share at 28.67% -- meaning a declining Nokia ceded its place to the iPhone maker, rather than Apple growing to outstrip it. Nokia's January 2013 share is pegged at just over a fifth (22.15%), down 15.52 percentage points from its January 2012 share of well over a third (37.67%).
"Apple has been handed the number one spot despite its falling usage share. A decline in Nokia usage from January 2012 to January 2013 means the Finnish company ceded the top spot to Apple," said Aodhan Cullen, CEO of StatCounter, in a statement. The rising star in StatCounter's chart is Android OEM Samsung (OTC:SSNLF). The Korean mobile maker leaped up from 14.84% in January 2012, snapping at Apple's heels with more than a fifth (22.69%) this year -- up 7.85 percentage points.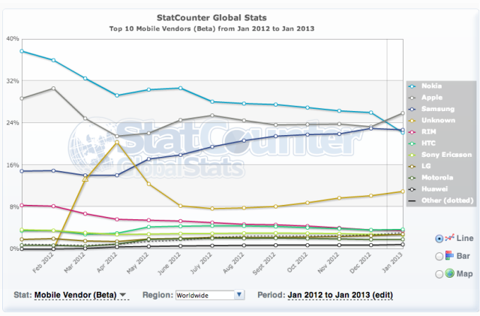 Slicing the data by region, Apple is shown to have a far greater lead over Samsung in the North American market -- taking around half the market share vs. around 14% for Samsung: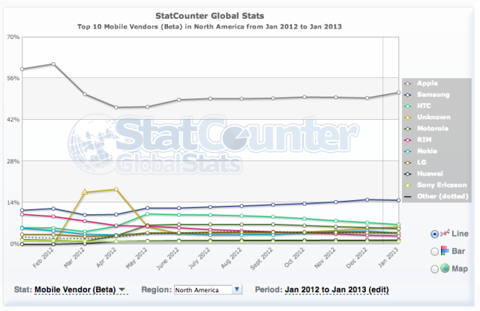 In Europe, Apple's lead over Samsung narrows again -- to just below 40% vs. around 25% for Samsung: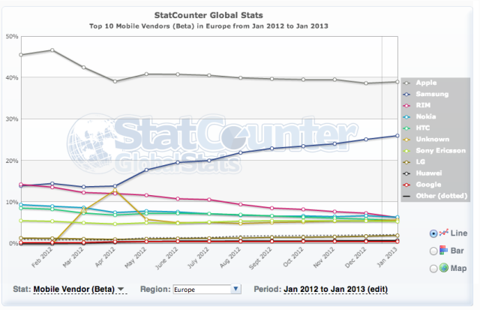 In Asia it's a very different picture, with Nokia holding on to its lead -- albeit, also with declining share -- and Samsung in second place with just over a quarter of the market. Apple is relegated to fourth place with just over 5% share: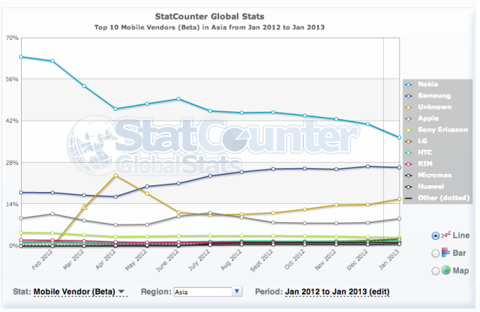 Last month, StatCounter figures suggested iOS's appeal in Asia was on the wane. Apple's share of mobile devices in Singapore web traffic dropped from 72% in January last year to 50% this month, while Android's share climbed from 20% to 43%.