Intel (NASDAQ:INTC) is the world's largest semiconductor manufacturer by revenue, and also a major player in all of the essential technologies in the computing market. Their stock has been crushed lately, down from a high of $29 less than a year ago, to a current price of around $21, a 38% loss. This article will present 10 fundamental reasons why now is a good time to buy.
1: DCF Analysis Demonstrates Intel is Undervalued
Using a discounted cash flow model to calculate stock value per share shows Intel is currently undervalued. The EPS of Intel is currently $2.13, and the average analyst estimate for growth is 9.7% for the next 5 years. Beyond 5 years, the model uses a future growth rate of 3.2%, which is the past 5 year growth of the S&P 500, and a discount rate of 12% (the average expected return of S&P 500). This model is fairly conservative, and it yields a stock value per share of $32.53, which is a 35% upside from the current trading valuation.

Intel recently reported earnings for the previous fiscal year, where they managed through a rough year in the computing industry, reporting a 1.2% drop in their annual revenue. This included a 3% drop in their core business unit (PC Clients), a 13% drop in their Architecture Group unit and a 6% gain in their datacenter business unit. This represents the first time since 2009 that Intel yearly revenues have slid, and many feared the slide could have been even worse.
However, Intel is now projecting a minor turnaround, projecting a low single digit growth for this year, with the projected 9% growth over the next 5 years. At this point, Intel's stock has been beaten down enough where the low estimates have already been cooked in, and the stock is poised to rise on future earnings growth. Even if the Growth Estimate is reduced from 9.7% to just 1% over the next 5 years, (leaving the other numbers the same), the DCF value comes to $22.43, which is still a 6% margin to current value.
2: Intel's P/E Ratio Is Historically Low
The following graph overlays Intel's PE Ratio with TTM Revenues for the past 3 years.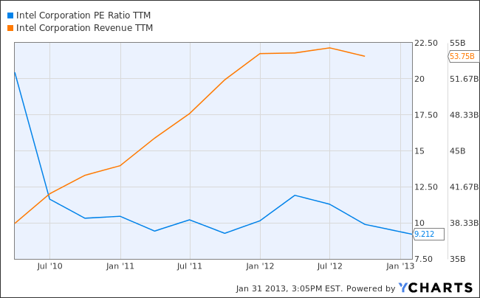 The Current P/E Ratio is the lowest it has been in the past several years, and presents a good buying opportunity for the long term investor. Intel's 5 year average P/E is 14.4, and the Industry's P/E is 13.9. As Intel's revenues recover the P/E should break well over 10, signaling a return its normal trading range.
Another interesting point on the graph is the 2102 performance. The P/E Ratio rose from Jan - June, then slid all the way for the rest of the year to the lows seen now. This can be tied directly to Intel's reduced forecasts for 2012, as well as the negative sentiment in 2012 about the semiconductor industry as a whole. However, as revenue growth starts to return Intel will be well positioned for stock price gains.
3: Intel Delivers Outstanding Margins
Intel's Gross and Profit Margins continue to maintain impressive company standards. In the past 10 years, Intel's revenues have grown by over $23B (76%), yet the company has been able to sustain a Gross Margin greater than 60% and a profit margin over 20%.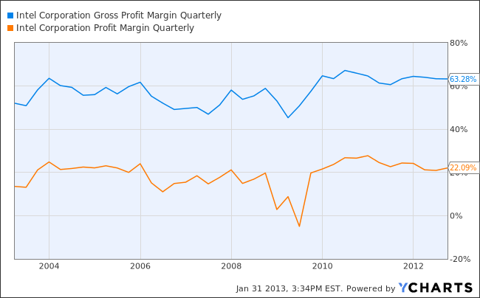 Intel's recent earnings report had some analysts remarking that the planned capital expenditures in the coming year could impact Gross Margins by 800 bps. But one look at the historical graph shows Intel is still 3 percentage points above 60%, which they first broke through in 2010.
The Semiconductor industry has an average profit margin of 12%, Intel's ability to nearly double this average while maintaining the largest market cap speaks to management's capability to drive return on sales and revenue... (i.e. they are not falling into a common trap to sacrifice margins in an attempt to "make it up on volume"). The chart also shows Intel's margins have hit 10 year highs in the past few years, demonstrating the company's skill in setting a vision that will drive efficiencies and generate better returns in a very dynamic market.
4: Intel Consistently Delivers Excellent Business Returns
Intel's Return on Equity is well above the Semiconductor Industry ROE (25% Intel vs 18.4% Industry), and the past several years has seen it grow to record levels.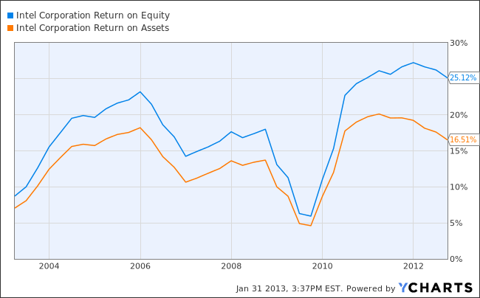 This increase in ROE demonstrates that management is making the right calls to increase company value, and drive future revenues. Intel's ROE growth is a clear indicator that better performance is ahead.
5: Intel Is a Dividend Growth Story
Intel is not only yielding over 4% currently, but is a Dividend Challenger by David Fish's definition, having increased dividends for 9 straight years. Their last increase for their August payout was a 7% increase per share (0.21 -> 0.225 per share).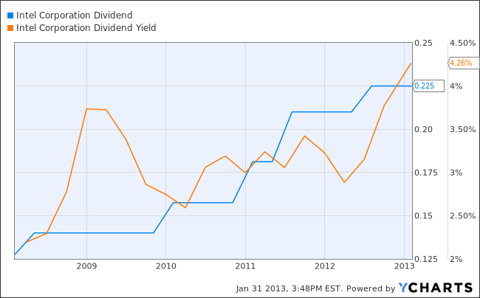 Additionally, Intel still has room to increase their dividend payments. Dividend growth is normally a concern when the payout ratio exceeds 50% (red zone). Intel currently stands at about 33%, which gives plenty of margin for dividend safety and enough room for growth.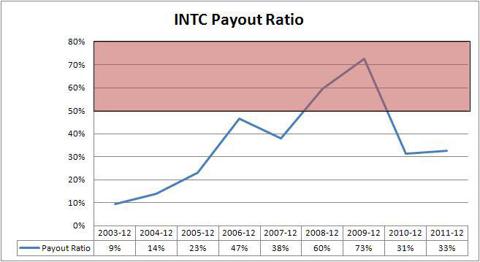 6: Intel's Free Cash Flow Enables Investment in New Markets
Intel currently has over $8B of Free Cash flow, and has consistently remained above $6B for the past several years.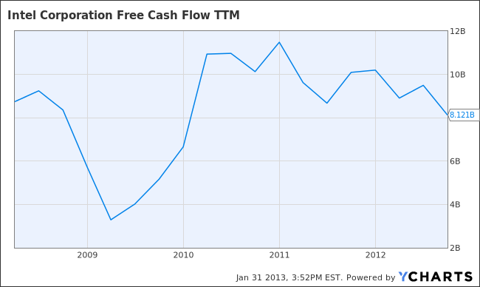 This cash flow enables them to invest heavily in R&D, while still having the flexibility to perform mergers & acquisitions. It gives management the flexibility required to make core decisions on future growth areas. Intel's free cash flow position is one of the key reasons that it has not "missed" the mobile market... It's just fashionably late to the party. Intel can, and will, make major investments required in order to drive new product lines.
7: Intel Is Not Heavily Burdened by Debt
Generally, a current ratio of over 1.5 signals that a business is in a strong operating position.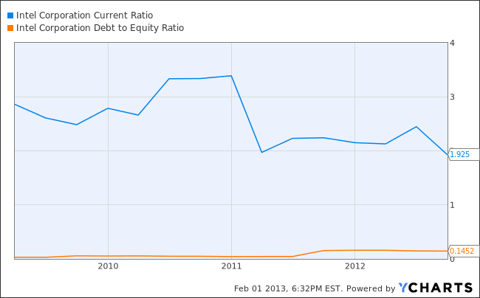 Intel's current ratio has remained at or above 2.0 for the past several years. Even though it has been reduced from highs over 3 in 2010-11, Intel remains in a strong debt position.
8: Intel's R&D Investment Dwarfs Competitors
Intel's commitment to R&D is unprecedented in the marketspace, and it outpaces its nearest competitor by $8 Billion in investment. This type of overwhelming backing continues to enable Intel to outpace the market and define next generation technologies for the industry.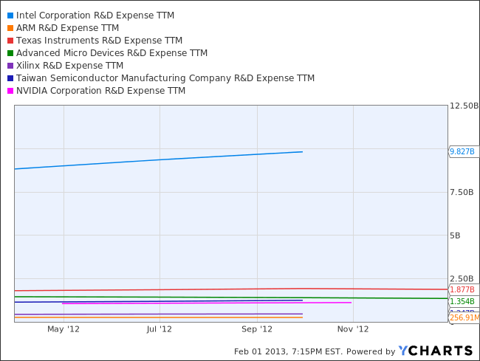 In addition, Intel's expenditures have been growing over the past several years, which demonstrates a clear commitment to redefining what state of the art technology means for this market.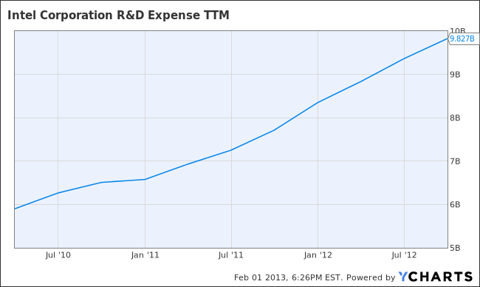 Intel showed off the fruits of their R&D at last month's Consumer Electronics Show, announcing key partnerships with Motorola and Lenovo to introduce smartphones using Intel chips. Not only were the partnerships noteworthy, but early reports showed the Intel phone used only 18mW of Power, compared to 19mW for a Samsung Galaxy and 38mW for an iPhone. This is a clear technology advancement for low-power processing, and a direct assault on competitor products in the space. In addition, Intel also showed off newer Ultrabooks, and low power Ivy-Bridge processors that reduced consumption from 17W to 13W.
9: Intel Has A Steady Cash Conversion Cycle
For any cyclical consumer based company, an important metric to review is their Cash Conversion Cycle. This cycle is essentially a measure of the amount of time it takes between when a company spends cash on product until it receives cash back from a sale.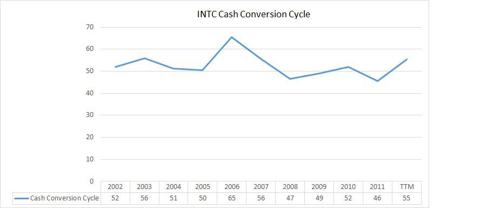 Over the past 10 years, Intel's average cash conversion cycle has been 53 days, seeing a high of 65 (2006) and a low of 46 (2011). There is reason to be concerned if a company's CCC is trending significantly up, but Intel has a solid track record of keeping this cycle under control, and the TTM average of 55 days is well within range of their average.
10: Intel Has One of the Lowest PEG Ratios in the Industry
A quick look at competitors across the industry shows Intel has the second lowest PEG ratio, only behind NVIDIA.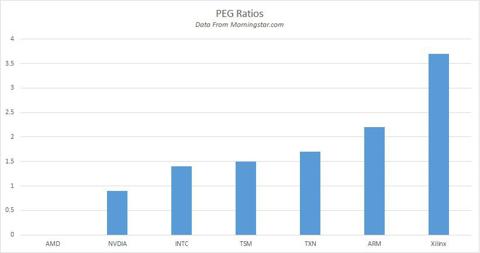 This demonstrates that buying Intel now will not require paying a premium for future growth earnings, compared to other industry competitors.
Bonus: Academic Appendix
As habit, it's always good to also check a company's performance against a set of academic-related metrics to serve as a spot-check of fundamental analysis. These easy metrics can shine a light on any financial problems that may need further research.
First is the Piotroski score, which leverages the academic work of University of Chicago Professor Joseph Piotroski. He devised a simple scoring mechanism to measure 9 simple tests, and give a binary rating against each. His research proposed that firms scoring between 7-9 should typically outperform the market. The INTC Score is 8, which is a Pass.
Next, the Altman Z-Score, which is another academic metric based on the work of Edward Altman from NYU. His research creates a scoring mechanism that has been demonstrated to predict company bankruptcy risk. If a company scores greater than 2.99, they are considered financially safe from distress, while anything under that requires further investigation into the company's long-term viability. The INTC score is a solid 3.97, which is a Pass.
Last is the M-Score, an academic metric based on the work of Messod Beneish of Indiana University. This research provides an indicator of risk that Earnings have been manipulated to paint a more favorable picture of performance than should be recognized. An M-Score of less than -2.22 suggests the company is not manipulating earnings and requires no further investigation. The INTC score is -2.93, which is a Pass.

Summary
There is certainly no shortage of opinion on Intel's future business prospects, and they are definitely split between bulls and bears. However, Intel's fundamentals are hard to ignore as they outperform across the board. It's a solid company poised to continue market dominance. I added it to my portfolio when it dropped below $20 in 2012, and will continue to add shares any time it drops below $21 in the near term. For a long-term investor, Intel is a solid buy.
Disclosure: I am long INTC. I wrote this article myself, and it expresses my own opinions. I am not receiving compensation for it (other than from Seeking Alpha). I have no business relationship with any company whose stock is mentioned in this article.