Overview
Ruby Tuesday (NYSE:RT) is an international, full-service restaurant operator that currently owns about 709 stores and franchises another 77 stores. The company sports a market capitalization of $465 million at the current price of $7.53 per share. Ruby Tuesday has struggled mightily in the past five years to slow negative growth in revenue and profits and as a result, shares have fallen from their all-time highs over $30 to trade just under the price of one of the company's "casual American dining" entrees. With shares trading at such depressed valuations, we'll take a look at the business and see if the shares are fairly valued or not.
Metrics
First, we'll take a look at some operating metrics for the company and obtain some perspective on just how far the business has deteriorated in order for shares to trade for less than $8. Note: all graphs were created by me for the sole purpose of this article. Additionally, the data points for these graphs were lifted from Ruby Tuesday's Qs and Ks from the SEC website.
Ruby Tuesday's store count has stagnated and declined in recent years in response to reduced demand and diminishing profits.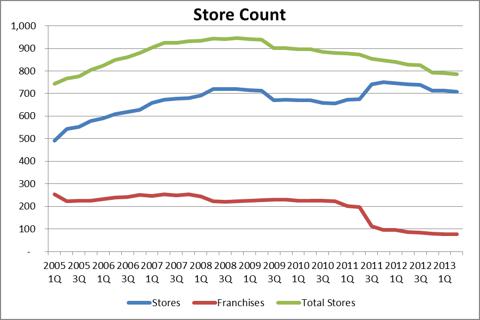 We can see from this graph that after peaking around 950 total stores in 2008, total store count has declined by about a quarter or so, to 786 stores as of the end of the most recent quarter. What is more striking to me is the exodus of franchisees from the system. Franchisees made up 34% of the system's stores in 2005 but that number has since dwindled to only 10% of Ruby Tuesday stores today. This tells me that Ruby Tuesday's franchisees are tired of losing money and experiencing waning demand for the company's products and are selling their franchises back to the consolidated company as a result. In fact, according to the most recent 10-Q, one of Ruby Tuesday's largest franchisees, RT Midwest, filed for bankruptcy last June. RT Midwest operates 13 Ruby Tuesday restaurants and as a result of the bankruptcy filing, the consolidated company took a $2.3 million loss on receivables due from RT Midwest. I suspect this scenario has played out many times over the past few years on a smaller scale.
Since franchisees have clearly lost their faith in the business model, as evidenced by the mass departure, we can infer from that franchisees have realized the model is broken and are no longer willing to risk their own capital. After all, if franchisees believed in the turnaround, why would they flee? The consolidated company has been aggressively buying franchise locations and turning them into company-owned locations (which is clear on the chart) and this tells me that Ruby Tuesday is desperate to keep stores open so the company is using its deeper pockets to keep the lights on in a desperate effort to turn things around. We will see why I believe this to be the case throughout the rest of the article.
Quarterly company-owned store revenue has been quite volatile over the past seven years as we see below. After peaking at about $375 million total in 2007, quarterly company-owned store revenue has plummeted to about $300 million in the most recent quarter. While this is an improvement over 2010, we can see consumer demand for the company's product is waning.
Part of management's commentary in the last 10-Q was that the average net check amount was up but that the total number of guests was down. In addition, management said the primary reason the net check amount was up was because fewer discounts were offered. Depending on your viewpoint, this could be good or bad. It's good because it means that margins are higher for each check and contribution margin per check is rising. However, if the only reason the net check amount increased was because of fewer discounts, it means that customers aren't actually spending more.
Next, we see that revenue from franchisees has experienced a similar, if more pronounced fate as the company-owned stores. This graph depicts the amount of revenue the company receives from its franchisees per quarter.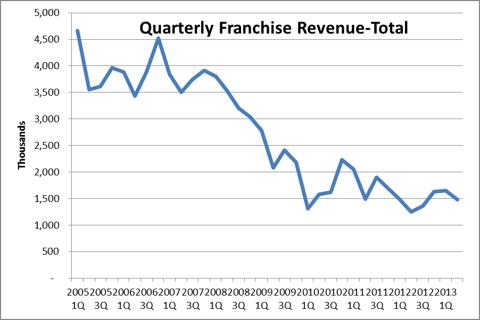 What we see here is pretty ugly. After peaking around $4.5 million per quarter in 2005, quarterly franchise revenue has taken a two-thirds haircut to settle around only $1.5 million. If we do some quick math, we can see that, fortunately for Ruby Tuesday, revenue per franchisee has actually risen in recent years, as depicted below.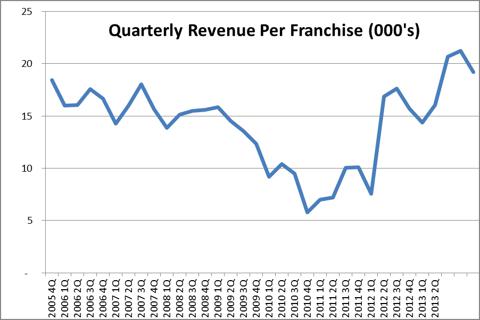 According to the data, revenue per franchisee is near an all-time high for the company. This is great news as it says to me that the most unprofitable franchisees have already exited the system, leaving only the best-performing franchisee locations as the fees the company collects are based in part on performance of the location. The downside of this is that since a lot of these underperforming franchisee stores weren't closed but were instead purchased by the company, it means that the company's stores have absorbed some underperforming stores, which could add to the company's profitability woes in the future.
We have some evidence of this occurring, as we will see now.
This graph depicts quarterly revenue per company-owned store. What we see is exactly what we inferred from the franchisee numbers, which is that the company has absorbed some poorly performing stores and instead of franchisees racking up losses, shareholders are now taking the brunt of unprofitability.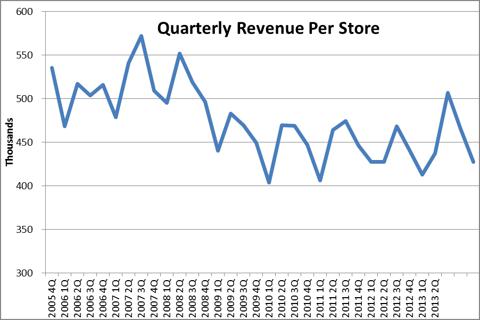 While quarterly revenue per store has stabilized around $450,000, this is down from a peak of over $550,000 only a few years ago. It is encouraging that this number has stopped nose-diving but the fact that it isn't going up isn't overly comforting either.
We can see from this graph that although per store revenue has largely stagnated, total revenue has grown recently due to increased store counts. This depiction of trailing twelve months total revenue shows that after the trough during 2010, revenue has picked up quite nicely to settle around $1.325 billion in the most recent four quarters.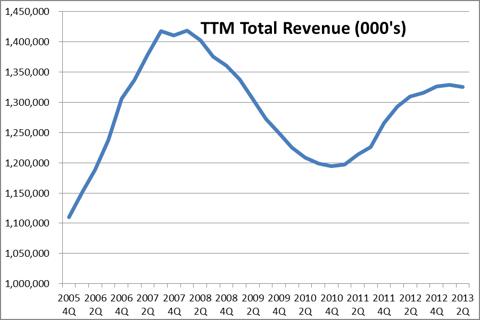 This is great right? On the surface, yes, everyone loves revenue growth, but going back to my argument that the company has been absorbing underperforming locations, we see in the depiction of net income that this revenue growth is actually bad for shareholders.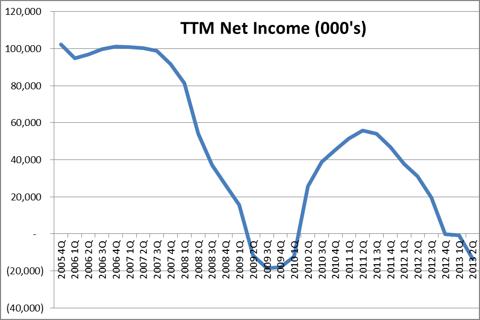 This graph shows trailing twelve months total net income for Ruby Tuesday. The graph isn't pretty; what we see is after a brief spike to over $50 million in profit during 2011, net income has gone quite negative again. What's even more interesting is that if we recall that revenue has grown substantially during the last couple of years, we can see that the growth the company has experienced has indeed been mostly with underperforming locations.
To follow on with my theory that revenue growth at Ruby Tuesday has largely just been a function of adding underperforming locations, this depiction of TTM revenue per company-owned store confirms the theory. We see that revenue per store has dropped by roughly 12% since 2007 and that is even off of the lows experienced last year.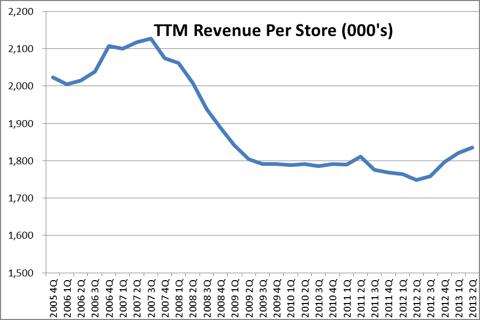 Recalling our TTM consolidated net income graph, we see a similar story in the per-store numbers. While each store was averaging nearly $200,000 in net income per year in 2005, the number experienced a waterfall decline to settle below zero in 2009 and has again experienced such a decline, albeit from a much lower base this time.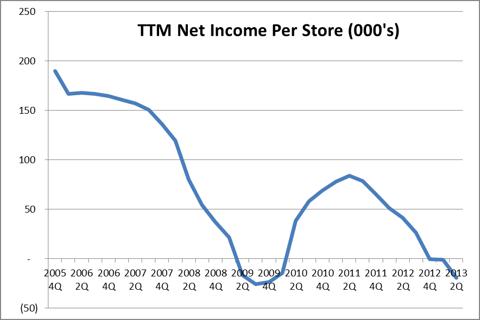 By putting these metrics together, we see the troubling position Ruby Tuesday finds itself in. All I've done here is combine the previous two graphs, depicting TTM per store revenue and net income.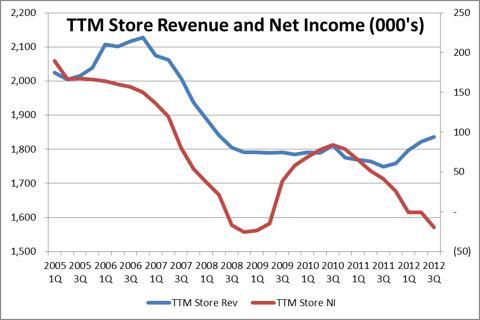 While we see that per store revenue and net income largely moved in tandem from 2005-2009, a large divergence has occurred since Ruby Tuesday began aggressively buying franchisee locations. What we see from this is that since 2011, the company's per store revenue has actually grown somewhat (blue line) while net income has been obliterated (red line). This divergence, I believe, confirms my theory that Ruby Tuesday has been desperately trying to maintain market share and when franchisees throw in the towel, the company has been there to buy up underperforming locations instead of letting the locations close. This is a sign of desperation to me and these numbers show why I believe this. If you are a shareholder, that graph should terrify you as I believe it is highlighting that Ruby Tuesday's business model and strategy are broken.
Just in case you were wondering if some seasonality might be to blame for the fluctuations in the company's financial results, here is your answer.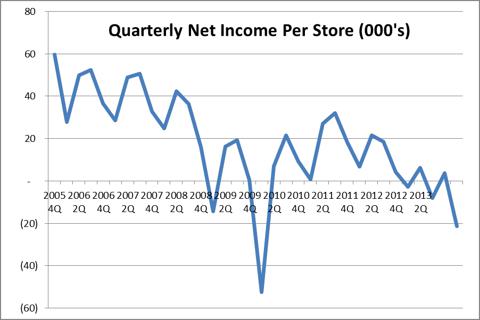 This graph simply depicts the average quarterly net income Ruby Tuesday has recorded for each of its stores. We see that once we remove the smoothing effect that TTM numbers have, an ugly picture emerges. Ruby Tuesday experiences spikes in net income in the summer normally but that is not playing out recently. This is particularly troubling as I believe this shows that now, not even the company's best quarters are enough to save it from the rest of the year.
Next, we'll take a look at a different measure of profitability, return on sales. This first graph, showing quarterly return on sales numbers for the company, shows more deteriorating fundamentals for Ruby Tuesday.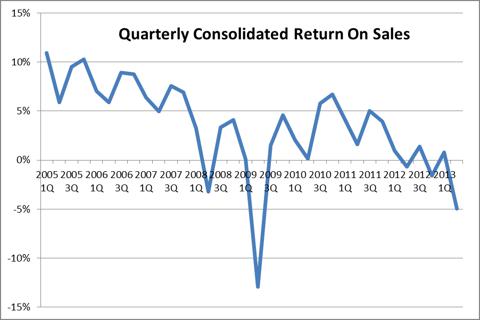 This, once again, confirms my position that Ruby Tuesday's model is broken and deteriorating quite rapidly. The trend is clearly down and the slope is unmistakably quite steep. Both of these things are terrible for shareholders as it means that as management grows revenue through franchise location acquisitions, return on sales is likely to suffer even further. Ruby Tuesday's management, in my opinion, has decided to defend market share at all costs and will continue to absorb franchise locations that have proven unprofitable. This return on sales graph shows that management is wrong in doing this.
Looking at the TTM numbers, we see that the downtrend cannot be simply written off to seasonal fluctuations in the business.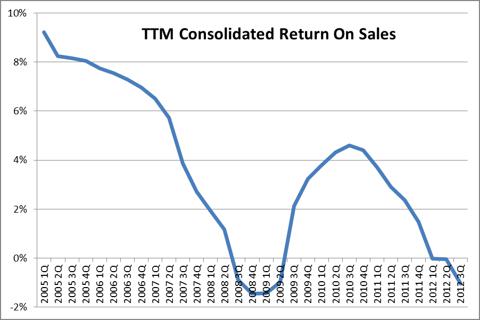 Even after the numbers are smoothed, we see the same nauseating downtrend in return on sales that we saw with both consolidated net income and per-store net income. This trend absolutely must be reversed for Ruby Tuesday to survive for the long term as revenue growth with negative return on sales does nothing but lose more shareholder money.
Financing
Ruby Tuesday management has been trying to make its stores profitable once again, but the effort has not succeeded, as evidenced above. I won't get into the menu revamp or how good the food is as those things are matters of opinion, however, the numbers I've shown depict quite clearly that consumers have voted with their feet and are dining elsewhere. There are two legs to management's strategy, however, that I would like to contest; buybacks and sale-leaseback transactions.
Given the financial woes the company has been experiencing, does Ruby Tuesday seem like a firm that should be buying back shares? I didn't think so either, so you can imagine my surprise at the buybacks management has decided upon.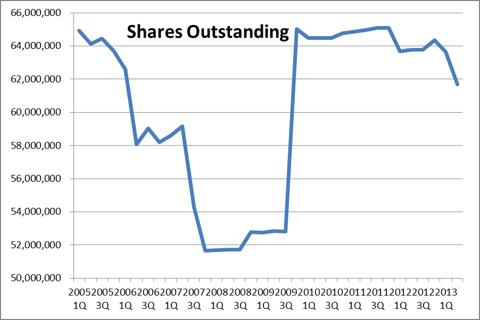 This graph shows the company's shares outstanding since 2005 and what we see is that management repurchased about 12 million shares when the shares were priced in the $20 to $30 range. This implies hundreds of millions of dollars wasted (in my view) buying back shares for inflated prices only to reissue the same shares two years later for a fraction of the price paid. What's more, Ruby Tuesday executives are clearly gluttons for punishment as they have initiated yet another buyback program, even though they haven't figured out how to make their business profitable. This is mind-blowing to me and utterly inexcusable. Given the terrible record management had with the first round of buybacks, why in the world would they do the same thing again? At least the first time, the company was actually turning a profit. If I was a shareholder, I would be furious.
The use of operating leases and sale-leaseback transactions have become a primary source of financing for Ruby Tuesday in recent years and I believe this is because management knew shrinking margins and market share were on the horizon back in 2006. In addition, management had to find some way to finance its asinine buyback programs. What we see here is total operating lease obligations reported at the end of each year.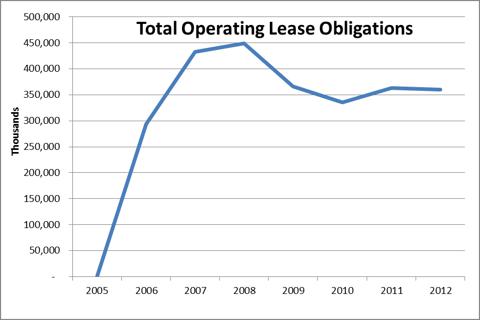 In 2005, operating leases were negligible, hovering just above zero. But as we can clearly see, the use of operating leases has exploded at Ruby Tuesday, touching $450 million outstanding at the end of 2008 and just over $350 million at the end of fiscal 2012. To clarify, operating leases are essentially rental agreements in which the lessee claims no ownership to the leased property and therefore, this form of financing carries no stated interest expense. The effect of this is that the company can finance its restaurants for "free," as interest expense does not accrue for operating leases the way it does for capital leases or outright debt issuances. This method of financing masks the true cost of debt since there is no explicit interest expense but make no mistake, this is a form of debt financing.
To illustrate the belief I have that management started using operating leases when things were getting tough, this graph shows total outstanding operating leases in comparison with TTM consolidated revenue.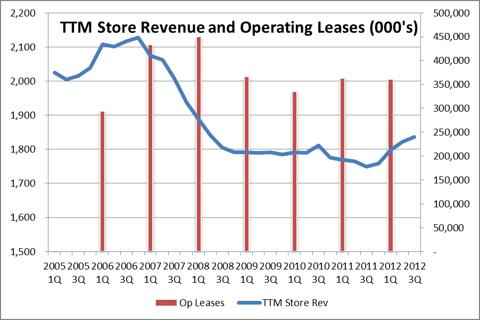 What we see is that management probably saw in 2005-2006 that the demand forecasts were foreshadowing some weakness and a strategy change was needed. Since operating leases are a convenient, off balance sheet form of financing debt, it was too good to pass up.
Speaking of debt, Ruby Tuesday loves to issue debt since the company can't produce its own cash. The most recent debt issuance (per the most recent 10-Q) was an indenture with Wells Fargo (NYSE:WFC) of $250 million due 2020 and paying 7.625% in May of 2012. I wouldn't consider this cheap financing, particularly in our zero interest rate policy world and it reflects the dire straits the company finds itself in currently. To its credit, Ruby Tuesday did reduce the size of its revolving line of credit from $380 million to $200 million as a result of the transaction, but the debt was simply swapped from one line of credit to another. Keep in mind as we are throwing these numbers around that Ruby Tuesday's total market capitalization is only $465 million.
In addition, Ruby Tuesday reported $73.3 million in mortgage loans acquired from franchisees when they sold their franchises back to the company. These collateralized mortgages are financed at rates between 3.91% and 11.28%. Hopefully, management is smart enough to take the proceeds of the Wells Fargo debt issuance and pay off the highest-rate loans in the portfolio.
This paragraph from the most recent 10-Q is in reference to restaurants that have negative cash flow and have been written down to almost no carrying value:
"At December 4, 2012, we had 30 restaurants that had been open more than one year with rolling 12-month negative cash flows, of which 20 have been impaired to salvage value. Of the 10 which remained, we reviewed the plans to improve cash flows at each of the restaurants and determined that no impairment was necessary. The remaining net book value of these 10 restaurants was $7.0 million at December 4, 2012."
Of course, we are "only" talking about 30 restaurants out of 709, however, given the rapidly deteriorating financials of Ruby Tuesday at both the consolidated and store levels, I have little doubt this number will get larger and larger in the ensuing years and that book value will continue to erode due to write-downs of underperforming restaurants to salvage value. This will no doubt be exacerbated by the evidence that the company is buying up underperforming franchise locations, meaning more of these write-downs are nearly inevitable. As a final note on the subject, after an asset has been written down, as these restaurants have, the carrying value may never be increased again as a result of improving operations. Essentially, these restaurants that are valued at salvage now will be nearly worthless forever as "write-ups" are disallowed under GAAP.
As I mentioned, Ruby Tuesday management has decided that the financing wave of the future for the struggling restaurateur is sale-leasebacks. For review, sale-leasebacks are when a company owns an asset (like a restaurant) and sells the asset to someone else but then immediately leases the property back. In the case of Ruby Tuesday, the company is selling its assets and taking cash for them now in exchange for financing the use of the very same assets. This is a sign of desperation to me as management knows the business cannot support itself in its current form and cash will be needed. Since the business can't generate the cash, the company is resorting to selling off its assets in order to obtain cash and keep the lights on while a frantic turnaround is attempted. Management is financing assets it already owned, increasing the cost of using the assets to produce value for shareholders. Simple math dictates that if the company's assets become more expensive to operate, it will be progressively difficult to operate them profitably.
In the last two quarters, Ruby Tuesday completed sale-leasebacks on 14 company-owned properties for proceeds of $32 million in cash. The carrying value of these properties at the time of the sales was only $22.7 million, resulting in gains of $9.3 million. These gains don't help keep the lights on as they are non-cash gains but it certainly helps grow book value as the gains are amortized. These properties have all been leased back with operating leases that have initial terms of 15 years and fair market value based renewal options after that. Ostensibly, management is going to try to repeat these transactions over and over again until whatever number of restaurants it is going to sell have been sold. While I understand the usefulness of receiving cash now, I don't agree with management using the proceeds to buy back shares, which is exactly what it is doing. In addition, some of the proceeds are being used to pay down debt, in essence, swapping one debt for another. Management thinks it can invest the proceeds profitably but history shows us that it is wrong. Unprofitable restaurants and a horrendous buyback program suggest Ruby Tuesday management doesn't know what it is doing.
Ruby Tuesday's debt load has made the company's interest expense rise substantially in the past several years. Shown below is TTM interest expense.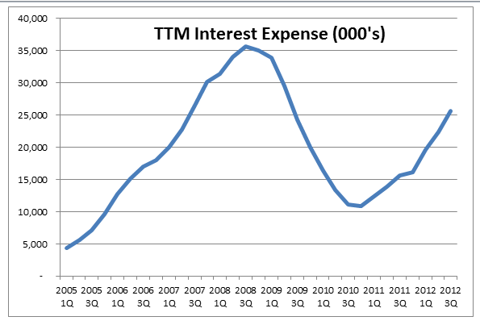 What we see is that after incurring virtually no interest expense in the early 2000s, Ruby Tuesday has made significant use of interest-bearing debt as revenue and profitability has suffered due to decreased demand. Keep in mind that this interest expense number does not include the company's substantial operating leases as those are a form of off balance sheet financing.
Now that we know that Ruby Tuesday's profitability has been suffering mightily while the company incurs ever higher forms of debt financing, we can infer that its ability to continue to service this debt must be at least partially impaired.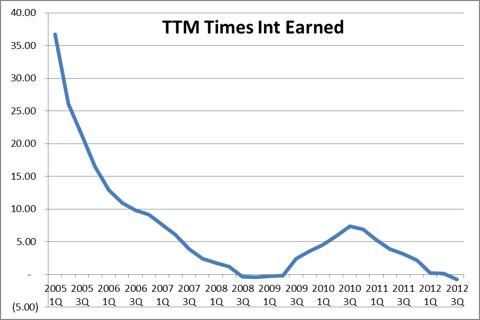 With this graph of TTM times interest earned, we see the company's financing problems all at once. First, when the company was making $50 million per year in profit, its times interest earned ratio was soaring above 35. In addition, Ruby Tuesday had very little debt at the time. This stands in stark contrast to today after the company has issued debt to finance its desperate turnaround. Couple that with the fact that the company no longer makes any money and you have the ugly slope depicted in this graph. Ruby Tuesday has some serious financing problems and they are all visible in this graph. We see that the company is unprofitable and also carries too much debt to service. This is a lethal combination for shareholders.
Accounting Changes
You may agree or disagree with hocking company assets for quick cash in exchange for debt in a turnaround effort but there is a coming change from the Financial Accounting Standards Board, or FASB, that will effectively end the operating lease as a form of financing. Since FASB knows that operating leases hide the true cost of debt, it is working on a convergence project with the International Accounting Standards Board, or IASB, in order to make GAAP and IFRS standards similar. The "right of use" standard, being finalized currently and taking affect tentatively in 2016, will change regulations so that operating leases are reported as capital leases. While this won't structurally change anything with the leases, it will mean that Ruby Tuesday will have to report interest expense on its operating leases as though they are capital leases. The side effect of this is that management will have to report the restaurants that are under leases as assets and commensurate liabilities again, as though the company owned the asset and financed it with debt. Of course, the company is effectively doing this now, but this is kept off the balance sheet as an operating lease. Ruby Tuesday will not have this cover to hide in anymore after the convergence ruling is implemented.
Interest expense will soar as hundreds of millions of dollars of operating leases are mandatorily converted to capital leases. As interest expense soars, times interest earned will plummet further, credit quality will deteriorate and Ruby Tuesday may even violate some or all of the credit terms that were agreed upon in its credit facility. The facility is set to expire in 2015, ahead of the accounting change for leases, but we must assume the facility will be renegotiated and if it is, it will either be at onerous terms that Ruby Tuesday can't afford, or the terms will be similar to what they are now and the company will risk violating them. Since the credit facility is a main source of financing for the company, this is a serious problem. In addition, since the company doesn't make any money of its own, it may be forced to refinance its substantial obligations with more 7%+ debt issuances instead of the credit facility agreement.
In addition, this interest expense will show up on the income statement, further depleting Ruby Tuesday's already nonexistent net income. The last thing this company needs is more hurdles to profitability and this accounting revision is obviously not going to help. Ruby Tuesday will have to increase margins somehow in order to cover this new found interest expense and if the company isn't at least somewhat profitable by then, the impact might be too much for the balance sheet to handle.
Competition
The ultra-competitive landscape of moderately priced casual dining establishments is a terrible place for Ruby Tuesday to operate in the position it is in. When a consumer can dine at dozens of places for the same price, a restaurant must stand out to earn business. Ruby Tuesday doesn't do this as it offers also-ran food at too-high prices. My wife and I hadn't been to a Ruby Tuesday in over year so we decided to give it another try last summer after the company sent out a coupon offering one free entrée after purchase of another. We were decidedly disappointed with our food as it was dried out and tasteless. Needless to say, we haven't been back and I imagine that we didn't receive any special treatment so I have to believe others have had similar experiences at Ruby Tuesday. Even though we received half of our ticket for free, we still felt like we didn't get value for our money since the food was something worse than what an average cook can prepare at home. If this is what management is banking the company's future on, look out below.
In addition, competing with the likes of Outback Steakhouse, Applebee's, Buffalo Wild Wings, TGI Friday's and a seemingly endless number of others, Ruby Tuesday just doesn't stack up and doesn't have anything that will bring customers back. After all, when you can eat a steak at Outback for the same price as some dried out chicken at Ruby Tuesday, what choice would you make? I realize food is completely subjective and my opinion of Ruby Tuesday's food shouldn't mean anything to you, but I have to think others have had the same experience that we did.
Valuation
Given all of what we've seen regarding Ruby Tuesday's business and prospects, what is the business actually worth? To answer this, I'll use a DCF type analysis to assign a value to the business. As with any forecast, some assumptions must be made. Those assumptions are: 1) 2012 through 2014 earnings estimates, as well as the five-year growth rates are pulled from Yahoo! Finance analyst compilations 2) Book value is pulled from Yahoo! Finance 3) Discount rate of 9% is my number [I consider this very generous for such a risky company] 4) Perpetual growth rate of 3% is my number. You may not agree with the efficacy of my assumptions but remember that any forecast is subject to conjecture.
| | | | | | | | |
| --- | --- | --- | --- | --- | --- | --- | --- |
| | 2012 | 2013 | 2014 | 2015 | 2016 | 2017 | 2018 |
| Earnings Forecast | | | | | | | |
| Reported earnings per share | -$0.22 | | $0.25 | $0.33 | $0.35 | $0.38 | $0.42 |
| x(1+Forecasted earnings growth) | | -- | 30.00% | 8.50% | 8.50% | 8.50% | 8.50% |
| =Forecasted earnings per share | | $0.25 | $0.33 | $0.35 | $0.38 | $0.42 | $0.45 |
| | | | | | | | |
| Equity Book Value Forecasts | | | | | | | |
| Equity book value at beginning of year | | $9.03 | $9.28 | $9.61 | $9.96 | $10.34 | $10.76 |
| Earnings per share | | $0.25 | $0.33 | $0.35 | $0.38 | $0.42 | $0.45 |
| -Dividends per share | $0.00 | $0.00 | $0.00 | $0.00 | $0.00 | $0.00 | $0.00 |
| =Equity book value at end of year | $9.03 | $9.28 | $9.61 | $9.96 | $10.34 | $10.76 | $11.21 |
| | | | | | | | |
| Abnormal earnings | | | | | | | |
| Equity book value at begin of year | | $9.03 | $9.28 | $9.61 | $9.96 | $10.34 | $10.76 |
| x Equity cost of capital | 9.00% | 9.00% | 9.00% | 9.00% | 9.00% | 9.00% | 9.00% |
| =Normal earnings | | $0.81 | $0.84 | $0.86 | $0.90 | $0.93 | $0.97 |
| | | | | | | | |
| Forecasted EPS | | $0.25 | $0.33 | $0.35 | $0.38 | $0.42 | $0.45 |
| -Normal earnings | | $0.81 | $0.84 | $0.86 | $0.90 | $0.93 | $0.97 |
| =Abnormal earnings | | -$0.56 | -$0.51 | -$0.51 | -$0.51 | -$0.52 | -$0.52 |
| | | | | | | | |
| Valuation | | | | | | | |
| Future abnormal earnings | | -$0.56 | -$0.51 | -$0.51 | -$0.51 | -$0.52 | -$0.52 |
| x discount factor (9%) | | 0.917 | 0.842 | 0.772 | 0.708 | 0.650 | 0.596 |
| =Abnormal earnings disc to present | | -$0.52 | -$0.43 | -$0.40 | -$0.36 | -$0.34 | -$0.31 |
| | | | | | | | |
| Abnormal earnings in year +6 | | | | | | | -$0.52 |
| Assumed long-term growth rate | | | | | | | 3.00% |
| Value of terminal year | | | | | | | -$8.63 |
| | | | | | | | |
| Estimated share price | | | | | | | |
| Sum of discounted AE over horizon | | -$2.04 | | | | | |
| +PV of terminal year AE | | -$5.14 | | | | | |
| =PV of all AE | | -$7.18 | | | | | |
| +Current equity book value | | $9.03 | | | | | |
| =Estimated current share price | | $1.85 | | | | | |
As you can see from my model, the long-term value of this company based on management adding economic value to the firm is just under two dollars per share. This is to be expected with a company that is losing money but as you can see from the earnings forecasts, analysts expect the losses to disappear and for the company to once again be profitable starting in fiscal year 2013. Assuming the analysts are right and Ruby Tuesday finds a way to actually get customers in the door, we can see that given the company's asset base, management isn't close to generating economic value based on earnings forecasts and my overly magnanimous discount rate of only 9%. I would never assign a company on the ropes like Ruby Tuesday a discount rate of only 9% but I did it here to make a point. The point is that even if we assume the company only needs to make 9% per year on its assets, it isn't close to doing this. The implication is that your money is better used elsewhere than Ruby Tuesday shares.
In addition to the information I have presented, a Senior Vice President inside Ruby Tuesday, May Scarlett, sold 15,203 shares at an average price of $8.01 last week. With the tax advantages of 2012 dead and gone and the stock trading below book value, what would possess and insider with such a substantial position to unload 15K shares? I believe the answer is that she and others inside the company know that the model is broken and that the company is attempting a last-ditch turnaround effort that isn't likely to succeed.
Given the competitive landscape of the casual dining space, Ruby Tuesday is poorly positioned and consumers have voted with their feet, choosing other casual dining establishments instead of Ruby Tuesday on their nights out. In addition, management's inability to generate economic value from the asset base, the company's reliance on debt financing to survive and a coming accounting change that will massively inflate the company's interest expense, depleting earnings and times interest earned, the company is poorly positioned for the future and, in my opinion, will not survive in its current form.
Ordinarily, I would suggest that management look to convert more restaurants into franchises to defray operating expenses but Ruby Tuesday cannot do this since franchisees have fled the system in large numbers in recent years in response to declining demand and disappearing profitability. And given the serious strategic error where management has decided to save floundering franchisee locations instead of just closing them, the prospects for recovery look grim. Couple these factors with management's ill-timed buyback and Ruby Tuesday is cooking up a disaster for shareholders.
Disclosure: I have no positions in any stocks mentioned, and no plans to initiate any positions within the next 72 hours. I wrote this article myself, and it expresses my own opinions. I am not receiving compensation for it (other than from Seeking Alpha). I have no business relationship with any company whose stock is mentioned in this article.