Summit Hotel Properties (NYSE:INN) went public in February of 2011 at a price of $9.75/share. The company has grown its FFO extensively, yet trades below its initial price. Early 2011 was an opportune time to go public as the hotel cycle was just entering its upswing. INN could use its new sources of capital to make acquisitions at bottom of market prices. While it came out at fair value, the extreme rates of organic and external growth make it a tremendous opportunity. As growth alone does not create value, we will be extra diligent in demonstrating that it does in fact enhance earnings on a per-share basis. We will begin with external growth, follow with organic growth and then detail the general fundamentals of INN as well as well as the potential risks and concerns of investing in it.
External Growth
Since its IPO Summit has made numerous acquisitions in prominent locations at opportunistic prices.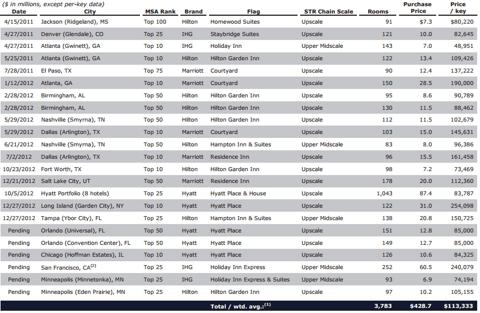 On the chart above, the first three pending transactions have since been completed on 1/23/13 in a group acquisition dubbed "The Hyatt Portfolio." These hotels, which will continue to fly the Hyatt flag, are expected to perform at a cap-rate between 10.5% and 11.5% based on post-renovation EBITDA.
The acquisition streak continued on 1/28/13 with the purchase of five Louisiana Marriotts for $135mm. These were also at an expected post-renovation cap-rate of 10.5%-11.5%.
Let us examine how large of an impact these acquisitions will have. Together the Hyatt and Marriott acquisitions were $171.1mm, while Summit as a whole has a market cap around $614mm. In other words, it just acquired more than 27.8% of its company. Since these have such a high cap-rate even exceeding that of Summit's former portfolio, it is likely that we will see FFO increase by more than 27.8% once these properties kick in.
Overall, post-IPO acquisitions have had an accretive effect both on earnings and on Summit's hotel portfolio. It increased quality by location, occupancy and average daily rate (which is referred to as ADR).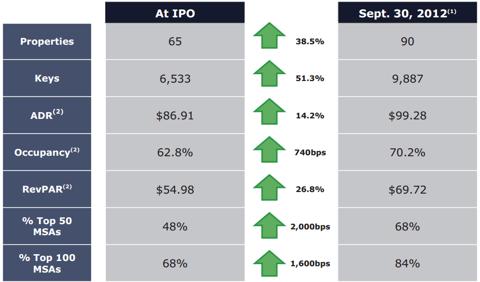 Much of this improvement was consequent to the acquisitions, but we must consider the other component: organic growth.
Organic growth
In 3Q12 as compared with 3Q11 same location, RevPAR has increased 12.9%. Such progress seems likely to continue due primarily to two factors: the hotel industry upswing and successful management of individual hotels.
Industry upswing: The hotel industry is highly cyclical and is presently about half-way up to its projected peak.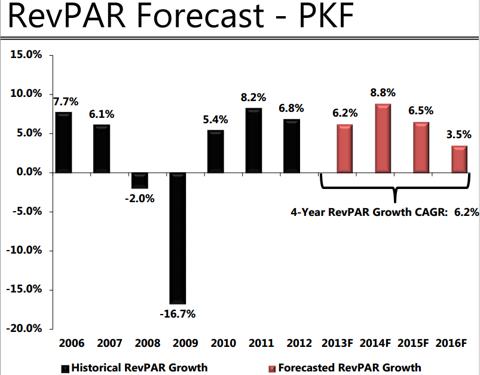 While the PKF forecast for the hotel industry as a whole is quite strong, the mid-scale and upscale segment (where INN lies) is projected to be even stronger.
Management of individual hotels
Nearly all hotel companies perform renovations on a regular basis, but INN truly uses them as an opportunity to improve operations. Specifically, it selectively adds the reasonably cheap services that are most desired by guests. A 2012 survey by hotels.com indicates the top six "must have" services, and INN responded by providing them.
| | | |
| --- | --- | --- |
| Service | % of hotel guests surveyed who said it was a "must have" | Percent of Summit hotels that provide the service. |
| Free Wi-fi | 38% | 100% |
| Free Breakfast | 25% | 78% |
| Free Parking | 18% | 99% |
| Luxury Matresses | 9% | 96% |
| Complimentary Shuttle | 4% | 50% |
| Fitness Center | 3% | 95% |
By selectively providing the essential services while avoiding more expensive renovations such as excessive luxury or decoration, INN gives customers what they want at the price they want while maintaining profitability. Additionally, Summit makes great effort to ensure its renovations minimally disrupt EBITDA.
To further enhance demand, INN sticks to trusted and familiar hotel operators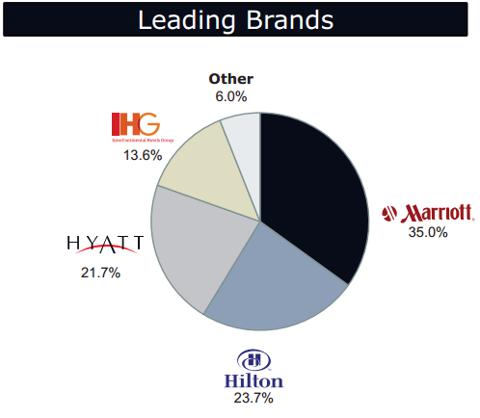 Investment Thesis
Presently, INN trades around $9.40, which is very cheap relative to its future earnings. Even without further acquisition, this represents a tremendous value. However, value needs to be unlocked to reward investors and I believe there are three catalysts that will unlock this value.
Catalyst # 1: Strong fourth-quarter earnings report
As of the 3rd-quarter earnings report, Summit issued the following guidance for the 4th quarter: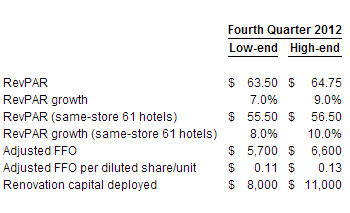 While 8%-10% same-store RevPAR growth is a lofty goal, the power of the industry's fundamentals should help the company reach it. Strong 4Q performance was foreshadowed both by positive commentary in the 3Q conference call and the following statement in a recent presentation:
"Through the week ended December 15, 2012, quarter-to-date U.S. RevPAR has increased an estimated 6.8% with rate up 4.2%"
Despite such an ambitious guidance, I believe it is likely INN will meet or beat it.
Catalyst # 2: continued earnings growth
The aforementioned organic and external sources of growth should propel earnings on a per-share basis. Market price has a tendency to track earnings.
Catalyst # 3: dividend increases
As the hotel cycle comes full swing, cap-rates will decline and Summit can begin routing its capital to dividends rather than acquisition. If such a dividend increase occurs it will directly reward investors through the distributions as well as stimulate further growth in share price.
There certainly are powerful reasons to buy Summit, but let us first consider the potential risks.
As we know, the hotel sector is highly cyclical. While seemingly all forecasts are strongly favorable for the next few years, unpredictable events such as what happened on September 11th can shut down travel and hurt the entire sector. Neither Summit nor any other hotel company is fully protected from such events, but certain financial aspects can mitigate losses if such a downturn occurs. Generally speaking, large cash reserves will allow a hotel company to hold its own until the market recovers. Since Summit is still in its growth phase, nearly all of its cash is going to acquisitions. Therefore, it may be slightly riskier than its more established competitors, but for a risk-tolerant investor the extra reward potential seems sufficient to justify the risk.
Once Summit's exponential growth phase ends, it will be on the right track toward a stable balance sheet. It is already doing an excellent job of staggering its debt maturities.

The only financial concerns have to do with high G&A and a fairly expensive weighted average cost of capital. Both of these are typical for such a small company and should go down as it grows. Since it has such a strong acquisition pipeline, the G&A includes large one-time charges associated with due diligence and other acquisition expenses. Expect this number to decline slightly in absolute terms and significantly as a percentage of revenue. A larger company size will lend it credibility in the capital markets, so it may have the ability to reduce its cost of debt as well.
INN's growth also offers some protection from local disturbances such as hurricanes through its geographic diversification.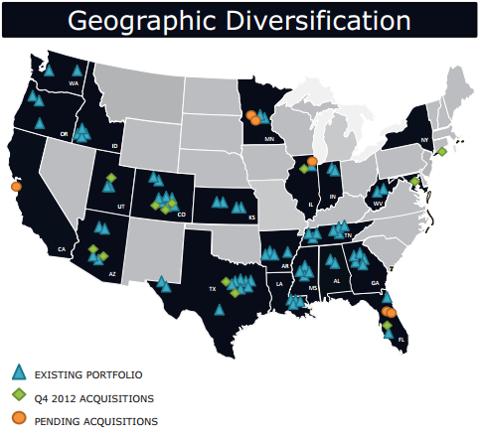 Valuation and magnitude of opportunity
Based on FactSet estimates, it trades at a 10.67 multiple to 2013 FFO and an 8.57 multiple to 2014 FFO. These estimates seem quite reasonable given the accretive acquisitions detailed above. Simply maintaining its current multiple would produce capital appreciation over 20%.
Conclusion
Summit is presently a small and untested hotel company in the middle of a metamorphosis through which it will become a powerful and well-balanced force in the hotel industry. Investors tolerant of the risks associated with the hotel industry would be wise to consider buying INN as it is well-positioned for outperformance.
Disclosure: 2nd Market Capital and its affiliated accounts are long INN. This article is for informational purposes only. It is not a recommendation to buy or sell any security and is strictly the opinion of the writer. I am not receiving compensation for it (other than from Seeking Alpha). I have no business relationship with any company whose stock is mentioned in this article.