VIX - Market Sentiment:
Monday S&P futures were under pressure as the economic worries out of Europe and global growth returned. Opening at 1508 futures were under pressure early. trading down to 1492 before bouncing back towards the 1495 level. The market had the biggest drop of the year of almost 1% after reaching a five-year high just last week. Tomorrow ISM non-manufacturing PMI numbers are expected to be released with a reading of 55.2. This number along with the German Services PMI could really move the markets for tomorrows trading. The NYMO again screamed to the upside on Friday's rally and finished positive with a reading of 14.13 a 22.63 point increase after yesterday's trading session. I would expect this number to drop dramatically today after the poor trading session, possibly back into negative territory.
The spot CBOE Volatility Index (VIX) and futures jumped from the weakness today as longs went for put protection in many names. Put to call ratio topped 110% at one point today which is the first bearish ratio we have seen in quite some time. Volatility ETF (NYSEARCA:VXX), 2x ETF (NASDAQ:TVIX) and alternative 2x ETF (NYSEARCA:UVXY) were running to the upside of the gate as short volatility ran to cover. Last week I pointed out (here) a very large 10M bearish bet which went off in the VIX pits which continued somewhat today. The biggest trades today were call buyers of the March 32.5 strike calls 8K block times. Additionally the March 23 strike calls were also bought in good size 2.5K blocks throughout the day. Overall calls were bought to the tune of 2M in net premium today as futures rose across the board.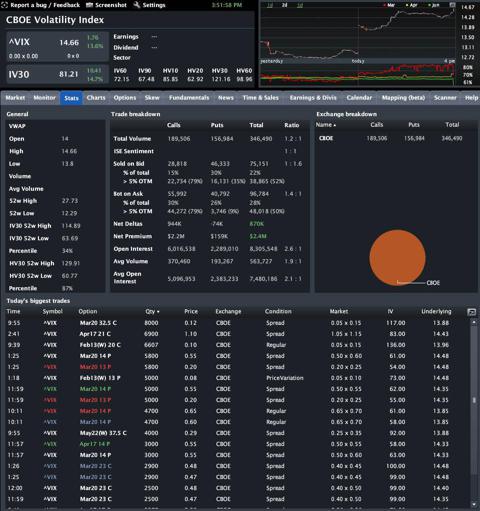 Statistics and Screenshot Provided By LiveVol
VIX futures are below.
Yesterday
· February VIX futures 14.13
· March VIX futures 15.15
· April VIX futures 16. 18
Today
· February VIX futures 15.13
· March VIX futures 16.05
· April VIX futures 16. 90
Options Paper:
The options paper was pathetic today as apparently traders took a long weekend partying from the Super Bowl. Trading just 13.8M contracts today the options market was scary quiet. Names such as Intel (NASDAQ:INTC) which saw almost 500K contracts were nothing more than a dividend steal helped to inflate these numbers slightly. S&P ETF (NYSEARCA:SPY) traded around 2M contracts followed by Apple (NASDAQ:AAPL) which saw an additional 480K+ contracts on the day. Many names continued to see below average option volume with the exception of Facebook (NASDAQ:FB), Blackberry (BBRY), Dell (DELL) and Baidu (NASDAQ:BIDU). BIDU of course has earnings after the bell tonight. Option paper in this name was very bearish heading into the earnings release as more than 500K of calls were net sold on the day and 1.8M of net puts were bought. This was also reflected in the stock price as every large block which went off appeared to whipsaw the stock one way or the other. The weekly straddle is pricing just an 8.75 ask move which as we know with Netflix (NASDAQ:NFLX) could be far underpriced depending on your thesis. My hunch is BIDU trades lower in the after hours but stocks have been crazy bullish for the most part post earnings so only time will tell.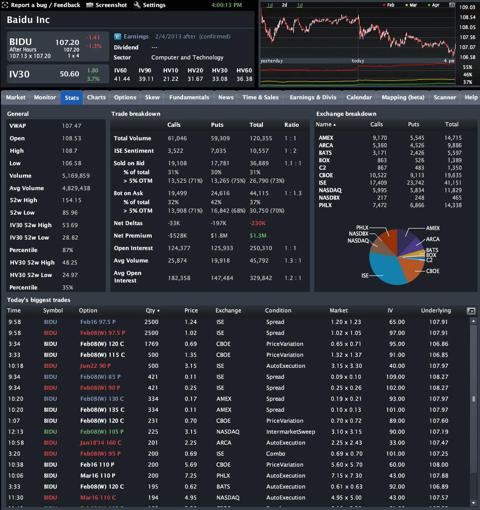 Statistics and Screenshot Provided By LiveVol
Constellation Brands (NYSE:STZ) has been on a crazy ride the last week but one bull stepped up today. This trader paid almost 2.55M in premium betting STZ will return to 40 prior to July expiration. The July 32.5 - 40 strike call spread was bought 10K times for 2.55 today allowing the trader to get long STZ 1M shares at an effective price of 35.05. This trade was by far the largest of the day but was followed by other large block call rolls throughout the day. This was clearly buying pressure as implied volatility rose across the board. Not everything was crazy bullish today however as puts were also net bought across the board to the tune of 254K in premium. Options have been crazy active in this name of late. Overall options activity was more than 3x average daily volume with calls outnumbering puts 2.8 to 1.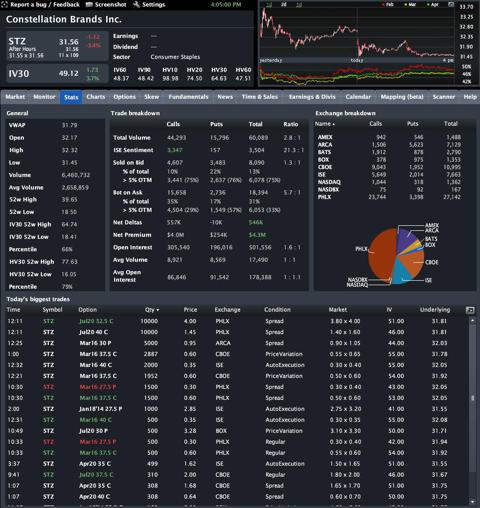 Statistics and Screenshot Provided By LiveVol
Popular ETFs and equity names with bullish / bearish paper:
Bullish Option Flows - ISE & % OTM calls bought on offer
Centene Corp (NYSE:CNC) 97% - Big risk reversal in this name selling 37.5 puts to buy 47.5 calls
Barclays (NYSE:BCS) 67% - Heavy March 20 call buying
Gannett Co. (NYSE:GCI) 55% - Calls continue to be bought
GameStop (NYSE:GME) 54% - Retail has been feast or famine not sure I follow here
Time Warner (NYSE:TWX) 51% - Call rolls in multiple strikes
Bearish Option Flows - ISE & % OTM puts bought on offer
Corrections Corp (NYSE:CXW) 88% - March 34 puts bought in bulk and calls sold
H&R Block (NYSE:HRB) 80% - Puts continue to be bought
MAP Pharmaceuticals (NASDAQ:MAPP) 75% of the 2.7 OTM puts bought on offer
Melco Crown (MPEL) 71%
Genworth Financial (NYSE:GNW) 61% or 10K OTM June 4 puts bought and June 8 calls sold.
As always happy trading and stay hedged.
Remember equity insurance always looks expensive until you need it!

Disclosure: I am long AGNC, BA, CBB, CONE, F, INTC, KERX, KOS, MTGE, NRG, PG, TUMI, VHC, VOD, and I am short DDD, EDU, SPY
Trades Today: Trimmed SPY short and reduced hedge.
Disclaimer: The opinions in this document are for informational and educational purposes only and should not be construed as a recommendation to buy or sell the stocks mentioned or to solicit transactions or clients. Past performance of the companies discussed may not continue and the companies may not achieve the earnings growth as predicted. The information in this document is believed to be accurate, but under no circumstances should a person act upon the information contained within. I do not recommend that anyone act upon any investment information without first consulting an investment professional as to the suitability of such investments for his or her specific situation.
Disclosure: I have no positions in any stocks mentioned, and no plans to initiate any positions within the next 72 hours. I wrote this article myself, and it expresses my own opinions. I am not receiving compensation for it (other than from Seeking Alpha). I have no business relationship with any company whose stock is mentioned in this article.