In its weekly natural gas storage report released on Thursday, January 31, the EIA reported that 194 BCF was withdrawn from storage, 16 BCF greater than the five-year mean withdrawal of -178 BCF and an impressive 45 BCF greater than last year's 149 BCF withdrawal. However, the number fell short of the mean analyst estimate of a 206 BCF withdrawal, the first time in 5 weeks that the analysts missed on the high side. The number also came in 8 BCF less than my projection of a 202 BCF withdrawal. Despite the bearish nature of the report, the commodity closed flat on Thursday after some early volatility and traded down 1% on Friday to close the week at $3.31/MMBTU. For the week, natural gas shed 4.25% for a second consecutive week of declines.
What follows below is a 2-part discussion beginning with a week-by-week meteorological discussion and, by extension, supply-demand analysis, of the next 5 storage weeks which utilizes a storage model I developed (described below) to project weekly natural gas withdrawals through the week ending March 1. This is followed by a natural gas price analysis in which these numbers are integrated into a fundamental pricing model, also described below, to estimate the extent to which the 5-week supply-demand picture is priced into the commodity and, therefore determine whether natural gas is over or under-valued at current levels.
Part A: Meteorological & Supply-Demand Discussion
The Projection Model
Weekly storage projections are generated from computer model data that produces temperature and weather forecasts for 160 locations throughout the United States, which are weighted by population in my model to fairly estimate natural gas demand across the nation. Factors that are integrated into my model include temperature data (in the form of heating and cooling degree days), cloudcover/weather conditions, season, and weekend/holiday demand loss, among others. Supply data is largely based on EIA monthly reports and pipeline data. To make a long, math-heavy story short, this forecast data can be plotted against historical weather data compared with actual EIA-reported projections over a series of different timeframes to generate projections for the next five EIA storage reports.
Data from 3 different weather models is used to generate these projections out to 4-5 weeks, which, as is to be expected, declines in accuracy for each progressive week. Average projection error for the nearest week have been between 3 BCF and 6 BCF over the past 2 years with error this winter in the 5-7 BCF/week range. Because these projections are based on forecast data, which has an unfortunate tendency to change day-by-day, I update my storage projections, and additional supply data, each morning on my site, Powerburn.blogspot.com. See my profile page for the direct link.
Summary: Storage Projections For Next Five EIA Storage Reports

Storage Week
Weekly Withdrawal Projection (BCF)
Departure From 5-Yr Mean
January 26-February 1
-140
25
February 2-8
-161
-7
February 9-15
-132
8
February 16-22
-152
-34
February 23-March 1
-124
-17
(Completed) Week of January 25-February 1
My model is projecting a net withdrawal of -140 BCF for the week ending this past Friday, February 1, or 25 BCF less than the five-year mean withdrawal of -165 BCF. This estimate trended up just 2 BCF from my estimate in last Monday's discussion. I expect this number to remain relatively stable leading up to the storage report, but I will issue a final projection Wednesday morning after my model has digested pipeline data and observed weather and temperature data. Please see my site (link in my profile page) for daily updates.
The past week was dominated by warm weather for the first 2/3rds of the week with sub-10 BCF estimated withdrawals on Tuesday and Wednesday, well down from the 25 BCF/day five-year mean daily withdrawal. Temperatures across the Midwest surged to highs not normally seen until April and average lows across many areas were 10-15 degrees greater than average daily HIGHS. Behind a potent arctic cold front, however, demand surged on Thursday, peaking at 100 BCF/day on Friday with the daily estimated withdrawal approaching 30 BCF, helping to mitigate an otherwise bearish week. Early analyst guidance is more bullish than my projection, ranging from -140 BCF to -173 BCF. No matter the exact number, the withdrawal will demolish last year's ugly 94 BCF withdrawal, which will further widen the year-over-year spread and may lend some psychological support to prices in the short term.
Week of February 2-8
The current storage week will be characterized by a steady warm-up in which daily withdrawals will decline from 22-24 BCF/day over the weekend to 15-17 BCF/day by the end of the week. Last week, the models were suggesting that temperatures would abruptly rally this weekend, but colder-than-average temperatures now look to persist across the densely populated Northeast through the middle of the week, resulting in a slower warm-up than earlier expected. My model is projecting a near-average -161 withdrawal for the week of February 2-8, 7 BCF greater than the five-year mean withdrawal of -154 BCF. This projection has trended lower by 7 BCF from last Monday's discussion.
Week of February 9-15
By next weekend, a strong storm system will track from the Desert Southwest northeastward through Oklahoma, Kansas, Iowa, and near Chicago before moving into Canada by Tuesday or Wednesday. At this juncture, the storm looks very similar to this past week's complex system, with very warm air surging northward ahead of the storm and snow or ice on the northern periphery, possibly including Minneapolis, Des Moines, and Kansas City.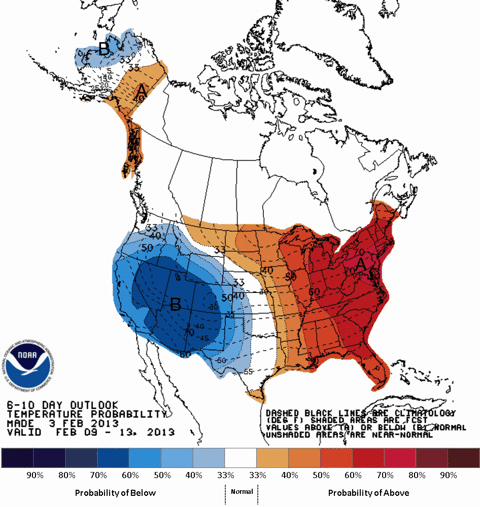 However, the most noteworthy element will be the above-average temperature with mean temperatures 10-20 degrees warmer than average during the first half of the week, particularly from the Great Plains eastward. Cold air will again sweep southward behind the front, but it will not be sufficient to result in an above normal withdrawal. For the week of February 9-15, my model is currently projecting a net withdrawal of -132 BCF, 8 BCF less than the five-year mean.
Extended Forecast: Weeks of February 16-22 & February 23-March 1
As we make the turn towards the injection season, the final two weeks of February will begin with continued warmer-than-average temperatures across the Midwest and East Coast, with below-average temperatures across the West.
Over the subsequent two weeks, the colder temperatures across the west will expand eastward, displacing the mild weather to New England and replacing it with seasonally chilly temperatures across most of the nation. Weekend forecasts have trended colder with this airmass. For the week of February 16-22, my model is projecting a net withdrawal of -152 BCF, 34 BCF greater than the five-year mean withdrawal of -118 BCF. For the week of February 23-March 1, my model is projecting a withdrawal of -124 BCF, 17 BCF greater than the five year mean withdrawal of -107 BCF as the below-average airmass moderates. While the models have been relatively consistent with this trend for the past 3-4 days, temperature forecasts at the 15-30 day time frame are at the very edge of current forecasting capability and are subject to increased volatility and considerable variation.
Part B: Natural Gas Pricing
Fundamental Pricing Model
In order to assign some manner of valuation to natural gas, I have created a simple fundamental "fair value" model for the commodity. Weekly natural gas storage surpluses are plotted against price over multiple time frames spanning up to 18 months and weighted based on fit, to generate a "neutral" price for the commodity based on recent performance. Surpluses based on current storage alone, higher confidence 3-week projections, and comprehensive, but less precise 5-week projections are all used in these calculations. Current prices may be undervalued, overvalued, or fairly valued at any of the three time frames. The Fair Value is not a "target price" per se, but the spread between this value and the current price indicates to what extent investors are pricing in both the current supply/demand status as well as 3- and 5- week anticipated changes in supply/demand.
Natural Gas Pricing Analysis
Overall, for the period of January 26 through March 1, my model is projecting that the storage surplus will contract by 25 BCF, to finish at 2092 BCF.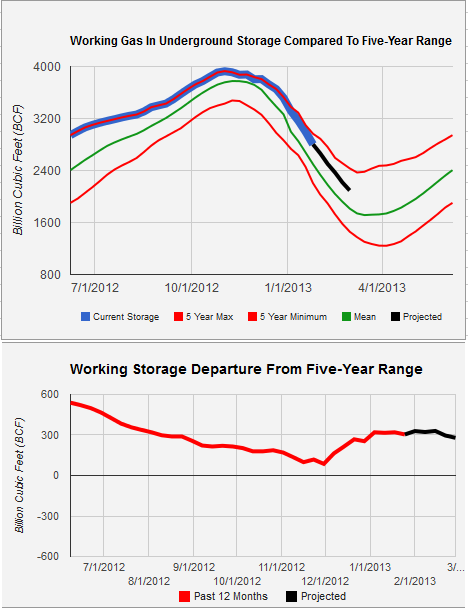 Based on my fundamental pricing model, the commodity is fairly valued when both current storage and the higher-confidence 3-week projections are considered, trading at small 4 and 6 cent premiums, respectively. When the full 5-week 25 BCF projected contraction is considered, natural gas is trading at a 5 cent discount, but, when considering the 4 cent premium currently built into the April 2013 contract relative to the front month March 2013 contract, the commodity is effectively fairly valued with a negligible 1 cent discount. This all suggests that investors have largely priced in the temperature forecast through February.
Fundamental Pricing Model
Fair Price
Last Price
Spread
Summary
Current Storage Only
$3.27
$3.31
+.04
Fairly Valued
Current Storage + 3 Week Projections
$3.25
$3.31
+.06
Fairly Valued
Current Storage + 5 Week Projections
$3.36
$3.35
-.01
Fairly Valued
Over the last 14+ years, there have been 102 occurrences of five-week storage levels that have been forecast to decline 25 +/-15 BCF with respect to the 5-year mean AND during which time the commodity declining 4.25% +/-3% the previous trading. The mean win:loss ratio of these analog dates was an anemic 1.08:1 at 10 days and 1.33:1 at 30 days with mean gain/loss at +1.07% and +2.70%, respectively, all of which indicates a lack of directionality and volatility.
Beyond the five weeks of projections provided above, only two more weeks remain in the withdrawal season based on five-year means. If we assume that these final two weeks track the five-year mean-withdrawals of 74 BCF and 26 BCF, the season will conclude with 1993 BCF in storage, 279 BCF greater than the five-year mean, but a 385 BCF improvement over last year's record high 2378 BCF. Such storage levels would yield an estimated $3.27/MMBTU season-ending fair price based on current data which suggests that investors might be somewhat optimistic regarding either the shorter-term temperature forecast or the commodity's longer-term prospects heading forward into the injection season, given the small 4 cent premium. By comparison, last year's 664 BCF surplus yielded a fair price of $2.20/MMBTU while the price the last day of the de facto withdrawal season was $2.32/MMBTU. (The price would fall to $1.90/MMBTU 4 weeks later when the surplus ballooned to +742 BCF)
Given that natural gas is largely book-ended by my three measures of fair price, I feel that natural gas will trade with below-average volatility and will remain largely range-bound for the next 3-4 weeks, barring any major changes in the temperature forecast or long-term supply/demand forces. I expect any significant rallies will find a steady supply of sellers concerned with the improved, but still bearish storage surplus, while any significant corrections will be met with buyers optimistic on the year-over-year improvement, suppressed rig count, and stabilizing production levels. Based on the data generated by my models, I expect the commodity will remain above $3.00/MMBTU through the end of the withdrawal season and will make my trades accordingly. It is my opinion that the best way to trade such a pattern is to keep things as simple as possible. I have no desire to try to trade in and out of short term trends. Instead, I will hold my modest long-term long position and small (NYSEARCA:DGAZ) short-term short hedge. I will look to "cover" the "short" somewhere in the $3.20-$3.25/MMBTU range and consider adding to my long position, should the commodity trade below $3.10-$3.15/MMBTU. Other natural gas-related stocks that I am either holding or keeping a close eye on include Chesapeake Energy (NYSE:CHK), Southwestern Energy (NYSE:SWN), US Natural Gas Fund (NYSEARCA:UNG), and (NYSEARCA:BOIL), (NYSEARCA:KOLD), and (NYSEARCA:UGAZ).
Disclosure: I am long UNG, CHK, SD, DGAZ. I wrote this article myself, and it expresses my own opinions. I am not receiving compensation for it. I have no business relationship with any company whose stock is mentioned in this article.
Additional disclosure: I have no plans to initiate additional long or short positions in the next 72 hours. All projections and fundamental pricing models are released by Powerburn as experimental products and are not affiliated with nor endorsed by the EIA. While they are intended to provide accurate, up-to-date data, they should not be used alone in making investment decisions, or decisions of any kind. Powerburn does not make an express or implied warranty of any kind regarding the data information including, without limitation, any warranty of merchantability or fitness for a particular purpose or use.