Join me in a trip back in time to September 2011. CNBC was telling us that the European Debt Crisis was about to be the second coming of the Panic of 2008 and that the American economy was headed back into a recession.
I don't believe much of anything I hear from CNBC so I wasn't afraid. And another source that I actually do listen to was telling me that it wasn't time to be afraid, instead that it was time to get long some US Financial companies.
That source was Fairholme Fund's Bruce Berkowitz and I wrote that investors (myself included) should seriously consider following Berkowitz into AIG at the then share price of $23.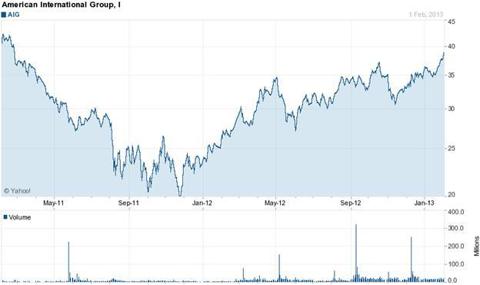 Fast forward a year and a half and we find the share price of AIG at $38.19 which is 65% higher. Ignoring the noise and taking the plunge on AIG during what was a fairly frightening fall of 2011 in the financial markets would have been a rewarding experience.
I'm back writing about Berkowitz today because I think it is a good time to consider following his lead again and investing in some of his high conviction ideas. And I'm not joking when I say high conviction, have a look at the concentrated nature of the Fairholme Fund as detailed in its November 30 annual report:
| | | |
| --- | --- | --- |
| Company | Ticker | % of Fund |
|   |   |   |
| American International Group | (NYSE:AIG) | 42.30% |
| Bank of America | (NYSE:BAC) | 11.50% |
| Sears Holdings | (NASDAQ:SHLD) | 8.50% |
| General Growth Properties | (NYSE:GGP) | 7.20% |
| St. Joe | (NYSE:JOE) | 6.90% |
| Leucadia | (NYSE:LUK) | 3.90% |
| CIT Group | (NYSE:CIT) | 3.20% |
|   |   |   |
The question that bears asking is whether there is much upside left in Berkowitz's top holdings given the solid run they have had over that past 18 months. For an answer to that I looked to Berkowitz himself.
During this interview with Bloomberg, Berkowitz indicated that he expects his top holdings to increase fourfold over the next five to seven years. The increase will be driven by two things.
- The core Fairholme holdings are very cheap today so Berkowitz expects that the multiple attached to the companies will increase.
- While the valuation multiples assigned by Mr. Market increase the earnings and book value of this companies will also be growing.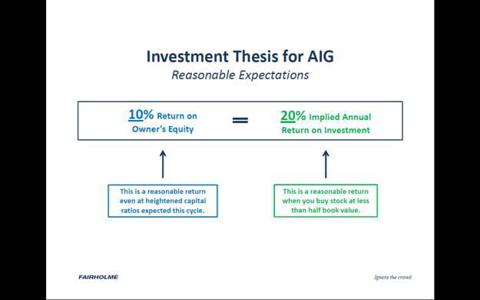 If I had to pick one Berkowitz holding to own I'd still go with AIG. Berkowitz has a staggering 42% of his fund in AIG and the company performance seems to support his conviction.
The Berkowitz recipe for success on AIG is simple. If you buy a world class company at half of book value and that book value grows at 10% per year an investor can expect a 20% annualized rate of return as that discount to book value is eliminated.
I'd nominate Bank of America as a close second for my investment dollars though as that same recipe for success (buying at a discount to book value and growing earnings) seems just as applicable.
I think Bank of America and AIG are no brainers as long term investment opportunities. If Berkowitz is right an investor buying these companies today will make four times his money over five to seven years. All that is required is some patience and discipline. The patience and discipline to buy today and leave your investment alone long enough to let time be your friend.
Berkowitz again gives us the lead, all we have to do is follow.
Disclosure: I am long AIG, BAC. I wrote this article myself, and it expresses my own opinions. I am not receiving compensation for it (other than from Seeking Alpha). I have no business relationship with any company whose stock is mentioned in this article.