The final auto sales figures for January of 2013 are all in and as expected the results for the month are above the 1 million mark, a key figure for satellite radio provider Sirius XM (NASDAQ:SIRI). Sirius XM derives most of its subscribers through new car sales. Satellite radios are installed in about 65% of all new cars sold in the United States. January of 2013 saw a nice 14% pop over the 914,000 new cars sold a year ago.
With car sales coming in at 1,042,000 expectations are ripe that the year could see as many as 15.5 million cars sold. Last year the number came in at 14.5 million. Having 1 million more cars sold helps Sirius XM carry a larger gross subscriber addition number and ultimately helps to keep subscriber growth pacing at a decent clip.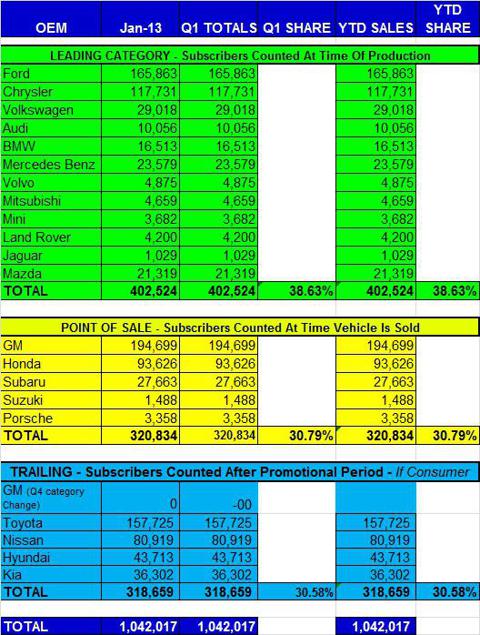 Throughout 2012 Sirius XM spent substantial time refining and adding dealerships to its used car initiative. This move made sense in that the pool of used cars equipped with satellite radio increases every month and is currently at a high enough penetration to count as a viable subscriber supply bucket.
There are a few key points that investors need to bear in mind:
The growth rate of new car sales is slowing.
New

car

sales growth will likely peak in 2015 or 2016.
With a used car program Sirius XM gets a second chance at turning an already installed radio into a potential self paying subscriber.
The number of gross subscriber additions needs to be higher if churn remains the same in order to deliver the same result of prior quarters or years.

GM

(NYSE:GM) will shift from a paid promotional system to an unpaid promotional system in Q4 of this year. That dynamic will impact the subscriber line as paid promotional subscribers are counted by the company and unpaid are not.
Sirius XM has guided to 1.4 million net subscriber additions for 2013.
Last year Sirius XM delivered 2 million subscribers. The biggest keys to success in 2013 rest on car sales in 2013 hitting at least 15 million and continued success in the used car initiative. January auto sales demonstrate that 2013 is off to a decent start and that indeed 15 million is not only achievable, but quite likely as well. It should be noted that automakers that supply subscribers at the time of production (green in the chart above) did drop 1 point in share from the last quarter in 2012. This is a stat we will want to monitor.
With 2013 off to a great start in terms of auto sales, and Sirius XM getting ready to report its results for Q4 of 2012, the picture right now is all roses.
Disclosure: I am long SIRI. I wrote this article myself, and it expresses my own opinions. I am not receiving compensation for it (other than from Seeking Alpha). I have no business relationship with any company whose stock is mentioned in this article.