We enjoy covering BlackRock (NYSE:BLK) because it is the industry leader in our favorite industry (asset management). We were pleased that Ignites Europe (Financial Times' subscription only subsidiary that covers the asset management industry) cited our research in an article that firm wrote about BlackRock's $1B stock buyback. We were disappointed that BlackRock only bought $1B of stock from Barclays instead of the $6.1B that Barclays (NYSE:BCS) was selling but for some reason, BlackRock's management felt it could generate a favorable image in the investment community and make it more well-known to investors by having the majority of the Barclays shares sold on the secondary market in a road show. At least BlackRock recently boosted its per share dividend by 12%.
Considering that BlackRock's share price snapped its two year streak of price declines in 2012 and its total return has exceeded 50% since its May lows of $160.25, we're content with management's decision here. BlackRock's shares have significantly outperformed the 28.5% that the S&P Financial Sector SPDR ETF (NYSEARCA:XLF) achieved during this time period. We believe that the biggest catalyst that snapped BlackRock out of its stagnating somnolence was Vanguard's decision to switch the benchmark on its Vanguard Emerging Markets ETF (NYSEARCA:VWO) from the MSCI Emerging Markets Index to the FTSE Emerging Markets Index. While Vanguard made this change to try to save money for its clients on the index licensing fees, it ended up waking up BlackRock from its slumber and filled it with a terrible resolve.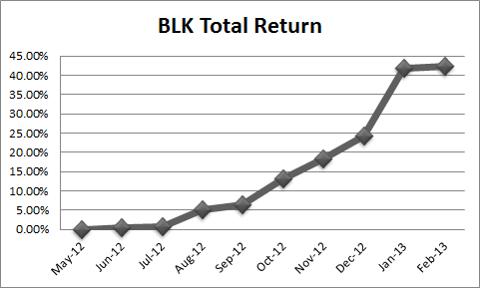 Source: Morningstar Direct
We were pleased that BlackRock once again beat consensus EPS expectations by $.22 on an adjusted basis and its GAAP Reported earnings beat the consensus adjusted EPS expectations by $.19. We still think BlackRock is absolutely undervalued at 17X Trailing 12 Months EPS, 15.25X 2013 Consensus estimates and 13.5X 2014 Consensus estimates, especially because it is expected to generate 12% long-term growth in its annual EPS. This compares favorably with the 3.2% annual EPS growth that the S&P 500 has posted over the last five years and the mid-single digit growth rates that the S&P 500 is expected to post in 2013 and 2014. Here is our latest analysis of BlackRock's recent performance.
BlackRock grew its Q4 2012 adjusted 2012 EPS by 29.4% versus Q4 2011. The EPS growth was due to a 14% revenue increase in its revenue which was partially offset by an 8% increase in its expenses and a $74M negative shift in its investment income net of its interest expense. BlackRock manages just under $3.8 Trillion in AUMs, which is well ahead of its competitive peers in the asset management industry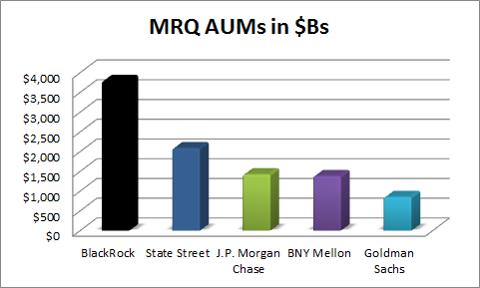 Source: Morningstar Direct
Blackrock's AUM increased by 3.2% on a linked-quarter basis in Q4 2012 after its AUMs increased by 3.2% in Q3 2012. Increases in AUM were due to market appreciation as the third quarter saw central bank monetary easing in order to combat the global economic weakness caused by the European debt crisis and slowing growth in the emerging markets and the fourth quarter reaped the benefits of the third quarter's monetary easing. We also noted that BlackRock has over $45B in institutional client assets that it will begin to assume management of starting in Q1 2013, compared to $45B in Q4 2012 $55B in Q3 2012 and $30B in Q2 2012.
BlackRock also reported strong operating margins of 42.6%, as the company continues its expense management discipline in the wake of the volatile revenue environment. BlackRock saw its greatest base fee revenue growth from its passive products (up 22%), its active fixed income products (14%) and its multi-asset class asset allocation products (8.6%). Although its base fee revenues from its active equity products and its alternative asset products was flat on a year-over-year basis, its performance fees increased by more than 60% due to successful performance on a disposition-related opportunistic fund.
BlackRock has also been involved in a few bolt-on acquisitions over the last twelve months. In the first half of the year, BlackRock increased its AUMs by $7.6 billion by acquiring Claymore's Canadian ETF business and rebranding those products under the iShares brand. BlackRock closed the acquisition of Swiss Re Private Equity Partners from Swiss Re in Q3 2012 and this deal added $6.2B in AUMs and created a private equity operation with a total of $15B in funding. In January, it announced the acquisition of Credit Suisse's ETF business, which will add $18B ETF AUMs to BlackRock's iShares ETF product line.
We've already discussed how BlackRock is working to expand its brand through its "New World of Investing" campaign, as well as our opinion of it in relation to PIMCO's New Normal program. We've seen an increasing amount of advertising by BlackRock promoting its "New World of Investing" campaign in order to increase its brand awareness amongst fund investors. As retail assets under management for long-term investment products only represent about 11% of BlackRock's AUM, we believe that BlackRock has potential to increase its brand recognition amongst individual investors.
We were glad that BlackRock announced that it was cutting the fees charged on six of its largest ETFs in order to regain market share from Vanguard. We agree with Larry Fink when he said that Vanguard gave BlackRock an unexpected gift when it made a stupid unforced error by replacing the MSCI Index from its International Equity ETFs because while retail investors may notice the basis fee reductions from the change, institutions actually want to use the MSCI Index and this helped force fund flows to BlackRock. We can see that BlackRock has been able to take advantage of this move by Vanguard because during the first nine months of 2012, Vanguard's Emerging Markets ETF took in seven times more money than BlackRock's iShares Emerging Markets Index ETF (NYSEARCA:EEM) before Vanguard switched its emerging markets index license from MSCI to FTSE. However, since October 1st, 2012, the EEM has generated $12B in net fund flows versus $500M for the VWO.
BlackRock recently announced that it boosted its per share dividend distributions by 12% and now pays $1.68/share per quarter. This represents a $6.72/share annualized dividend and its annualized dividend yield is almost 2.9%. BlackRock also repurchased 868,500 shares in the quarter and 9.1M shares for the year (which included the $1B buyback of a portion of Barclays shares). BlackRock spent $1.5B on share buybacks and $1.1B on dividends and this represented 104% of its net income for 2012. We're not worried about such a high payout considering it has $6.1B in cash and investments as of Q3 2012. BlackRock was authorized to repurchase up to 2.7M shares of its stock under its previous repurchase authorization and it was recently boosted to 10.2M shares. This represents 6.1% of BlackRock's outstanding share count and if BlackRock was to make any additional acquisitions, the proposed deal would have to add more value to BlackRock's shareholders than a share repurchase transaction. BlackRock has also increased its dividend by a compounded annual growth rate of 28.55% since 2003, though we expect future dividend growth to be around 12% annually.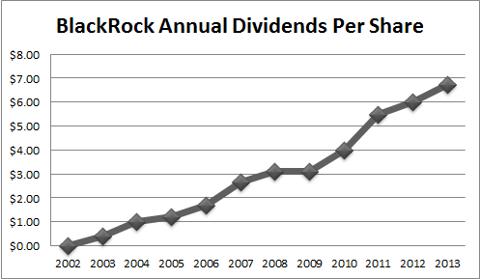 Source: BlackRock's Dividend History Page
In conclusion, we are maintaining our holding in BlackRock. While we would prefer to wait for a pullback to add more shares, we can see why it has bounced back by 50% over the last nine months. We believe that BlackRock's ability to generate strong cash flows and industry leading presence in asset management result in it being a strong core holding for investors. We can't for the life of us see why the industry leader in asset management is trading at the same Price to Earnings ratio as the S&P 500, especially due to the fantastic business model that asset management firms enjoy. We believe that BlackRock's somnolent performance with regards to asset fund flows is coming to an end and it will be positioning itself amongst the asset management industry's blue chip firms. In closing, we believe that Vanguard dumping MSCI's indexes was pennywise because it saved its customers a few basis points in expenses but pound foolish because it provided an opening for BlackRock to provide customers the ability to invest in the MSCI Emerging Market Index versus the lesser known FTSE Emerging Markets Index. We hope that Vanguard has savored its moment as the golden child of the ETF industry because we see BlackRock regaining its momentum.
Disclosure: I am long BLK. I wrote this article myself, and it expresses my own opinions. I am not receiving compensation for it (other than from Seeking Alpha). I have no business relationship with any company whose stock is mentioned in this article.
Additional disclosure: Additional disclosure: This article was written by an analyst at Saibus Research. Saibus Research has not received compensation directly or indirectly for expressing the recommendation in this article. We have no business relationship with any company whose stock is mentioned in this article. Under no circumstances must this report be considered an offer to buy, sell, subscribe for or trade securities or other instruments.