By Paul Jaschke, Ph.D., Ju Lu Ph.D., Widya Mulyasasmita and Luke J. Lee
Incyte Corporation (NASDAQ:INCY) is focused on discovering, developing, and commercializing novel small molecule drugs for serious, unmet oncology and inflammatory diseases and needs.
The company won approval for its lead product drug, Jakafi (ruxolitinib), a JAK1 and JAK2 inhibitor, on November 16, 2011 for treatment of intermediate or high-risk myelofibrosis (MF). This drug is part of its 'oncology' pipeline, where the majority of clinical trials in place revolve around its main drug: ruxolitinib (Jakafi). In addition, INCY has made significant headway into treating Rheumatoid Arthritis with its other main candidate drug, barcitinib.
Ongoing collaborations with Novartis (NVS) and Eli Lilly (LLY), a strong cash position of $243.6M, multiple sources of cash flow ($92.7M 9-month revenue as of 09/30/2012), and no competition for Jakafi for another two years, are factors that prime INCY for success. Despite the slow launch of Jakafi, INCY is still doing well, expecting to generate $135M revenue for 2012. Although possessing $400M in convertible notes (4.75%) set to expire at 2015 and Pfizer's (PFE) convertible subordinated notes due in 2013 and 2014 totaling $20M, revenues for Jakafi are expected to double in the upcoming 2 years, making INCY a solid bet.
Jakafi for Myelofibrosis
MF is classified as a myeloproliferative neoplasm (MPN) and often, a JAK2 V617F mutation, that presents itself as three distinct types: primary myelofibrosis (PMF), post polycythemia vera myelofibrosis (PPV-MF), and post essential thrombocythemia myelofibrosis (PET-MF). In short, it is the proliferation of an abnormal type of bone marrow stem cells. This results in fibrosis, where connective tissue grows in the place of the bone marrow. A major factor for this disease is the quality of life, as symptoms read as follows: anemia, bone pain, increased infections, fatigue, and an abdominal fullness due to an enlarged spleen and liver. The median life expectancy is 5 years from onset of disease, but severity of the disease and speed of progression can limit the patient's survival expectancy to less than a year.
Jakafi is the 'first-to-market' drug approved to treat specifically MF. Hydroxyurea (HU), a broad antineoplastic drug first synthesized in 1869, is currently the most common method of treatment, and is used to decrease spleen size, manage high platelet counts, and reduce bone marrow fibrosis as well as treating symptoms such as fatigue. However, bone marrow toxicity concerns, increased risk of acute leukemia and side effects have opened the opportunity for Jakafi to capture the $1B MF market. The latest data from ASH has shown an improvement of symptoms and a > 35% reduction in spleen size as well as a statistically significant improvement in life quality and spleen size reduction for patients who have 'crossed-over' to Jakafi from the 'best-available treatment.'
While patient population is difficult to estimate due to the rareness of the disease, INCY and market research estimates of the Medicare database give us the conservative estimate of 16,000-18,500 U.S. patients. Other studies, such as the Mayo Clinic, give an estimate of 1.46 per 100,000 (Mesa et al. Am J Hematol 1999; 61:10-5), translating to 30,000 patients in the U.S., and ranging as high as 60,000 U.S. patients. Because of an unmet need, a 20% market penetration for Jakafi in 2012 and a peak of 49% by 2017 would result in peak sales of $425M, according to Piper Jaffray estimates. Also, the ex-U.S. estimates are based on a 2x larger worldwide population, resulting in $400M in sales due to delayed market penetration. This alone will account for nearly $1B in revenue for INCY.
Jakafi for Polycythemia Vera
Ruxolitinib for the treatment of polycythemia vera (PV) is currently in Phase III trials. PV is the second of the three myeloproliferative neoplasms, characterized by two other disorders, Essential Thrombocythemia (ET) and Primary Myelofibrosis (MF). In PV, the stem cells in our bone marrow that divide to make new blood cells become unregulated and produce too many red blood cells. This increases the likelihood of inappropriate clot formation (thrombosis), angina and heart failure. Additionally, it can progress to MF as post-PV MF in 15% of cases while a small subset of cases transition to acute leukemia.
Current literature on PV prevalence in the U.S. suggests there is still disagreement, with high estimates of 22 per 100,000 based on Connecticut insurance payers, Medicare and Medicaid data (Ma et al., 2008), over 27 times greater than 0.79 per 100,000 estimated from the North American Association of Central Cancer Registries (NAACCR) and Surveillance, Epidemiology, and End Results (SEER) program data (Rollison et al., 2008) and the 0.49-0.63 of Modan (1965). Although the Rollison et al report is self-admittedly an underestimate, many analysts are too bullish on their estimation of disease prevalence in the U.S. population, with ranges of 25 to >31 per 100,000.
The current front-line chemotherapy of severe PV is again, hydroxyurea. Side effects such as anemia and thrombocytopenia were observed in the recent results of a long-term Phase II study (Verstovsek et al., 2012), but these were generally lower-grade and much less frequent than those observed in the MF population taking Jakafi. Additionally, side-effects in PV patients taking Jakafi were managed in all cases by dose reductions or interruptions. It seems at this moment that Jakafi treatment of HU intolerant patients results in clinical benefit with a reasonable level of safety.
The RESPONSE clinical trial (NCT01243944) is a Phase III study of the efficacy and safety of Jakafi (also known as ruxolitinib or INC424) in PV subjects resistant or intolerant to HU. Since PV can in many ways be thought of as a mild form of myelofibrosis, many of the outstanding safety and efficacy features displayed by Jakafi in the COMFORT I/II trials (NCT00952289, NCT00934544) will be achievable in the relatively healthier PV population. Success in the RESPONSE trial will allow Jakafi to be sold to the estimated 29-49% of PV patients that cannot be controlled long-term by HU (Alvarez-Larrán et al., 2012; Donovan et al., 1984; Najean et al., 1997). Peak market penetration is expected to be ~30%, given that Jakafi will likely be covered by insurance plans (Zimmerman and Mehr., 2012) and given that the Phase II trial (NCT00726232) data that showed significant improvements to patient quality of life. The success of this RESPONSE trial will ultimately bring in $500m peak revenue for INCY.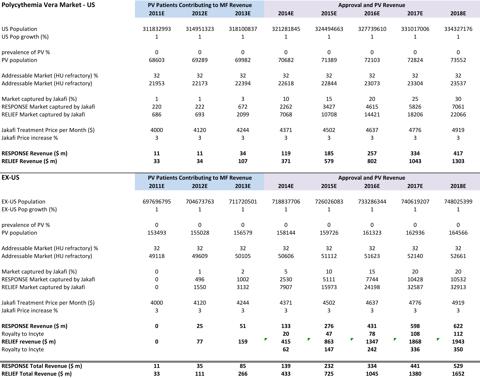 Source: Stanford Biotech, Business, and Finance Group (prevalence of 22 per 100,000 patients used, and a RESPONSE median of 32% from the most recent Alvarez-Larrán et al. study)
With the approval of Jakafi, many physicians may start to prescribe the off-label use of Jakafi at different dosages for PV, since PV is currently undergoing trials for ruxolitinib (Jakafi). This is calculated into our projection using a 1-3% market penetration in 2012-2014. Also, the exciting potential for INCY to open up the entire PV market through the RELIEF Phase III clinical trial (NCT01632904) is currently underway. This trial is examining if any clinically meaningful symptom improvement occurs when patients are switched from HU to Jakafi. If this trial is successful, the market share for Jakafi could expand to include up to 30% of the entire PV market share and a concomitant increase in profits. Because of the continued success of the COMFORT II trial, and the fact that MF is a more severe form of PV, there is a high probability of a successful outcome for Jakafi in the RELIEF trial. This could potentially bring in peak revenue of $2B. With V617F mutation being the highest in PV patients, this drug has a very high chance to market.
Jakafi for Essential Thrombocythemia
Nearing the completion of a Phase II trial, essential thromobocythemia (ET) is the last of the myeloproliferative disorders. In ET, abnormally high production of platelet cells is observed. The normal range of platelet levels is typically 150,000-400,000 cells/uL, but ET patients are diagnosed with greater than 600,000 platelets/uL. The onset of ET usually begins with DNA mutations in a single blood forming cell, eventually leading to the overproduction of platelet cells.
Clinically available treatment of ET can take the form of routine medication or emergency plateletpheresis. Treatment goal is to reduce platelet counts below 450,000/uL. Medication usually involves prescriptive drugs that reduce platelet count, such as Hydroxyurea (Droxia, Hydrea), Anagrelide (Agrylin), and Interferon alpha-2B (Intron A). Each of these drugs has drawbacks, such as increased risk of acute leukemia with HU, and inconvenience of weekly injections with Interferon alpha-2B.
INCY and Novartis are currently conducting a Phase II clinical trial (NCT00726232) to evaluate the safety and efficacy of Ruxolitinib (INCB018424), a JAK1/2 inhibitor, in subjects with baseline platelets of 650,000/uL and who are refractory or intolerant of standard care of hydroxyurea. At 21 months, the majority of ET clinical trial subjects achieved CR (26%) or PR (64%) with ruxolitinib treatment.
The incidence of ET is approximately 24 per 100,000 individuals in the population, regardless of ethnicities, with about 2.2 new cases diagnosed per 100,0000 individuals annually. This incident rate results in an estimation of 80,000 patients in the U.S. and 165,000 outside of the U.S. in 2018, of whom 25-33% are asymptomatic. Of the remaining 70% receiving drug treatment, 25% is estimated to be eligible for ruxolitinib treatment based on ET patients who are refractory to standard hydroxyurea treatment. With an average per patient monthly cost of $4,565 in the U.S. and $2,893 ex-U.S., ET could represent up to $824 million and $1,044 million opportunity for non-hydroxyurea treatment within and outside of the U.S., respectively. With the approval of Jakafi, many physicians may prescribe off-label use of Jakafi at different dosages for ET until 2016 with 1-5% market penetration due to the anticipated success of Jakafi for PV as well in 2014. Assuming the $4,900 average monthly cost of Jakafi treatment and an estimated peak market penetration of 30% as in the case of Polycythemia Vera, the expected annual revenue for Ruxolitinib in 2018 is $249 million in the U.S. alone, and $168 million globally, assuming the same royalty rates as PV.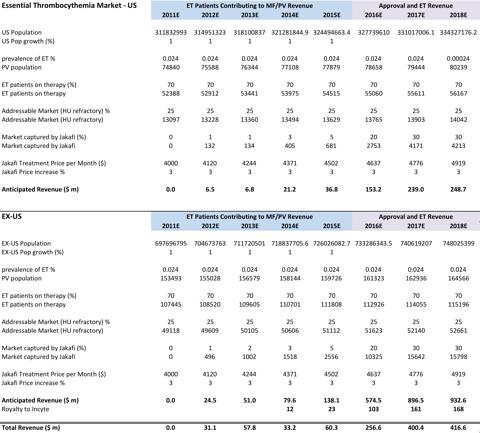 Source: Stanford Biotech, Business, and Finance Group
Barcitinib for Rheumatoid Arthritis (RA): A $20B market for grabs
Rheumatoid arthritis causes inflammation of the synovial membrane (the lining of the joints), but may also affect the lungs, the pericardium (membrane around the heart), the pleura (membranes of the lung), and the sclera (eye white). Autoimmunity is believed to play a pivotal role, with TNF-alpha and interleukin-1 (IL-1) being the targets of a number of medications (see Table 1). However, several cytokines and interferons activate JAK/STAT pathway in RA.
In the United States alone, an estimated 1.5 million adults (age ≥ 18) have RA in 2005 (Helmick et al., 2008). Existing medications to treat this population fall into two groups: those that relieve symptoms and reduce inflammation, and those that modify the disease or put it in remission. Corticosteroids and non-steroidal anti-inflammatory drugs (NSAIDs) belong to the first category; the so-called disease-modifying anti-rheumatic drugs (DMARDs, both biologic and non-biologic) fall into the second category.
INCY's Barcitinib, a non-biologic JAK1/2 inhibitor, is currently undergoing Phase III trials. With a minimally effective dose of 4 mg, it exhibited clinical benefits comparable to TNF-inhibitors as measured by ACR scores. It was also generally well tolerated.
The Phase III program of Barcitinib will involve 4 trials on different patient populations and is expected to yield results in 2014/2015 (Kasimov et al., 2012). The Phase III program incorporates methotrexate-naïve and -experienced patients, as well as both biologic-naïve and -experienced patients. Thus it is well poised to determine potential label differentiation points from its main perceived competitor, Pfizer's recently approved Xeljanz, a non-biologic DMARD that inhibits JAK3. In addition, Barcitinib's once-daily dosing compares favorably with Xeljanz's 2x/day regimen, which could be another significant differentiating factor (Peaker & Pommer, 2012).
Table 1. Competing DMARDs
Drug

Approval

Mechanism

Delivery

2012 Sales

(Q1-Q3)

Enbrel (etanercept)

1998

TNF-alpha inhibitor

Sub-Q

$2.9B

Remicade (infliximab)

2001

TNF-alpha inhibitor

IV

$2.8B

Kineret (anakinra)

2001

IL-1 inhibitor

Sub-Q

N/A

Humira (adalimumab)

2002

TNF-alpha inhibitor

Sub-Q

$3.1B

Orencia (abatacept)

2005

T-cell inhibitor

(targeting CD80)

IV

$0.57B

Rituxan (rituximab)

2006

B-cell inhibitor

(targeting CD20)

IV

$2.3B*

Simponi (golimumab)

2009

TNF-alpha inhibitor

Sub-Q

N/A

Cimzia (certolizumab)

2009

TNF-alpha inhibitor

Sub-Q

N/A

Actemra (tocilizumab)

2010

IL-6 inhibitor

IV

N/A

Xeljanz (tofacitinib)

2012

JAK3 inhibitor

Oral

N/A
U.S. Sales figures from IMS Health (quoted from drugs.com)
Abbreviations: Sub-Q: subcutaneous; IV: intravenous.
*: including non-RA use
Currently TNF-inhibitors tend to be the first biologic DMARDs given to patients. In 2011 the U.S. market of these drugs totaled $13 billion (Bayko & Behanna, 2012). This figure translates into ~500,000 patients, given the average annual cost of ~$26,000/year of such drugs. However, ~30% of patients treated with the first TNF-inhibitor fail to respond. Most rheumatologists (94% in a 2009 survey) switched these patients to another TNF-inhibitor, but 53% of such patients showed no response either (Rubbert-Roth & Finckh, 2009).
Therefore, the addressable market of barcitinib may consist of two segments. First, it can be the first-line choice after methotrexate failure, competing directly against biologic TNF-inhibitors and Xeljanz. In 2011 the three leading anti-TNF drugs in the U.S. market each occupied about one third of the market (Bayko & Behanna, 2012). Xeljanz is expected to achieve ~$3B in annual sales eventually, which corresponds to about 25% of the market size of anti-TNF drugs. If Xeljanz succeeds, it will help guide the market of the value of non-biologic JAK inhibitors, which is conducive to the reception of barcitinib. As barcitinib exhibits comparable efficacy as anti-TNF drugs and superior dosing (oral versus intravenous or subcutaneous), it is expected to eventually occupy a market share comparable to Xeljanz and leading anti-TNF drugs. This translates into ~$2.5B per year, or 20% of the market. The second segment includes patients who have failed one or more TNF-inhibitor treatments. As of 2009 these patients may be treated with Rituxan or Orencia, which gives 50% - 70% response rate (Rubbert-Roth & Finckh, 2009). The number of patients in this segment can be estimated to be ~70,000, and the size of this segment ~$1.5B. If barcitinib occupies a conservative 20% of this segment (among 4 major non-anti-TNF competitors); it will add $2.5B peak revenue to an otherwise $13B market.
Conclusion
Despite a recent sell-off due to Gilead Sciences' (GILD) purchase of YM Biosciences, which could potentially be a player in the market share for MF in a few years, INCY has pipeline developments with limited risk. Despite being oversold due to this news, INCY has the potential to recover and gain ground as revenue streams in the following year. When factoring in upcoming clinical data, it is possible to move towards a higher probabilistic model for PV, ET, and RA since their latest clinical trials reports (03/2012), potentially bringing the stock higher.
2015E is expected to be the first year of profitability using a discount rate of 10.6%, with additional revenue coming in subsequent years due to expected approval of Jakafi for PV, ET, and possibly barcitinib for RA. Moreover, an expected 25x P/E for a company in the high-growth, profitable biotechnology company sector with a conservative 15% discount rate for commercial risks such as slow launch and dose titration comes out to an average of $25 PT.
Looking into 2013 and beyond, with a potential $3B in revenue by 2018E, the 'first-to-market' advantage will provide a great foundation for INCY in years to come. In addition, with convertible debts gone by 2015, and a strong cash position and an established, promising revenue stream, we recommend a BUY.
Disclosure: I have no positions in any stocks mentioned, and no plans to initiate any positions within the next 72 hours. I wrote this article myself, and it expresses my own opinions. I am not receiving compensation for it. I have no business relationship with any company whose stock is mentioned in this article.
Additional disclosure: Business relationship disclosure: Alpha Cardinal is a team of graduate students and postdocs at the Stanford University School of Medicine. This article was written by Paul Jaschke, Ph.D., Ju Lu Ph.D., Widya Mulyasasmita and Luke J. Lee, members of one of our teams. We did not receive compensation for this article, and we have no business relationship with any company whose stock is mentioned in this article.