We believe that housing is still very much going to recover and that you've had a big rally already in housing- related equities…So it's about looking for other opportunities while they still exist.

- Craig Pastolove, a managing director Morgan Stanley (February 4, 2013 in Bloomberg).
In previous pieces on the real estate market, I have referenced how cash buyers and buyers with very high credit scores have provided the main buying power in the housing recovery. A Bloomberg article on February 4, 2013 crystallizes this point in high relief. It is aptly titled "JPMorgan Joins Rental Rush For Wealthy Clients: Mortgages" (link provided above). The article quotes data from CoreLogic (NYSE:CLGX) that indicates that average credit score of mortgage borrowers in 2006 was 714; in 2012 that rose to 740 (I have to assume the distribution also has a much shorter "tail"!).
In the article we learn that in mid-2012 J.P. Morgan (NYSE:JPM) joined a crowded field of institutional and wealthy investors pooling funds together to invest in real estate (JPM is using an unnamed third-party manager). JPM's fund, catering to clients with at least $5 million, invested in a partnership that "…bought more than 5,000 single family homes to rent in Florida, Arizona, Nevada and California…Investors can expect returns of as much as 8 percent annually from rental income as well as part of the profits when the homes are sold." Examples of other big funds that are muscling around in real estate buying up distressed and otherwise undervalued properties include:
Blackstone Group LP (NYSE:BX): Already spent $2.7B.
Oaktree Capital Group LLC. (NYSE:OAK): Started trading publicly April, 2012. Pays a 4.6% dividend.
Thomas Barrack's Colony Capital LLC: Founded in 1991 and invests globally. One of the largest owners of single-family homes in the U.S.
Waypoint Homes: Has purchased homes in Arizona, California, Georgia, and Illinois.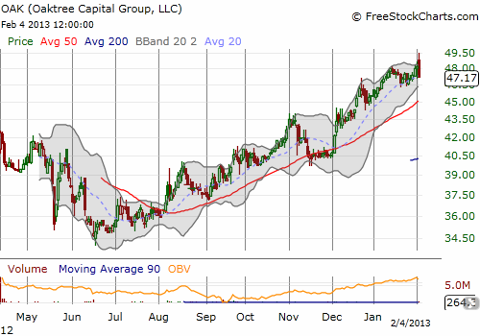 Oaktree Capital Group was recently trading at new all-time highs and has gained 45% since last year's lows
Source: FreeStockCharts.com
Morgan Stanley (NYSE:MS) is facilitating homebuying by wealthy people in another way. The company offers high-net worth clients below market-rate mortgages backed by their portfolios. They advise their clients to directly purchase and rent out the homes themselves. This method of course allows the buyers to cut out the management fees and profit-sharing with the institutional funds, but it does introduce the burden of property management.
David Lyon, a managing director and investment specialist at J.P. Morgan Private Bank, provides some good perspective on how long we might expect the best price gains of the housing recovery to last:
The goal is to sell the houses within three to four years in one of three ways: through an initial public offering of a real estate investment trust, a sale to an existing REIT or to an institutional buyer such as a pension fund.
The good news is that time remains for you to save your pennies toward the $5M in net worth it will take to invest in JPM's housing fund. (One alternative available to retail investors of more "earthly" means is Vertical Capital Income Fund. I wrote about the fund last March in "Vertical Capital Income Fund Offers Attractive Alternative for Investing In Mortgages").
The more important implication is that it appears that there is likely sufficient demand in the housing market from cash buyers and investors to at least keep the housing market stabilized for the next few years assuming the current rise in interest rates remains modest. The rental market should remain strong for some time to come, and these buyers are converting otherwise unused properties into productive assets. This firms the floor under housing prices in markets where the recovery is now evident.
On the flip side, it appears the appetite for housing-related stocks is waning at current levels, and I am once again convinced that these stocks should not be chased at these levels. Buying on the dips (and at this point, BIG dips) still makes sense.
Be careful out there!
Disclosure: I have no positions in any stocks mentioned, and no plans to initiate any positions within the next 72 hours. I wrote this article myself, and it expresses my own opinions. I am not receiving compensation for it (other than from Seeking Alpha). I have no business relationship with any company whose stock is mentioned in this article.