This chart shows several key internal measures of the behavior of the constituent companies of the S&P 500 to help understand the path of the index itself.
click image to enlarge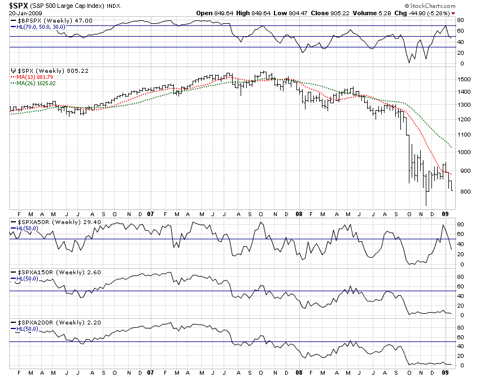 Overall the signs are weak.
The percentage of bullish point and figure charts among constituent companies is less than 50% and declining — more than 50% are bearish.
Approximately 29% of companies are above their 50-day simple moving average price — 71% are below their 50-day SMA.
Only about 3% are above their 150-day SMA, and only about 2% are above their 200-day SMA.
The "January Effect" is probably not signaling a good year. For the first five trading days, the index was up less than 1%, and month-to-date (January 20th) with its 5.3% fall today, the index is down over 10.5% for the month with 8 trading days to go and a lousy looking chart. So far this year is off to a bigger early decline than 2007.
Yesterday's market decline was the worst inauguration day decline for the Dow Jones Industrials in its 112 year history, according the Stock Traders Almanac (via Bloomberg).
Of course the news is terrible, with stalwarts such as State Street Bank (NYSE:STT) (one of the worlds largest asset managers) down 59% yesterday, along with a host of other banks in tough shape, including Wells Fargo (NYSE:WFC) and Bank of America (NYSE:BAC), each down over 23%.
Nouriel Roubini projects that bank capital losses will exceed twice the total banking industry equity. Hardly the harbinger of good news for the market in general.
Goldman Sachs analysts say that the S&P 500 will report $5 earnings for Q4 2008, and earn $53 in calendar 2009 (down $2 from $55 in 2008). Assuming for the moment that they are correct, a range of 10X, 15X to 20X earnings would put the S&P 500 index at 530, 795 to 1060. We are quite near 795 (15X). We've tried and failed to pierce the approximate 1060 level (20X), and have yet to try the 530 (10X) level. See our article on a plausible 500 target for the index.
Stay alert. Stay safe. Take protective measures.