In early February, I authored two pieces on monthly momentum strategies. The first article on fixed income momentum strategies demonstrated ways to generate repeatable and sustainable alpha using momentum to tailor the credit or interest rate risk of your bond portfolio. This article was followed up by a look at momentum switching strategies between equity and fixed income asset classes. Rotating between Treasuries and different equity classes based on which class had outperformed in the trailing month generated excess returns while lowering the variability of returns. This is the third article in a series to be updated at the beginning of each month, and will be focused on momentum strategies within the equity universe.
The purpose of this new series of articles is to demonstrate the success of these strategies, and give Seeking Alpha readers with differing risk tolerances tips on how to employ these strategies themselves to improve the performance of their balanced portfolio. These are useful strategies for Seeking Alpha readers, especially those who allocate dollars to their investment plan on a subscription basis like 401k investors making automatic payroll deductions. These switching strategies can be used to adjust periodic allocations to capture the momentum effect and improve portfolio returns, especially in tax-deferred accounts.
Low Volatility Stocks/High Beta Stocks
In my recent article "Doubling the Return of the S&P 500 Over Twenty Years", I demonstrated that a quarterly switching strategy between low volatility stocks, as represented by the S&P 500 Low Volatility Index (NYSEARCA:SPLV) and high beta stocks, as represented by the S&P 500 High Beta Index, (NYSEARCA:SPHB) generated a cumulative total return more than double that of the S&P 500 (NYSEARCA:SPY) since 1990 with a risk profile equivalent to that of Berkshire Hathaway (BRK.A, BRK.B). In this series, I will update a monthly switching strategy that will effectively own the highest or lowest volatility equities in the S&P 500 based on which segment of the market had outperformed in the trailing month.
The monthly switching strategy between low volatility and high beta stocks has produced the return profile seen below since 1990: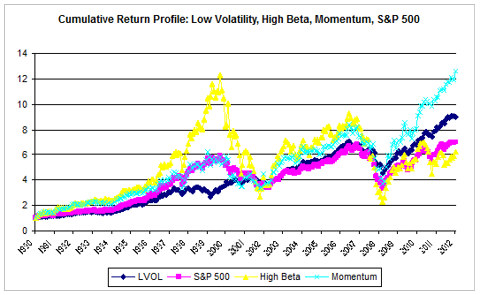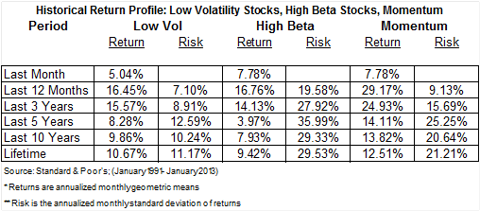 In January, the High Beta Index followed on its December outperformance (HB: 5.87%, LV: 0.91%) to again best the Low Volatility Index (HB: 7.78%, LV: 5.04%). I am of the opinion that low volatility stocks should be a part of investors longer term strategic asset allocation given that class of stocks' historical higher average returns and lower variability of returns. Conversely, an allocation to high beta stocks must be done tactically with a short term focus given that class of stocks' lower long run average returns and higher variability of returns. This view is borne out of the data above. Over three, five, ten, and twenty year trailing periods, low volatility stocks have outperformed high beta stocks on both an absolute and risk-adjusted basis. However, a temporary allocation to the High Beta Index in sharply rising markets can further boost performance.
Over the last twelve months, the momentum strategy that switches between High Beta and Low Volatility stocks has nearly doubled the performance of the S&P 500 with similar volatility. Investors wishing to follow this strategy would own High Beta stocks over the next one month after January's outperformance.
U.S. Stocks/EM Stocks
Similar to the decision whether to tactically overweight high beta stocks, investors can also decide whether to add exposure to emerging markets, which have effectively been a high beta function of the developed world. This relationship is borne out mathematically. The financial concept beta is calculated as the covariance between a stock and its benchmark divided by the variance of the benchmark. Over the trailing five years, the beta of the emerging market stock index (relative to the S&P 500) has been 1.26. Like our switching strategy between Low Volatility and High Beta stocks, a switching strategy between U.S. stocks and emerging market stocks should also produce alpha. That is exactly the return profile captured below: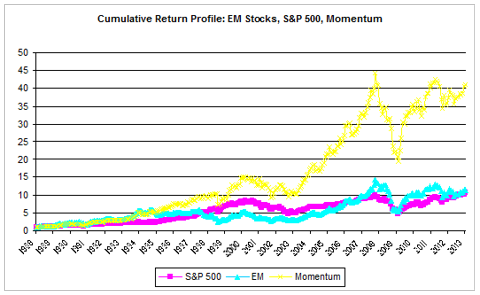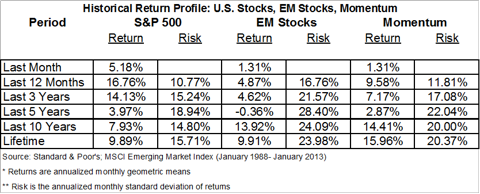 Of the nine strategies highlighted in my three articles on momentum, this strategy is the only one whose December returns (EM: 4.78%; S&P 500 0.91%) did not correctly signal outperformance in January. This would signal that domestic stocks should outperform EM stocks in February. The S&P 500 rose in January in part due to a relief rally that the fiscal cliff was at least temporarily averted, and in part due to positive earnings surprises and firming economic data. A strong U.S. economy bodes well for the export-driven emerging market landscape. I believe that emerging market stocks (VWO replicates the benchmark used) will outperform the developed world over the intermediate to long term as higher economic growth rates and less constrained government balance sheets lead to higher asset returns. Perhaps this momentum strategy can key when to make this asset allocation shift. It should be noted that in all of the time horizons in the table above, the momentum strategy has outperformed the emerging market stock index on both an absolute and risk-adjusted basis.
Summary
Switching strategies that tactically overweight high beta equities when markets are rising and seek safety in lower beta equities when markets are falling have traditionally produced higher risk-adjusted returns over long time intervals. I will be updating these two trades monthly, along with my companion series on fixed income and equity/fixed income momentum strategies. Expect to see a few additional equity momentum strategies evolve in this series over time, and as always input from my strong readership can help improve this content as we "Seek Alpha" together.
Disclosure: I am long SPY, SPLV, VWO. I wrote this article myself, and it expresses my own opinions. I am not receiving compensation for it (other than from Seeking Alpha). I have no business relationship with any company whose stock is mentioned in this article.