Marijuana stocks could be absolutely huge in 2013, as efforts to legalize the drug in more states continue. Already, marijuana possession and recreational use has been made legal in two states (Colorado and Washington) since the beginning of November 2012, and numerous senators, organizations and voters in many other states are also strongly in favor of the legalization of marijuana. In this article I'll highlight a few marijuana-related stocks that have already made big moves, and could be set for huge bull runs in future.
Marijuana Legalization By State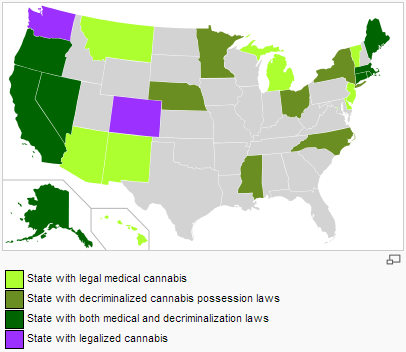 A Quinnipiac University poll found that a majority of those surveyed support the legalization of marijuana, as do I. Studies show that marijuana is a harmless, safe drug that has few (if any) negative side effects. It certainly can be argued that recreational use of marijuana is far less harmful than regularly drinking alcohol. Numerous politicians and presidents, including Barack Obama, George Bush, Sarah Palin, George Washington and others, have (or had) admitted to smoking pot. It seems nonsensical to imprison people for smoking pot, waste millions of dollars in taxpayer money, and create a black market for marijuana by making it illegal.
There are numerous small-cap, very volatile marijuana stocks that have been making moves lately that you cannot afford to ignore if you are interested in profiting off this industry. The 5 most interesting I have identified are Medical Marijuana Inc (OTCPK:MJNA), HEMP INC (OTCPK:HEMP), Cannabis Science Inc (OTCPK:CBIS), Growlife Inc (OTCQB:PHOT) and GreenGro Technologies (OTCPK:GRNH). On Friday 1st February 2013, every one of these stocks began to make huge moves of between 20% and 40% upwards, and continued running the following week. Many also have very low market caps, meaning they can very easily spike higher. Another state legalizing marijuana use, or some more press releases, and all these stocks could go on further runs upwards very easily.
While there is huge upside potential, it must be stressed that these stocks are all risky, and very volatile. Most of them have very bad fundamentals, and there is a high element of risk in playing these stocks especially if you're not a full time trader. If you do trade any of these stocks, I recommend keeping position sizes small, and cutting any losses quickly.
What follows is a summary of each marijuana stock, starting with the main one, MJNA.

Speculative Marijuana Stock #1: Medical Marijuana Inc
With a current market cap of around $300 million (fluctuating wildly as the stock moves up and down), MJNA is the biggest of the marijuana stocks currently in play. It claims to be the first publicly traded company vested in medical marijuana, and offers a variety of products and services related to marijuana and hemp. In its portfolio, it lists five featured companies under its control: Phytosphere Systems, Red Dice Holdings, HempMeds, Wellness Managed Services and Can Chew Bio Technologies.
On January 22nd 2013, MJNA reported strong earnings for its fourth quarter of 2012, with net income of $3.39 million on gross revenues of $5.10 million, representing a 1,100% increase in revenues over the same quarter of 2011. MJNA's most recent earnings and financial statements will be audited by the accounting firm Anthony W. Imbimbo & Associates by mid February. Curiously, MJNA did not spike up and go on a strong bull run upon announcing its strong Q4 2012 earnings; this only really began on Friday 1st February when there was no apparent news.
MJNA could be set for stronger gains and is certainly a very dangerous stock to consider shorting, even having gone on a big run upwards. The time to buy this stock could be on breakouts to new highs, on strong volume, or when positive press releases or news is released. MJNA could also be invested in for the long term, for those who have a high risk tolerance and are not afraid of volatility.

Speculative Marijuana Stock #2: HEMP, INC
HEMP has 1,121,640,756 outstanding shares, giving it a very rough market cap of around $50 million at its current price. HEMP has a slightly different primary focus to the other marijuana stocks (hemp and marijuana are different varieties of the same species of plant) but is very clearly following the same path as marijuana stocks, and will very likely still benefit from marijuana legalization. It had previously spiked up a huge amount in late 2012, before coming back down and then running up again recently.
HEMP has numerous subsidiaries, such as Marijuana Inc. (aimed at offering HEMP solutions and educating the public on the benefits of HEMP), Marijuana Inc.TV (a film company bringing cannabis-related entertainment and news to viewers), Herba Genix, Eco Harmony and numerous other spin-off companies. It would certainly appear that HEMP has an extremely diversified business plan. However, it is difficult to find any information on the success of the company, being that it has no SEC filings and no earnings releases.

Speculative Marijuana Stock #3: Cannabis Science Inc
CBIS, with a current market cap of around $60 million, has been one of the most commonly traded marijuana stocks among professional traders and (like HEMP) had a strong run in November 2012 before coming back down. CBIS is certainly very much a development-stage company, and its fundamentals are ugly (in its latest 10Q it had only $9,492 in cash, extremely low revenues, and a whopping $84,632,873 in net losses since inception), but that shouldn't stop the stock from being able to run up further in future.
It should be very obvious that CBIS is not a company to invest in for the long term based on its business operations and fundamentals. Rather, CBIS, like most marijuana stocks (such as HEMP above), is purely a day-traders' stock that can potentially run up or down very quickly depending on what the latest news is in the marijuana industry.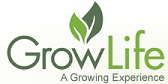 Speculative Marijuana Stock #4: GrowLife
PHOT is only partly involved in the marijuana industry. On its company page, we can see that it manufactures LED lights, monitoring and control equipments, and hydroponic equipment. These products do have applications in cultivating cannabis, but cannabis-growers surely account for only a small fraction of customers. Even upon further legalization of marijuana in more states it seems unlikely that PHOT will experience a serious increase in revenue. PHOT also owns the cannabis.org website (currently in construction), which is being planned as an information portal for the medical marijuana industry, although at this stage it's unclear how this website will generate revenue. Despite having only a minor connection to the marijuana industry, PHOT did spike on Friday together with other marijuana stocks, and is still worth watching.
In its latest 10Q, for September 30th 2012, PHOT had $161,181 in cash and $1,852,667 in total assets, with total liabilities of $ 1,689,638. Revenue for the three months ended September 30th was $475,870, and there was a net loss for the nine months ended September 30th of $849,707. PHOT therefore does not have strong financials, but at least has achieved some revenue unlike many other marijuana related stocks. Most importantly for its stock price, PHOT's market cap is currently very low (roughly $30 million and fluctuating wildly), and there is plenty of room for this stock to spike further.

Speculative Marijuana Stock #5: GreenGro Technologies, Inc
GRNH has the lowest market cap of any stock in this article, at around just $15 million. That makes it extremely volatile and easily capable of making big moves. Like PHOT, GRNH sells products that could aid in the growing of cannabis, such as lighting, nutrients, seeds and DIY kits. The GRNH company website strikes me as very amateurish, and there is no information on the financials or revenue of this company (I expect that it is very low, or non-existent). The company twitter feed should also serve as a red flag given that it primarily hypes up the marijuana industry, and seems to try very hard to draw in buyers to GRNH stock. I believe GRNH is very clearly a stock setup to profit off the marijuana industry hype and speculation, rather than to actually run a real business, and that the real value of this company is probably very low. But this stock is still worth watching as it's easily capable of spiking.
For More Information On Marijuana Stocks
Feel free to message me or leave a comment below if you have any corrections, suggestions or feedback.
Disclosure: I have no positions in any stocks mentioned, and no plans to initiate any positions within the next 72 hours. I wrote this article myself, and it expresses my own opinions. I am not receiving compensation for it (other than from Seeking Alpha). I have no business relationship with any company whose stock is mentioned in this article.