Regional Banks have been doing well recently. The Fed has taken a big role in this by strongly supporting the US real estate markets. The Fed's recently finished Operation Twist did a lot to lower long term US Treasury Bond yields. Many mortgage loan rates are based on these rates. Currently the Fed has QE3 ($40B/month in MBS buying) and QE4 ($45B/month in long term Treasury Bond buying) on going. These two programs are helping to keep both Treasury Bond Yields and mortgage rates low. Low rates make real estate more affordable. They also expand the number of people or businesses that can qualify for loans under the new, stricter standards. Plus the cost of money for banks is very cheap, due in part to the currently low Fed rates. First Merit (NASDAQ:FMER), a regional Ohio based bank, benefits from this every business day.
Ohio has an added advantage. The new unconventional Utica oil and gas field is drawing a lot of development monies. Companies have spent and continue to spend huge amounts on leaseholds. These same companies are spending on goods and services to supply their drilling/development operations. The development companies are spending a considerable amount to live in Ohio. For instance, some are buying houses (and everything else). There is the economic multiplier effect. This includes such things as the extra grocery store employees needed to service all the new oil well workers.
Ohio's GDP is forecast to be about $531.2B in 2013, which is a large increase from its $418.9B GDP in 2011. The billions of dollars in spending on the Utica is a big part of Ohio's re-invigorated GDP growth. Ohio's unemployment rate for November 2012 was 6.8% versus the US wide rate of 7.8%. The 1% lower unemployment rate correlates well with the extra monies from Utica development. Unemployment in Ohio may fall further as those development activities expand. Lower unemployment and higher GDP growth mean that loans banks make (and have previously made) will be more likely to be profitable. It means that banks should get both more consumer and commercial business. This is an advantage top Ohio banks have over most other regional banks in the US.
Additionally, Utica development is a long term advantage, not just a momentary push upward. The eventual huge oil and gas sales from the new wells will add still more to that advantage. Ohio's real estate market was never as over inflated as those along the coasts and others. Therefore Ohio banks should be in much better financial condition than those in most other states.
First Merit Corporation is one of the best of Ohio's banks. For Q4 2012 FMER reported its 55th consecutive quarter of profitability. It had net income of $38.2 million or $0.35 per diluted share (+$3.3 million sequentially and +$7.7 million year over year). A lot of the improvement came in the category of "Other Operating Expenses". I am always encouraged when this kind of improvement does not come primarily from a decrease in the provisions for loan losses.
FMER declared a quarterly dividend of $0.16 (4.26% annually). It had an average return on assets of 1.03%. It had a return on average equity of 9.30%. Its NCO (net charge off) ratio was a respectable 0.34%. It had a respectable NPA (non-performing assets) ratio of 0.57%. It had average commercial loan growth of $258.7 million (+3.16%) sequentially. It had average core deposit growth of $109.1 million (+1.08%) sequentially. It had tangible common equity of 8.16% at the end of Q4 2012. Net interest margin was down -0.08% sequentially. This was unfortunate, but it was in keeping with the effects of the Fed actions (Operation Twist, QE3, and QE4). FMER had a year over year increase in total earning assets to $13,246,693,000 from $12,747,868,000. At the same time total interest bearing liabilities decreased to $9,409,610,000 from $9,627,758,000 in the year ago quarter.
The chart (below) of FMER's deposits shows one clear sign of health.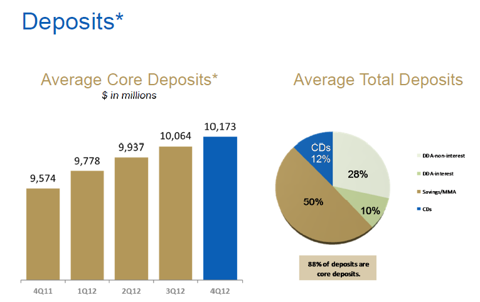 The chart (below) shows FMER's healthy commercial loan portfolio growth.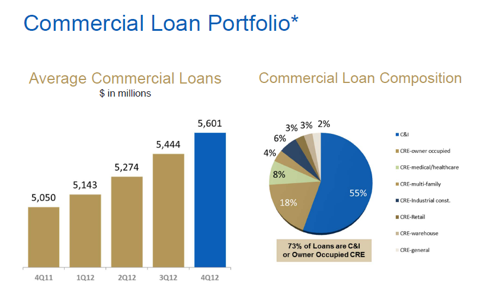 In sum, First Merit appears to be a strong, growing bank. It could be a little stronger. For instance, these days the Fed likes to see a slightly higher tangible common equity ratio (8.16%). This will likely happen with time. Plus, the stimulus of the Utica will increase in coming years. This should help the Ohio economy and FMER immensely. As the Utica development expands, Ohio's 6.8% unemployment figure will likely improve.
The two year chart of FMER provides some technical direction for this trade.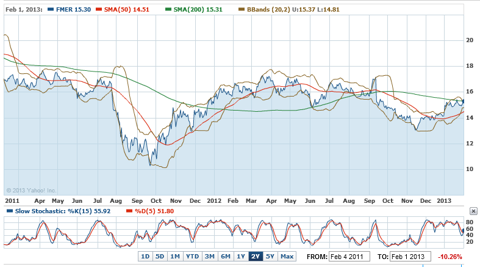 The slow stochastic sub chart shows that FMER is neither overbought nor oversold. It can be bought. The main chart shows that FMER is in a short term uptrend. The stock price line appears ready to breach the 200-day SMA as it moves upward. Such a breach of the 200-day SMA would be a strong buy signal. The 50-day SMA is below the 200-day SMA, which is negative. However, it appears to be headed up toward the 200-day SMA, which is positive. If 50-day SMA breaches the 200-day SMA, that would be another buy signal. FMER and the state appear to be benefiting from good long term fundamentals.
FMER pays a healthy annual dividend of 4.26%. Its PE of 12.54 and its FPE of 10.85 are both respectable. The price/book ratio of 1.02 is low for a bank. This leaves plenty of room for a substantial move upward on this basis alone. The average analysts' recommendation is 2.4 (a weak buy). My opinion is that it is a stronger buy than that.
Averaging in over the next year is a good strategy. The bank looks solid at this time. Unfortunately, there is the possibility of a US recession in 2013. The bank should weather this, but the overall market would likely take FMER's stock down with it. If you want to ensure that you get a good average price for the stock, averaging is an excellent approach. Remember, FMER has a strong record with 55 consecutive quarters of profitability. This includes the period of the last recession. Plus, FMER now has a fundamental tailwind in the Utica development. It is a sound investment.
NOTE: Some of the fundamental financial data is from Yahoo Finance.
Good Luck Trading.
Disclosure: I have no positions in any stocks mentioned, but may initiate a long position in FMER over the next 72 hours. I wrote this article myself, and it expresses my own opinions. I am not receiving compensation for it (other than from Seeking Alpha). I have no business relationship with any company whose stock is mentioned in this article.