The chatter is starting to pick-up regarding Spain and the rest of Europe. Italy appears the most likely candidate to join Spain in the headlines, especially as Berlusconi appears to be gaining momentum in the polls and making promises the country literally cannot afford to keep. The question is whether he is making promises he does not intend to keep simply to get elected and avoid jail time or if he is serious about these promises and plans to walk the country over the cliff. Some wonder why Hollywood relies so heavily on true stories, and this is a perfect example as you just can't make this stuff up.
Markets around the world are under pressure, with a few bright spots.
Chart of the Day
It is obvious that fears are flaring up again as the tail end of the chart indicates.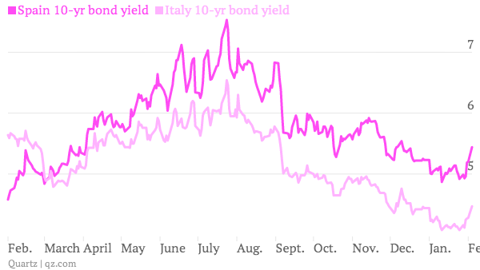 Chart courtesy of the qz.com
We have economic news due out today, and it is as follows (these are the consensus estimates):
ISM Services (10:00 AM EST): 55.6
Asian markets finished lower today:
All Ordinaries - down 0.54%
Shanghai Composite - up 0.20%
Nikkei 225 - down 1.90%
NZSE 50 - down 0.81%
Seoul Composite - down 0.77%
In Europe markets are mixed this morning:
CAC 40 - up 0.16%
DAX - down 0.11%
FTSE 100 - up 0.42%
OSE - down 0.80%
Biotechnology
Keryx Biopharmaceuticals (NASDAQ:KERX) saw shares fall $0.55 (7.74%) yesterday to close at $6.56/share on volume of 30.3 million shares. We had been calling for a retracement after the rise as is usually the case in situations such as these and it looks like that finally happened. Good news for shareholders is that Oppenheimer came out yesterday and stated that based on the closing price Friday that the shares presented an attractive entry point. The firm also stated that they had an $11/share price target on the shares and believes that the company's financing does not preclude it from selling itself but rather strengthens its position in negotiations with any potential acquirers or partners as they now have a cash reserve to hold them over.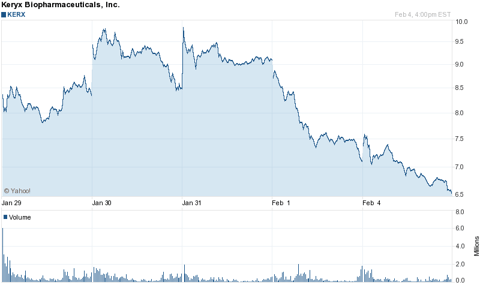 Chart courtesy of Yahoo Finance.
Looks like the stock hit at least a short-term ceiling around $10/share.
Technology
Yesterday we saw a name which was a blast from the past and a company which we owned shares in years ago. We are talking about Sonus Networks (SONS), which saw investors take an interest in shares after Acme Packets agreed to be purchased by Oracle and caused interest to spike in many of the other IP networking hardware stocks. We sold our position in the company due to one too many missteps years ago, but it is good to see some money made here finally for those who have stuck with the company moving in and out and maintaining positions. One would think that it would be wise to book the profits from yesterday's move and view it as a gift while keeping the option open to rotate back in on a pullback.
Finance
As our readers know, we have long been critics of S&P and the actions the company has taken. The company was behind the curve on actually rating these mortgage pools accurately and then tried to get ahead of the curve by rating securities much more stringently than necessary while also lowering ratings and causing panic when they were once again behind the curve. Pretending to be ahead of the curve and putting on a front when actually being behind the curve is embarrassing, but such is the case for the rating agency.
Yesterday though karma came around and the parent company, McGraw-Hill (MHP), saw shares fall $8.04 (13.78%) on volume of 18.7 million shares to close at $50.30/share. The US government finally indicated that they would file charges against the S&P unit, a move we thought would have happened when S&P was talking down the US deficit situation and lowering its credit rating from the AAA rating while also threatening to lower it further if they did not see changes. Yeah, alright. My only question is what the firm's own credit rating will look like once it is re-evaluated with this litigation issue on the horizon.
Western Union (NYSE:WU) announced yesterday that they were expanding its network as BMO Bank of Montreal will allow its customers to conduct online Western Union Money Transfer transactions directly from their account. This is the first agreement of its kind in Canada and shares were up in a down market, continuing a strong move higher over the past few trading sessions, with volume above the 3-month daily average.
Banco Santander, S.A. (NYSE:SAN) saw shares fall $0.60 (7.26%) to close at $7.67/share on volume of 14.3 million shares as the situation in Spain continues to deteriorate. Readers should be aware of the charts and other data we have posted in recent months highlighting the economic flashpoints. Retail sales have been down each month for over two years, the unemployment rate is over 25% and the unemployment rate among the young is even higher. It is very possible that we see Spain and Europe (think Italy) crashing the rest of the world's party and effectively killing this rally in the next few months. Santander is a well run bank, and has operations outside of Spain, and even Europe for that matter, however it is a way to play the Spanish economy and so long as that is not doing well the stock is a target for short sellers and ETFs to be sold (ETFs would have to sell as outflows occur in their funds).
Disclosure: I have no positions in any stocks mentioned, and no plans to initiate any positions within the next 72 hours. I wrote this article myself, and it expresses my own opinions. I am not receiving compensation for it (other than from Seeking Alpha). I have no business relationship with any company whose stock is mentioned in this article.